Colin Ross Remembered
By:

Colin Ross, musician and pipe maker, died at the end of May this year. Colin was something of a legend in piping circles and formal obituaries documenting his life and achievements have been printed in various publications. Below are some personal reminiscences from members and friends of The Bagpipe Society. I never met Colin but, having read about him, I know I am the poorer for it. Editor.

Matt Seattle

I'm one of hundreds of musicians that Colin took under his wing. In 1984 I moved from Brighton to Northumberland as an economic migrant and novice fiddler and soon found the Bridge Folk Club in Newcastle, presided over by Colin Ross and his wife Ray Fisher. They were encouraging and supportive of my playing and composing, although I confess I didn't last long as a pipemaker's apprentice (I turned a few drone blanks under Colin's supervision, but that wasn't to be my path). Every now and then permutations of the High Level Ranters played at the Bridge, and Colin's fiddle was a major driver of their sound. He wasn't a flashy player but, like Willy Taylor, he could 'dig in' with the bow to add a percussive element to jigs, reels and hornpipes. He was also of course a very fine Northumbrian smallpiper and, unrivalled as a maker of Northumbran pipes, he also played a crucial role in the development of the modern Scottish smallpipes and set the gold standard for subsequent makers.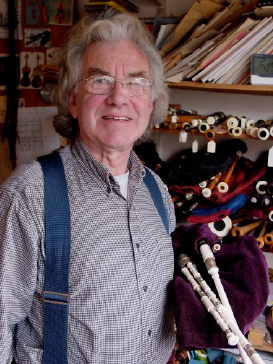 In 1980 Colin had masterminded the Northumbrian Pipers' Society's facsimile reprint of the c.1800 Favorite Collection better known as Peacock's Tunes, for which I and certain others will be ever grateful. An amazing record of a virtuoso, but at the time little-known, piping tradition, it would have a profound effect on players such as Anthony Robb and his one-time protégé Chris Ormston. When I became drawn to the Border piping tradition, I would find that it also contained much that was relevant to the not-smallpipes, even though a few tunes would need reverse-engineering to make sense on the open-ended chanter. Everyone makes their mark, but in the piping world few contributions stand out to the extent that Colin's does, and I've barely scratched the surface here. Thank you Mr Ross
Jon Swayne
Others will tell of Colin's skill as a fiddler, piper and above all as the leading maker of Northumbrian smallpipes and the originator of Scottish smallpipes. When I was an aspiring pipemaker in the early 80s, my memory tells me that I met him quite frequently at festivals and club meetings as well as events at the Chantry Bagpipe Museum in Morpeth. He was unfailingly helpful and encouraging. I recall producing at a general bagpipe workshop at Whitby folk festival a very early prototype of what became my border pipe chanter in G; I think it had several holes which had been drilled but subsequently blocked. Its performance was approximate to say the least but he was polite and, above all, interested. When through visits to the Chantry Museum I became aware of the existence of pastoral bagpipes and determined to find out as much as I could about them, he was very encouraging. He introduced me to Fred Ord, who had worked for him (reed making?) and his wife Dorothy who lived in Stanley, Co Durham. They generously and kindly hosted me for a week while I spent days at the museum measuring pastoral pipes. I think it was on that visit that Colin took us to a Northumbrian piping meeting. It was a very cold winter's evening and we drove in the dark for quite a while through lonely moorland roads. The room was full of pipers and a warm fug quickly built up. I am ashamed to say that I fell asleep. But nobody minded, least of all Colin. He was a man of exacting standards and I suspect that he did not suffer fools gladly, but I shall always remember him most warmly for his support of my early efforts at pipemaking.
Hamish Moore
The death of Colin Ross see's the passing of a legend. He was undoubtedly one of the leading Northumbrian Pipe makers of all time.
I first came across Colin at a concert in Edinburgh when he was playing fiddle with The High Level Ranters; what an inspirational evening for me. I heard for the first time, Northumbrian Pipes, Fiddle, Accordion and guitar as an ensemble. Colin's enormous legacy to the Northumbrian world of piping is without question and will be no doubt well documented. It is however his contribution to Scottish culture and piping which is maybe less well known. As I have been involved in the revival of the bellows blown pipes of Scotland almost from the start I would like to pay tribute and thanks to him, both from personal and national points of view, for his vital part in what has undoubtedly become one of the most influential and important revivals in Scotland's history.
By the early 1980's the border pipes had been recorded by Rab Wallace of The Whistelbinkies. Jimmy Anderson had worked on the development of these Border Pipes and The Scottish Small Pipes by adapting oboe reeds for his small pipes chanter and recordings of these can be heard by Dougie Pincock of Kentigern. As well as this, vitally, The Lowland and Border Pipers' Society had been established.
It was Colin, however, who had the idea of using the Northumbrian chanter reed technology in the design and production of the modern Scottish Small Pipe chanter. This improved the sound and created a "standard" chanter and reed for The Scottish Small Pipes. Colin made the first small pipes D chanter in 1982 for his brother in law, Artie Tresize who went on to use the pipes in his fast-developing show, "The Singing Kettle".
In the same year I was gifted an early 19th c set of Scottish Small Pipes, complete with bellows, by my then next-door neighbour in Kingussie, John MacRae, and Colin restored these and made his second D small pipes chanter for this set. He then went on to design the full range of chanters in A, Bb, and C all using his standard Northumbrian reed. Colin's inspirational breakthrough transformed the sound of the emerging Scottish Small Pipes.
I have subsequently modified Colin's Northumbrian reed to suit The Scottish ear but it was his initial creative thinking which formed the basis of the revival of The Scottish Small Pipes. When I started making pipes Colin was generous in his help, in particular with reed making, an example which I have tried to follow throughout my life as a pipe maker.
His legacy has been, and will continue to be, far reaching and long lasting. He will be missed.
Francis Wood
Despite his recent death, the influence of Colin Ross will endure as a significant aspect of traditional music in Britain and specifically in the North East of England. Although he was an enthusiastic and persuasive performer of the local traditional repertoire, it is likely that he will be remembered principally for his pioneering activities as a designer and maker of Northumbrian small-pipes, the gentle bellows-blown, multi-keyed and narrow-bored pipes of this border region.
There are very few enduring traditional instruments of native English origin and among a variety of earlier regional bagpipes, those from Northumberland are the only ones to have survived with an unbroken tradition. Originally with an unkeyed chanter and three drones, these pipes had undergone a significant development in the early 19th century in the workshop of Robert Reid of North Shields, typically gaining seven or more keys and an extra lower D drone. This remained the standard pattern later adopted by Ross in whose workshop they went through further development. The result was a standardisation of reed dimensions and chanter pitch, permitting them to be played reliably in ensemble with hugely improved tuning. Ross's design added robustness to Reid's highly elegant but rather delicate model. Those pipers who play professionally and frequently consequently owe much to Ross's innovations which he also shared generously with other makers.
Julian Goodacre
When the Lowland and Border Pipers' Society was formed in 1983 there was no living tradition in Scotland of playing or making bellows pipes. Colin was the principle maker of the Northumbrian smallpipes and was keen to design and make Scottish smallpipes for this new and growing interest from Scottish pipers. I joined the LBPS a couple of years later and it was at one of their meetings that I first met him. He made beautifully crafted pipes and seemed to have boundless energy and was always happy to share his knowledge with others. On occasions he could be rather outspoken and opinionated and appeared not to mind when he ruffled a few of other people's feathers! But that was Colin.
I remember him playing his Northumbrian smallpipes at a small gathering of pipers at Preston Hall Museum, near Middlesbrough in August 1986. He was also accompanying his late wife Ray Fisher's guitar playing and singing. After the event they offered me a lift to Newcastle Station in his old blue Mercedes. I sat in the front of the car determined to make the most of spending time with such a respected authority, as I was relatively new to pipemaking. Inevitably we talked a lot about reeds! Ray sat in the back of the car and, with her distinctive loud voice, proceeded to question and contradict nearly every non- bagpipe related pronouncement that Colin made. "Mr Ross, I think you find that what actually happened was….". Initially I was slightly disturbed by these interjections which Colin seemed largely to ignore, but I eventually gathered that it was a long-standing double act that they had worked on for the many happy years of their marriage.
The last time I spent time with him was at the Girvan Folk Festival in the late 1990's. This was only a short time after he had had had a heart triple bye pass operation and I was amazed how well and energetic he was. My late wife Sharon & I were staying in the same B&B with him, Sid Kipper and John Kirkpatrick. What a line-up! (Great breakfast conversations!).
On the Saturday evening Sharon & I went to the ceilidh dance and around midnight we decided to leave and look in at the late-night festival session on our way back. We peeked into the packed steamy venue and there sat Colin in the centre of the musician, fiddle under his chin, bowing away like there was no tomorrow. We were both exhausted and went back for our B at the B & B. Next morning at breakfast Colin appeared quite chipper and told us he hadn't stop playing until 3.00 am! What an amazing man.
It is unthinkable to imagine what the state of Northumbrian music and piping would have been today had it not been for Colin's tireless enthusiasm for making and encouraging others to make smallpipes. But it should also always be remembered that he made an important contribution in designing and making Scottish bellows pipes in the early days of their revival.
Andy May
It's hard to know where to begin to write something about Colin. Strange thing is that I can't remember meeting him for the first time, could have been at a Pipers' Society meeting in the Sallyport tower, or maybe going to his house with my dad sometime around '87. Perhaps I'd already seen him playing somewhere first, larger than life. He's just always been there pretty much since I started playing.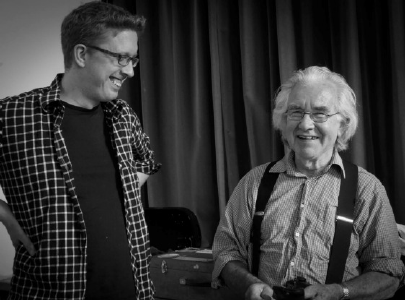 When I was a kid my dad and I went regularly to the NPS Saturday meetings, and also to the nights up at Annie Snaith's house in Elsdon. Here you could hear some of the very best players - Pauline Cato, Adrian Schofield, and of course Colin, all letting loose and having fun with the music, backed by Annie on the piano. At the Gateshead garden festival, 1990, my parents asked Colin if he could make a concert G chanter for me. In spite of his hefty waiting list the chanter was ready in about a month! I've seen him do the same since for other young players, to help them on while their enthusiasm was running high!
It's amazing how freely he'd share information, dimensions, methods. As I began trying to make pipes myself I'd ask him about some process or detail, and he'd just show me. No charge, no secrets held back. Of course, years of refining his methods had also strengthened his opinions on how pipes should be made, as some found out to their peril!! Luckily I mostly managed not to wind him up too badly over the years - in fact I remember once after my barraging him with a series of questions and half-baked ideas Colin exclaiming, slightly exasperated,
"Aaargh! You know who you remind me of? ME!" He saw something of how he'd been with Forster Charlton years earlier as a young pipe maker. And so the pattern repeats. There are people around who Colin would feel he taught to make pipes, and I'm probably not really one of them, but I have to smile at how often over the past couple of months I've been chatting about pipe-making and caught myself saying 'what Colin does is…..'.
Through the 2000s we taught together on many piping courses - long car journeys and sharing rooms really means you get to know someone much better! Too many funny stories spring to mind that I really can't include here. We taught the first piping course at Halsway Manor together, it's great to see that still going strong almost 20 years on!
Lately I guess advancing years began to catch up with Colin. He stopped teaching, played fewer gigs, and slowed down in the workshop. We'd still meet up, or call, to chat, show each other things we'd been working on, and complain about pipes, reeds, pipers….. Only a couple of months ago he told me he was wondering whether he should stop making pipes. I asked him if he still enjoyed making them. He did. I asked him what else he would do with his time - and he didn't know. So I guess we decided he should keep on making!
It's a very strange feeling that I'll no longer be able to call him up, or jump on a metro down to the coast to visit. I guess Colin has been many things to different people over the years. To me he's been an inspiration and a friend, and I'll miss him.