CD Review
Ars Supernova – Les Haulz et Les Bas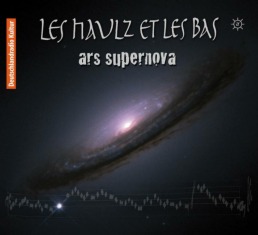 From time to time you get a CD that doesn't want to leave the CD player. Ars Supernova by Les Haulz et Les Bas is one such CD. I often leave the summary to the end of my reviews, but let me encourage you to go out and buy this wonderful CD. This is great music, with intriguing combinations of instruments and arrangements, and glorious playing.
In the 14th century a new style of music developed in Europe influenced by the arrival of new instruments which we now think intrinsic to the soundscape of the Middle Ages; at the time they were revolutionary. With a focus on secular music, this Ars Nova introduced new techniques and a variety and combination rhythms and meters. One of the greatest exponents of this Ars Nova was Guillaume de Machaut, and his beautiful plaintive song of unrequited love, Douce Dame Jolie, features as a melody on this CD.
Musicians of the time were expected to improvise when playing for dancing, without those divisions or arrangements being written down. Les Haulz et Les Bas take this encouragement to experiment and improvise, and apply it to music played by the alta capella – the 'loud band' which played for dancing, banquets, processions and whenever civic music was required. As the CD states, 'early music is not only history. It also has an exciting present and future'. Some are melodies we think we know well, only to find that they have added a twist and taken us along a path we didn't expect to travel; other tunes are new. All receive the same treatment of exploration and consummate playing.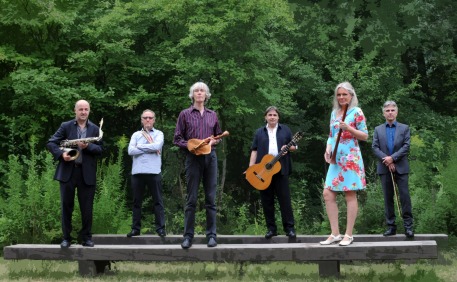 We expect to hear wonderful bagpiping, shawm and cornet playing from Ian Harrison and Gesine Bänfer, and we're not disappointed. Some of the pieces swing, and maybe we should expect that with the combinations of brass, saxophone and percussion overlaying the early music sounds, especially in such pieces as La Rotta di Tristano and La Tierche Estampie Royale which reflect the band's search for new sounds – the ars supernova.
The sense of complete joy from their playing comes across; it's as if they're on a journey of blissful discovery. I recall seeing a YouTube clip of the band playing La Rotta di Tristano before their CD was released (you can still find it) and being transfixed by their sheer sense of fun!
But is this art music or a collection of melodies for dance? Yet why should dancers be spared the exhilarations of fascinating arrangements and improvisations from their accompanists? I remember dancing La Danse de Cleves to this CD in the sunshine on a French campsite. Their music makes you want to move; and then you get the quality of their playing; and then you smile at the combinations and the witticisms – whistling at the end of La Danse de Cleves is joyous and funny, as is the growling tuba line on La Tierche Estampie Royale.
So, go and buy this CD, and when Les Haulz et Les Bas are performing anywhere within travelling distance, bust a gut to go and hear them. You'll be entering the new world! Ars nova has been supercharged!
To see the group in action, there are various YouTube links on their new website https://www.ars-supernova.com/en/home The cd can be bought from https://ahalani-records.com/webshop/