For Sale
These ads are placed by our members.

The Bagpipe Society takes no responsibility for transactions arising from adverts appearing on this page. We strongly advise that whenever possible, you try before you buy and seek advice from an expert on this type of pipe.

To place an advert, contact info@bagpipesociety.org.uk, sending full details, price, postage arrangements and, if you are a paid up member, a photograph of the pipes.
Gaita by Corral and Perez
2013-10-31
Gaita in C in boxwood (one drone).
Makers stamps A.Corral, Lugo and J.Perez, Lugo. The set is old but OK, needs a wee bit of TLC to get them into tip top condition, hence the price, but still play as they are. Case and spare (new Seivane ) chanter reed.
£550
Photos on request.
Contact: andysfiddleworks@gmail.com
£1000 ONO
Smallpipes by Fred Morrison
2023-09-03
A set of Fred Morrison smallpipes in A, in basically unused condition. They'd be about £2k new but I only paid £1330 for them new about a year and a half ago so that's what I'd be looking for, plus postage. Contact laurel43.cw.cw@gmail.com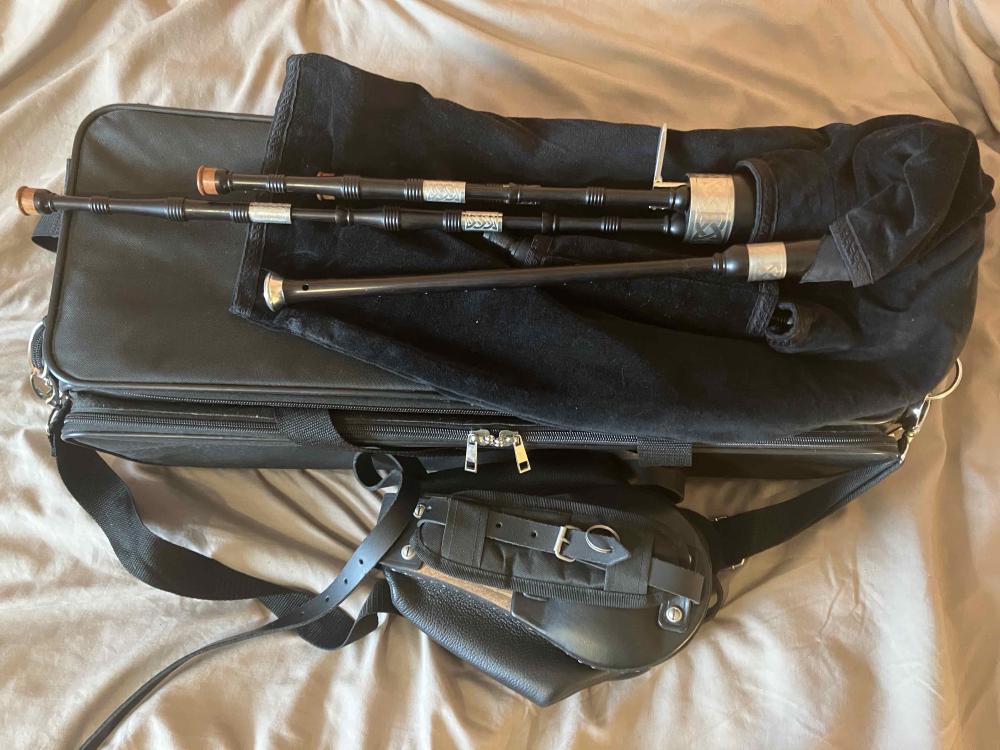 Uillean Pipes by Sean Jones
2023-01-12
Practice set of Sean Jones Uilleann pipes for sale. Hardly used. Will pass on a book and cd tutorial as well. Paid £1250 for them three years ago. They are in excellent condition. The practice set consists of a chanter, bellows and a bag.
I will only exchange the instrument in person for cash. Or will post if I receive a bank transfer. If you are interested please contact Helen Clay on 07477909429. I live in Sunderland, Tyne and Wear.
Montgomery Smallpipes by Julian Goodacre
2023-11-09
Montgomery Smallpipes. Made by Julian Goodacre of Peebles. Open Chanter (in E), bellows blown. Hardly used and in new condition. At present in Australia, but could be in Oxfordshire from 4th December (2022)
£1,000 ono
Photos on request
Contact: Bryan bvecors@gmail.com
Seivane Gaita in C
2023-04-10
I'm looking to sell my brand new Seivane gaita set in C or quite possibly to exchange the set for a bellows blown set of Fred Morrison smallpipes in A. I'm predominantly a Highland piper and bought and started to learn the gaita with the best of intentions. However I have realized I just don't have the time to take up a second instrument. Guess I was impulse buying; my loss, your gain. The gaita set is made from granadilla with engraved triskele silver ring caps, bass drone, chanter and tenor drone, black velvet cover with black and red cords. Comes with sturdy Seivane embossed carry case.
Photos on request
Price: £2,000
Contact: Malcolm at bolshiera@hotmail.com
Zampogna by Marco Ciancaruso
2017-06-01
Zampogna made by Marco Ciancaruso of Chiasso, Switzerland, in 2006.
The chanters are both G to D but an octave apart, the bass chanter runs G, A, Bb, B, C, D and the top chanter has the additions of an F# lead in and C#. The single drone is D, same note as the D on the bass chanter. The instrument is set up for use with bellows, not included. The woods are various but all appear to be fruit. The pipes are in basic working order, ie. all the pipes work well enough individually but some ability and understanding of setting up will be necessary to get them singing together sweetly, they have not been played for some years now. They come with a hard case and some Zampogna music including a simple tutorial. £475
Photos on request.
I can be contacted via email on myalpyper@yahoo.co.uk or phone 07932 725 021. Carriage can be arranged by the buyer or picked up from mid Suffolk or a mutual arrangement may be found
Uillean Pipes by Sean Jones
2023-11-26
Irish half set in Boxwood and Ivorine with compact drone and keyless chanter.
These pipes were made for me in February 2019. Due to an issue with my pinkie finger they have only been played for an hour or so from new. They are consequently in 'as new' condition, as are the bellows.
Price £1850 plus postage.
Contact Trevor James on 07982 073 364
or trevorjames18@btinternet.com
I am based in Suffolk, UK.