Blowout 2021 - Online!
5th June - 1pm to 9pm UK time (Greenwich Mean Time + 1)
The Blowout Online is free, but donations to support the event are welcome and can be made when getting tickets from Eventbrite. There will also be opportunities to make donations at other points during the day!
Online tickets are limited to 100. However, the Join the Band session and concert will be broadcast to YouTube via the Bagpipe Society Facebook page and YouTube channel, making these two sessions widely accessible.
Tickets to the three sessions are being managed through Eventbrite: https://www.eventbrite.co.uk/d/online/the-bagpipe-society/
Welcome & Gather
1pm Session is open for us all to meet and chat
1.15 to 1.30pm Ian Clabburn & David Faulkner
Ian and David will welcome you to the day, outline the programme and how the sessions will work and take us through any house rules we might need to know about.
Workshop for Bagpipes in G
1.30 to 2.45pm (1 hour 15 mins)
Andrea Hotzko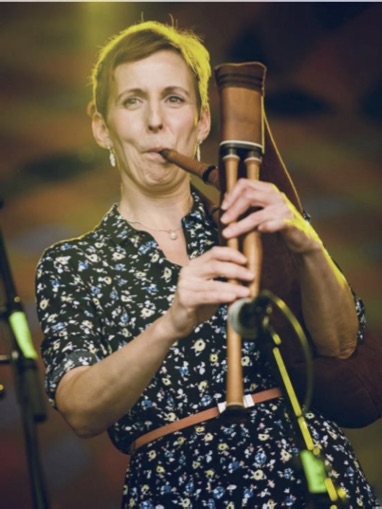 Andrea has been teaching bagpipes for 20 years. She has founded her own piping school in Berlin and is also the founder and director of the German workshop festival "Spielkurs".
In 2016 Andrea received the RUTH Award (German folk music award) and in 2019 was the first German bagpiper invited to be a member of the jury of the renowned "Maîtres Sonneures" competition at the Le Son Continu Festival.
Andrea has been playing with the Societé Fraternelle des Cornemuses du Center for many years, she plays in the Berlin trio Juli And Jan, with melodeon player Benoît Vignaud, and has been a studio and guest musician with various bands, including: Blowzabella, Naragonia, Carlos Nunez, German indie-rock band Madsen.
Kommt ihr G'spiele
"One of the first tunes that I could play on the bagpipe was the popular German folk song "Kommt ihr G'spiele / Come playmates". However, the origin of the song from the 16th century doesn't seem to be German at all, and the melody had already undergone a transformation in its first 100 years. In this workshop we will revise the song again. With our knowledge of traditional dance music and the characteristics in structure and rhythm, we give the song a new twist. What might the melody, which is mainly played as a waltz, sound if we perform it as polka, mazurka, bourrée, schottisch or even polska?"
Scores:
Meet in the (virtual) bar
2.45 to 3.10pm
Time to chat, catch up with each other.
Out of the Bag – Meet the piper
3.10 to 3.30pm (20mins)
Iain Gelston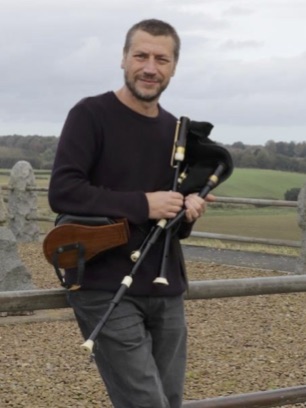 Iain is an award winning player of the Border Pipes and Northumbrian Smallpipes. Based in South Shields, just across the river from the home of the famous Reids, 18th/19th century inventors of the modern Smallpipes, he is steeped in the piping tradition of the North East of England and the Borders.
Iain began playing the Smallpipes in his early twenties, with the help of master piper Adrian Schofield, but only took up the Border Pipes a decade ago. He is now championing a revival of interest in the big pipes and their repertoire in Northumberland via his work with the Northumbrian Pipers' Society.
Iain plays Border Pipes by Dominic Allan (G) and Nigel Richard (A), and Smallpipes by David Burleigh/Colin Ross in traditional F+ pitch.
This is a chance to meet Iain, hear his voice and listen to some of his music. An opportunity to find out about this gem of a piper, of whom some of us know so little!
What led him to take up piping? If he had your life again, what instrument would he play? Cats or dogs?
Workshop for Bagpipes in D
3.35 to 4.25pm (50mins)
Erik Ask-Upmark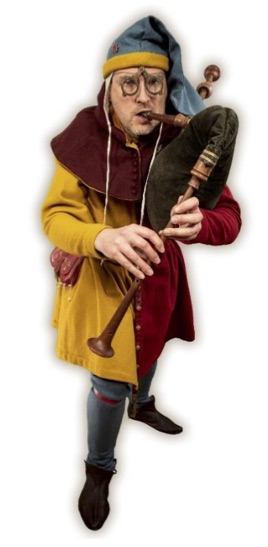 Erik has played medieval music on the pipes for 25 years (so his cheeks are starting to get a little tired by now). In addition to medieval pipes, he is equally home on Swedish, French, Spanish and Italian pipes as well. He has been awarded the Swedish title "Riksspelman" ("Official master musician"); he recently claimed a prize in the Swedish Folk Music Awards and in 2019 he won the solo bagpipe competition at Chateau d'Ars.
Erik will teach both a simple tune and more complex tune. He will show how we can convert a "serious" medieval tune into folksy-style dance music.
Scores:
News From Home
4.35 to 5.05pm (30mins)
Chaired by Roger Landes (Nebraska USA)
A chance to hear some news from home (wherever it is!) from Bagpipe Society members.
5 x 5 minute slots: Jane Moulder, Aishling Holmes, Julian Goodacre, Laura MacKenzie, plus one other to be announced.
Join The Band
5.15 to 6pm (45mins)
Nick Wyke & Becki Driscoll … and You!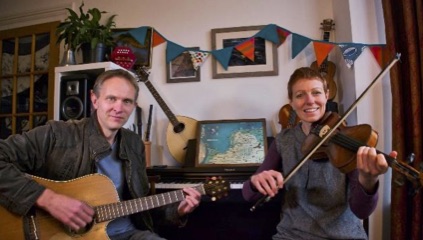 The musical partnership of Nick Wyke & Becki Driscoll has its roots in the traditional music of South West England. They are both highly-respected musicians, composers and workshop leaders. They first collaborated as a fiddle duo on a busking trip around Spain and Portugal, and in the years since have worked with some of the leading lights of the English folk scene, always pushing the boundaries and developing new and inventive music. On this occasion they will be playing fiddle and guitar.
Nick and Becki will play a Bagpipe repertoire chosen by you, and you will get the chance to play along with two of England's finest! All the music is available before the session as downloads from the Bagpipe Society website and from the Blowout Online Google drive folder. This will give us the chance to practice and get on it, but beware - there might be a couple of extra wild cards thrown in just to catch us out!
Tunes for session:
Concert
7pm to 9pm
Arnaud Bibonne – Music of Gascogne
7 to 7.50pm (50mins)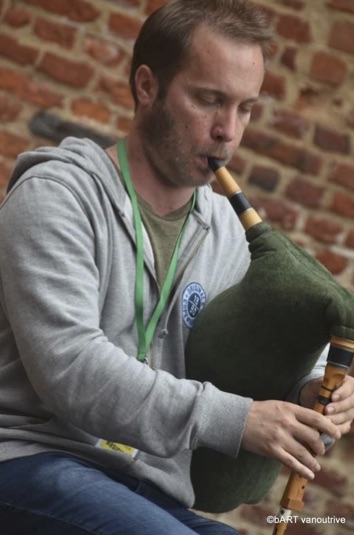 Arnaud Bibonne, is a singer, multi-instrumentalist musician, composer, performer, native of the Bordeaux region, began playing music with the fife at the age of 12 and the bagpipe of the Landes de Gascogne at the age of 14.
Professional musician for almost 15 years, he has played in the following groups: Nhac, Petit Piment, Los Cinc Jaus, Adar, NÒU, duo Bibonne Raibaud, Faburden. He recorded more than 21 albums, including 6 as a guest musician.
Arnaud won several music competitions including that of Laureate at the Saint Chartier festival in 2007 in the soloist category. He is a former student of the Kreiz Breiz Akademi from 2012 to 2013, holder in 2016 of the DEM diploma in musical studies at the Limoges Conservatory.
He will play music from Gascogne on various Bohas explaining the instruments, their idiosyncrasies, the music and context.
Vincent Belin and Aline Pilon - Music from the Nivernais-Morvan
8 to 9pm (1hr)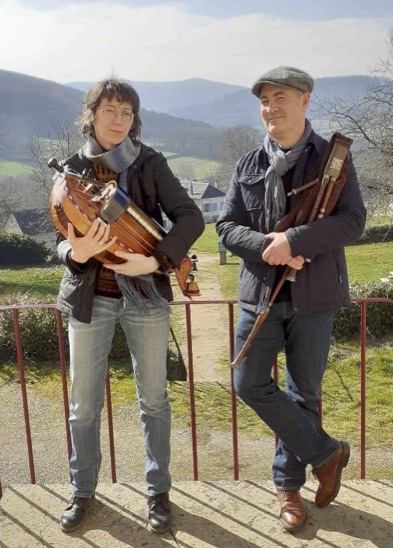 Vincent (cornemuse du centre France and singer) and Aline (hurdy gurdy) have been playing together for most of their musical lives. They are steeped in the music traditions of the Nivernais-Morvan region of France. What they don't know about the music and culture of this area is probably not worth knowing! They perform regularly for concerts and dances and, amongst many other things, teach at the conservatoire de musique du Grand Autunois Morvan. The music they play is distinct, evocative, stylish and deeply rooted in tradition and at the same time looks forward.
You will hear them play spécialités from the Morvan (such as 3 /8 bourrées), Grands classiques from the Nivernais; some new old tunes and old new tunes collected at the end of the 1800's, or recorded in the 1970s/80s; there will also be some fresh compositions for the 21st Century.
Tickets available from