Blowout 2016
Polesworth Abbey, near Tamworth, Staffs 3rd to 5th June
Featuring
Savage Prunes
Juraj Dufek
Estron
MoltenAmba
Jean Pierre Rasle
Vicki Swan
Sean Jones
Cliff Stapleton
Julian Scott
Dave Rowlands
Andy Letcher
plus… The Friday Tune competition!
Savage Prunes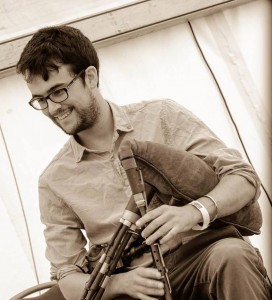 The Savage Prunes are a young and innovative band from England, playing new compositions on traditional instruments. Having won the 'Petit Formations' competition at Le Son Continu 2015 as a duo, the 'Prunes' now exist as a trio. They make use of their different musical backgrounds and the expressive capabilities of their instruments to create a polyphonic and melody-driven sound that is fresh and exciting. Their original compositions blur stylistic boundaries, combining the rhythm and drive of traditional dance music, the delicate playfulness of baroque, and the irresistible energy of modern pop. Callum's PicCallum Armstrong is an innovative piper whose questing approach to the hitherto unexplored acoustic possibilities of the smallpipe is taking the instrument into areas most of us have never encountered. He has played as a soloist with the London Philharmonic orchestra, as well as appearing in Steven Speilberg's film Warhorse as the piper. In 2014 he won the Chateau D'ars Solo Piping competition. youtube George Pasca was born in Arad, Romania and started his musical training at the Sabin Dragoi Arts High School, where he studied cello and piano. Alongside being an active chamber and orchestral musician, George is also a very keen folk cellist, who enjoys exploring and creating new techniques for his instrument. youtubegeorge John Goodacre is a young musician with a fiddle style rooted in the dance music traditions of Europe. John's PicHaving grown up surrounded by folk music, he developed his style under the tuition of the English fiddler Sam Sweeney. His musical travels have more recently taken him across much of Eastern Europe and Scandinavia, and led to encounters with musicians from as far afield as Chile, Iran, and Kenya. John also performs as part of the European dance quintet Trip The Light as well as the latest manifestation of the English bagpipe trio, The Goodacre Brothers.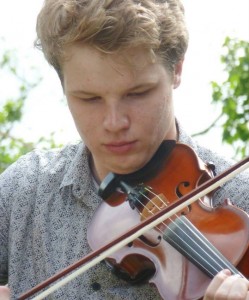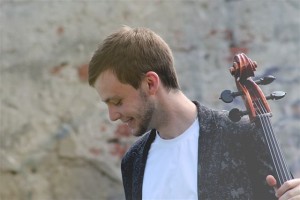 Juraj Dufek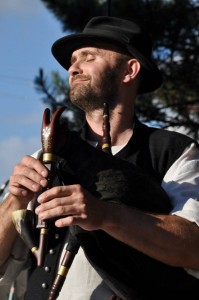 Juraj became interested in traditional Slovak music in the 1970s. He decided to start playing bagpipes after the meeting with Anton Vranka, the instrument's virtuoso. Juraj participated in and co-created various music projects in Slovakia. In 2009 he founded the first Slovak bagpipe band, Spojené huky Slovenska (United Drones of Slovakia). As a long established maker of the Gajda, he has learnt to make those used in various regions of Slovakia, and in neighboring countries. Together with leading Gajdos and Bernard Garaj from the Department of Ethnology and Ethnomusicology, University of Constantine the Philosopher, he was able to reconstruct the bagpipes from the Slovakia-Moravian border, as described by the composer Leoš Janáček. Juraj will be performing in the concerts and giving a presentation, accompanied by Paul Martin youtube youtube
Estron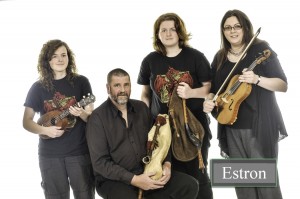 Estron are based in Pembrokeshire in West Wales and perform mostly traditional Welsh music. The heart of the band are the Tose family – John and Danny on their Welsh Pibau Cyrn and Micky on ukulele and clarinet. They will be accompanied at the Blowout by Holly Robinson (Amazonne) on octave fiddle. website
MoltenAmba

Saturday Bal
Led by fiddle, pipes & sax, with blistering guitar solos and a monster groove machine of keyboards, double bass and drums, MoltenAmba deliver concerts and dances with haunting vocals, stunning tunes and instrumental pyrotechnics … an extraordinary musical fusion, bringing the rhythms of the world direct to your feet.
Cliff Stapleton & Julian Scott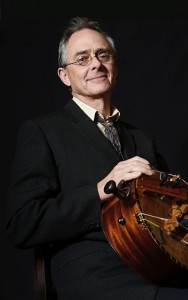 Cliff Stapleton began playing the hurdy-gurdy in 1980 after a stint of oil- exploration in the Sahara Desert. He has since become prolific as a composer of highly charged, spine-tingling, hypnotic, tuneful music in bands, film and theatre. His work ranges from the powerful folk dance style of Blowzabella to the sublime industrial electronica of Coil. For almost 16 years he has been a member of Cyclobe (www.cyclobe.com) who recently performed several haunting and hallucinatory concerts at the invitation of both Antony Hegarty and Brian Eno. julian sJulian has known, and occasionally worked with, Cliff since the mid 1970s. He bought his first set of bagpipes in 1984. He later played in 'Dû au Vertige', with John Wilshaw of 'La Jimbr'tée' and currently plays bagpipes and flutes with 'Venn'. Cliff and Julian are currently developing a video, sound and performance work.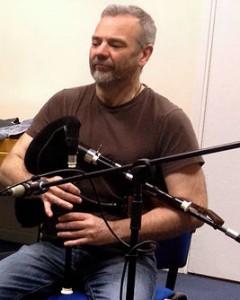 Paul Martin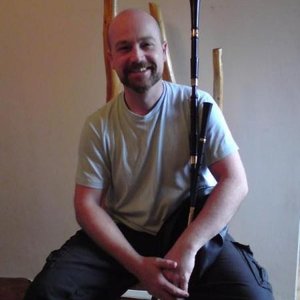 Paul has played several varieties of western and eastern european bagpipe, initially learning the Highland pipes before experiencing local traditional music and taking up Smallpipes and Uilleann pipes. Over the last 15 years, he has explored the bagpipe music of the North of England and Lowland Scotland, whilst also trying other European styles of tunes suitable for bagpipes. In 2009 Paul recorded a solo CD "Blue", playing Border pipes in A and G, and Northumbrian and Scottish Smallpipes.
Jean Pierre Rasle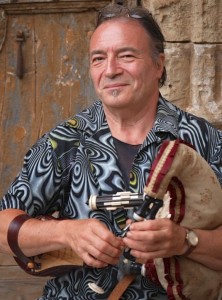 Jean Pierre has been at the forefront of pipe playing in Britain for many years, exploring innovative ways of developing the French versions of the instrument and its repertoire. He has covered folk-rock with the Albion Band, prog-folk ceilidhs with his own classic band of 30 years' standing, Cock and Bull, French chanson as an internationally touring duo with Gabriel Yacoub of folk-rock giants Malicorne. He now lives in France and is currently exploring the traditional repertoire of the Cantal and Corrèze regions. Download workshop music here
Workshops
Cliff Stapleton – Hurdy-gurdy (Sat)
Clif writes: "I will guide, in detail, techniques of fingering and musical expression using simple melodies which relate to drone, no drone and with trompette rhythm. My aim will be to create a strong collective sound from all players in the class and a communal feeling of "being in the zone"
Sean Jones – Meet the Uilleann Pipessean jones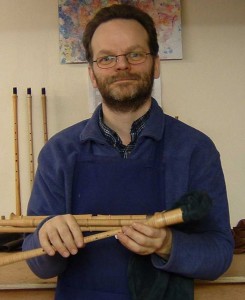 A rare chance to try the Uilleann pipes, using a number of student sets made by Sean.
Andy Letcher – Pipers' Surgery (Sat, Sun)
Andy will be returning with his popular 'piper's surgery', designed principally for players of Southern English Border Pipes, but open to all, especially beginners and those at an intermediate level. Come with questions about technique, posture, repertoire, or practice and he will do his best to help!
Jean Pierre Rasle
Saturday: The lost pipes of South Massif Central: fiddle music of the Artense. Based on the music of André Vermerie of Pons, South Cantal, for Cabrette, and the repertoire for the Chabrette of Limousin, with that of Alfred Mouret, Joseph Perrier, etc, from a mountainous region on the edge of Puy-de-Dôme, Cantal and Corrèze, we will look at the traditional melodies preserved by these fiddle players and how their techniques were influenced by pipers. soundcloud (esp. Tracks 1, 2, 3 and 5)
Sunday: Music from the Baroque era: from smallpipes to great pipes and back. "I'd like to cover in particular "Noels", i.e. Christmas songs, and popular songs in general, that travelled from peasant to nobleman"
Music for workshops available here
Paul Martin – Ornamentation in British piping traditions and how it can be adapted for the Border pipes.
Paul will be looking at how aspects of Northumbrian, Scottish and Irish gracings can be applied to the G borderpipes.
Vicki Swan – Säckpipa repertoire and ornamentation.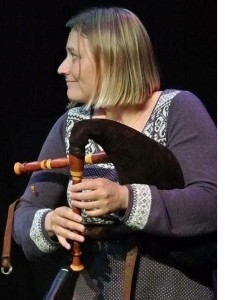 Vicki is holder of the Brons award for traditional playing of the säckpipa from the Swedish Zorn jury. This year her focus is on the music from the county of Småland (which her family and also IKEA is from). She will be bringing the fruits of her research to find bagpipe-able tunes from Småland to the Blowout. Please note that this workshop is aimed at current players of the Säckpipa in E/A and is not suitable for other types of bagpipe.
Dave Rowlands – Variations and Gracing in a Tune for "D" Pipes. (Sunday)
This year Dave will be focusing on another Jig, "Mary Do It Again". The workshop will have a similar format to last year; learning the tune (though it will benefit you if you spend some time with it before the Blowout), looking at some gracing, and asking participants to try their hand at creating variations in the Irish style. Music available here Listen to the tune on Soundcloud
MoltenAmba – World Rhythms for Dance Music (Saturday)
Using their own compositions, MoltenAmba will teach melody and percussion to create exciting dance rhythms! Things to shake, rattle & roll provided – or bring your instrument! Sheet music will be available – nothing complicated (more about rhythm).
THE COMPETITION!
This year, we are celebrating our 30th anniversary as a Society, so to mark this, we are holding two competitions on the Friday evening:
An original tune composition to mark our 30th year.
Rather less serious, any performance on the theme of "1986 and all that". Interpretation is entirely up to you!
Prizes? Maybe…
Makers' Stalls
The following pipe makers will be exhibiting their wares and will be glad to help you draw up your wish list:
Jon Swayne
Julian Goodacre
Sean Jones
Jim Parr
Whistle maker Phil Bleazy & Tabor pipemaker Terry Mann will also be in attendance. The Bagpipe Society's Second hand pipes, books & CD Stall
Blowout Menu
Vanessa (The Blowout's official caterer) will again be providing all the meals for the weekend – quality, quantity and value for money. Most of the food will be bought in the village to support the local economy and reduce food miles.
The Venue
Polesworth Priory has a beautiful setting among mature trees and the remains of a monastery by the river. We have unlimited access to the mediaeval church and vestry (services permitting) and we have hired the adjacent community centre The Memorial Hall) from Friday pm to Sunday 6.00pm. This gives us plenty of space and facilities, which include a good number of toilets, warm dry rooms, a dance-sized hall with stage, kitchen and a bar with real ales ordered. Camping will be in two main areas: inside the Priory's secure and fully enclosed walled gardens and also the adjacent field, both of which are secluded and well away from public rights of way. There is unrestricted access to the modern toilet facilities throughout the night. Spaces are available on a first come basis Wash facilities are still limited to small hand basins, but hey – we're all friends
NEW FOR 2016: IMPORTANT INFORMATION FOR CAMPER VANS AND GENERAL PARKING
Camper Vans etc
Due to local parking concerns, we have had to make some changes. Unless there has been heavy rain beforehand, all camper van and caravans must park in the grounds of Polesworth Learning Centre, which are accessed through the gate on the right just after passing the gatehouse and the Co Op on High Street. Map available here
Campers
The Church driveway is strictly no parking. There are only a few spaces available for cars, next to the Church, but they are solely for disabled visitors to the site. There is no problem with the usual drop off and unload, either by the Refectory door or by the garage, which is probably an easy way into the garden. After drop off, re-park, either by the Memorial Hall or preferably on the Learning Centre Car Park (see paragraph above), space permitting.
Local Accommodation
Polesworth is not a tourist area and accommodation is scarce. There is one hotel in the village and a B&B not too far away – contact me if you are considering either of these options. Tamworth is only a short drive away and can offer a wider range of accommodation.
Directions
Postal address: Polesworth Priory, High Street, Polesworth B78 1DU
Nearest Motorway Junction M42 Junction 10, take A5 (East) to Dordon, then follow signs to Polesworth. From Tamworth, take the B5000. At the mini roundabout in Polesworth turn left over the river then turn right into the Community Hall, Library and Surgery car park. On arrival, please make yourself known at the reception area in the Memorial Hall. Camper vans or caravans will then be redirected to the new parking areas.
Other enquiries: info@bagpipesociety.org.uk