Putting Bagpipes on the Map
By:

At the International Bagpipe Conference in Glasgow Feb 26 28 Pete Stewart and Julian Goodacre officially launched a new website http://www.thebagpipemap.co.uk .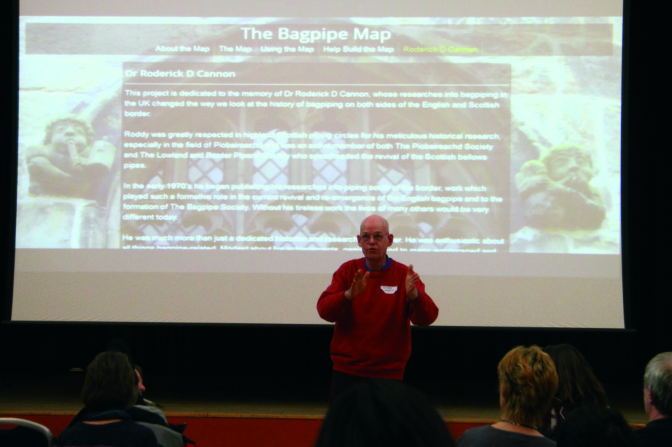 Julian writes:
I started making English pipes in 1983. Apart from the Northumbrian pipes, there was no living tradition of piping in England at that time, and no actual English bagpipes had survived, so the best I could do was to develop pipes that were based on looking at surviving early carvings, paintings, illustrations and other depictions of bagpipes in England. This was around the time that The Bagpipe Society was formed and through it I soon gained a reputation for my interest in early pipes. Over the years, people sent me photos of representations of bagpipes that they had spotted from all over the UK. Living in Scotland as I did and still do, I also became involved in The Lowland and Border Pipers' Society, which was encouraging the revival of bellows blown pipes. One of the striking contrasts between these two revivals was that several 18 century Scottish bagpipes had survived and were available to be studied and measured.
When I reluctantly embraced email on 26 August 1998, I continued to be sent depictions of bagpipes in the UK by people who knew of my interest, but rather than those quaint plain brown envelopes that I still yearn for, they began to arrive in digital form. All my life I have enjoyed collecting and archiving things. I have neat boxes with photos and scraps of paper on a multitude of bagpipe related subjects, but am less drawn to the work of collating or displaying them in a way that others can see. And digital images never seem 'real' to me, so I tend to print out each picture and dump it in a box labelled HISTORICAL PIPES PICTURES. Or, as a holding tactic, I drag the picture to an email folder I call IMAGES. Over the years I have pondered on the best way to assemble all these pictures of pipers into one location that was accessible not only to me but others too.
The person I work closest with is Pete Stewart and we have had hours and hours of discussion about the history of pipes and piping. Four pm is my time for a cup of tea with two digestive biscuits and a long phone call to Pete. Between 2001 and 2008, when he was engaged in writing his two (excellent) books on piping in the Lowlands (The Day It Daws and Welcome Home My Dearie), we really focussed on the contrast between north and south of the border. England is rich in depictions of pipers from before the 1700s, yet there are less than a dozen in the whole of Scotland despite its world-wide reputation for piping.
Over the years I tried to get Pete interested in finding a way to collate all these images of pipes and pipers in one place, but he was usually tied up in other projects and I never succeeded in getting him fired up about the idea, until last year when I managed to catch him 'between projects' and he got inspired. The result is The Bagpipe Map. Pete describes this on the website itself:
'This is an interactive map to list all the early representations of bagpipes in publicly accessible buildings in Britain. It is an ongoing project which relies for its growth on a community of contributors. If anyone knows of, or has encountered a carving, stained glass window or painting of a bagpiper that is not yet included on the map then they can log on and make a contribution'.
The map is still in its early stages, with just 130 carvings listed, though hopefully by the time you read this there will be plenty more. The initial focus has been on carvings, but my basic Google search one evening produced about 10 stained glass depictions which have not yet been put on the map. We know there are plenty more.
Here we all are in the 21 century with a fascination for bagpipes which fell out of favour before the 17 century. But though none remain, isn't it amazing and wonderful that we still have some visual clues as to what these instruments looked like, scattered around the country in churches and castles and on the sides of buildings. It seems important to gather photos and descriptions of them all in one place. Some representations are highly detailed, others verge on the imaginary and it is up to us today to interpret them and distinguish between the factual and the fanciful.
We will never know what these pipes sounded like, but I feel gratitude to these unnamed artisans and artists from centuries gone by who have left us these tantalising 'visual time capsules'. However, looking over my shoulder I realise that there is one person that I did know; someone who has played an enormous role in stimulating interest in the history and revival of early piping in the UK. We dedicate The Bagpipe Map to the memory of Roderick Cannon, who sadly died last year. I am confident that had he lived to see it, he would have been enthusiastic and certainly would have been one of the first to contribute to it.
The Bagpipe Map is up and running…. Do visit it… explore it ….have fun with it…. make contributions to it and watch it expand and grow over the years.
Pete writes:
THE BAGPIPE MAP PROJECT: WHAT'S IT FOR AND WHERE'S IT GOING?
First and foremost it stands as a statement about the historical presence of bagpipers throughout the British isles, a foil to the persistent general belief that they are a peculiarly Scottish phenomenon; there are now over 130 records, 120 of which are in England. This without adding the many stained glass windows that we have notice of, and all dated no later than the end of the 17 century. This is the reason why we have resisted including more recent items; to do so would dilute the power of this argument, since it seems that 'indigenous' bagpipers became more or less extinct outside Scotland and Northumberland around that time, leaving only one or two survivors, and depictions from later times can only be unidentifiable copies or, more likely, fantasies.
We are currently working on ways in which we can spread this argument into the wider infosphere; local radio seems one possibility. Any other suggestions would be welcomed.
Secondly, it provides a 'tourists guide to bagpipes'; I recently had visitors from Australia travelling up from the south to Scotland; one of them asked me for places of interest to her as a keen piper. I pointed her to the map and she was able to visit a number of the items on their route.
On the other hand, piping enthusiasts can use the map to identify pipers in their own area, visit them and even perhaps make them more widely known; my experience is that sometimes even those volunteers welcoming visitors to their church are unaware of the gems they host. And if you do visit and can take photos, we'd be delighted to add them to the map; a precise location within the building would help, too!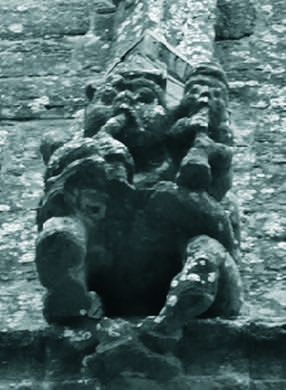 Lastly as the map grows in density it is becoming clear how valuable it will be as a tool for those keen to know more about piping history; it is already possible, for instance, to discern a single mason at work in the area around Dorchester, first identified by the inclusion of a small shawm player balanced on the shoulder of the piper (Stinsford, Cerne Abbas) but then revealed to have surely been responsible for several others in the district; there is similar work to be done in one or two other areas of the map. It would be a great help to have the advice of scholars of historical carving styles to help in the dating of many of these carvings, since deducing dates from the records of church building is fraught with difficulties; there are probably already a number of 'guesses' on the map, often as the result of limited knowledge of the precise position of the item within a building which may have been extended or rebuilt a number of times; this is another matter that anyone able to visit the location could help clarify.
There is also the possibility of including maps of literary references, a task which Roderick Cannon began back in the 1970's and which pull together visual and written evidence in a revealing way. With this established it's possible to see the site becoming a hub for all aspects of British Bagpipe scholarship.
That's only one way in which the project might grow. I have always been aware that the possibilities of such a map are endlessly expandable; we have so far resisted venturing beyond the British Isles (with one exception, a carving with Scottish connections). This is partly in order to emphasise the point made above, but also to keep the project manageable at this stage — there must be hundreds more images available across the channel. Volunteers prepared to manage their region of Europe (or the wider piping world) would be welcome.
I have also always foreseen the potential to include other instruments in this project; I am currently aware of Sarah DeerJones' harp map ( http://sarahdeerejones.co.uk/medievalharp.htm ) and there may already be others. This would involve the assistance of experts on these instruments, and managing the whole project might quickly become a fulltime occupation…