Review: Of Arms And A Woman – Blondel
By: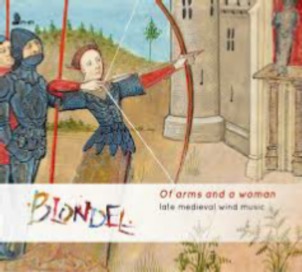 It should be stated right from the outset that this is not primarily an album focusing on bagpipes – though do not let that deflect your interest in any way whatsoever. The album is a wonderful array of late medieval instrumental music presented on a wide variety of wind instruments. The album features recorder trios, bagpipe trios, shawms, slide trumpets, sackbuts and some very well-presented percussion. It offers a very rewarding variety of sound presented by the five musicians present for this recording - Belinda Paul, Lizzie Gutteridge, Emily Baines, Daniel Serafini and Louise Anna Duggan. For fans of the bagpipe, there are three thrilling and somewhat rowdy trios of piping goodness to enjoy. The bagpipes used in the recording were made by three very well-known figures on the English bagpiping scene – Jon Swayne, Sean Jones and Jim Parr.
Medieval music - especially of the later 14th century and 15th century - can be very difficult to interpret and bring to life, as the cadences, intonation, polyphony and phrasing are different in many ways from a lot of later music. All too often this challenging music can be either inexpertly played, or over-produced, or too rambunctious, or alternatively too refined to such a degree that there is very little life in the sound. There's no danger of any of this with Blondel - their judgement and execution is always sound. The art of blending shawms, trumpets and bagpipes harmoniously and sweetly is one of the most difficult skills to master and Blondel offer a masterclass here in how it is done.
I have seen Blondel perform live on numerous occasions and been constantly astonished at their sweetness of sound and lightness of touch. I'd wondered how well their impressive sound could be captured in a recording - but have no fear on that score, the engineer (Adrian Hunter) has done an excellent job of capturing the mighty sound and reproducing it for us all to enjoy.
Whether this is to be your first experience of medieval music or you are a seasoned collector, I could not recommend the CD strongly enough. It comprises 24 tracks of carefully presented and prepared music all recorded to a very high standard and packaged in a handsome digipack cardboard sleeve with extensive notes for each track in the accompanying booklet. Hats off all round!