Symposion – Music and Mythology - One year on
By: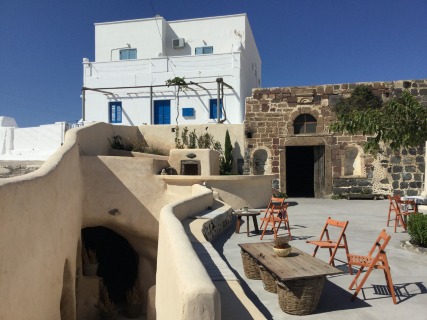 Returning to Symposion on the island of Santorini this September (see Chanter Vol 31/4), I was immediately impressed by the transformation that had been achieved over a mere 7 months, between November 2017 and the end of May, in time for their summer season.
I had been receiving the occasional progress report but this did not prepare me for the reality: what was a neglected concrete courtyard has now become an inviting wine-cafe and mythological botanical garden, planted with borders of fragrant indigenous herbs, plants and trees plus a number of young mulberry trees. These will soon be providing some welcome shade. Walking through, you come to the Saliveros Chamber. This used to be a dark, dusty wine store but it now contains a bright performance space, a local vintage instrument exhibition and a workshop where Yannis makes his pipes and flutes and leads pan pipe making workshops. He is no longer isolated in a separate room and is now free to interact with the steady flow of visitors.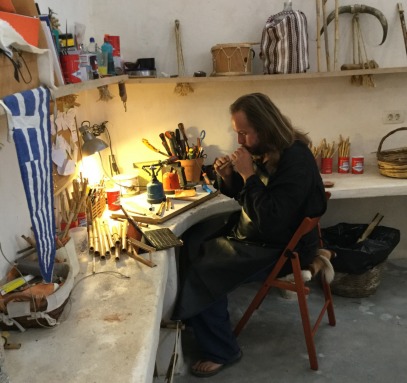 Everything has been restored with skill and sensitivity to the heritage of the site and great care has been taken to preserve as many of the original features as possible. The next stage will be to convert the adjacent store into accommodation and then move on to converting the caves into a permanent exhibition space, a performance space, artist residency area and study centre.
The future potential of Symposion is so much more than was previously possible: there is now space to accommodate larger scale varied performances both indoor and out, and this, combined with their location in the village, is already helping to forge strong community links. Both Argy and Yannis continue to be brimming with enthusiasm and plans for the future, starting with the first annual "Symposion Pipers' Festival" over the weekend of 6th to 8th September 2019. Plans are still developing, but it is hoped that they can offer a package, especially to members of the Bagpipe Society, which includes accommodation, a range of music-related activities, both within Symposion and the village, plus the option of organised trips to local sites, including a bit of local wine tasting, of course. To gauge potential interest, Society members on our mailing list will be receiving more detailed information and a request for a statement of interest, with no further obligation. I would urge you to give this serious consideration, if you are considering an early autumn break somewhere warm, as it has the potential to be a seriously great weekend!