Piccola Banda di Cornamuse
By: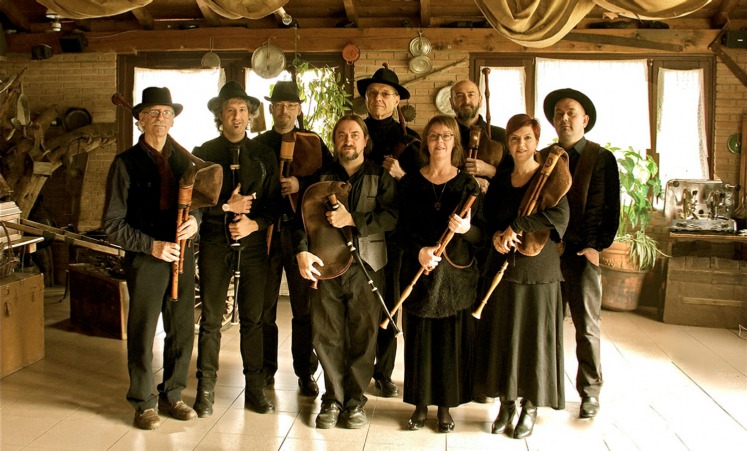 The "Piccola Banda di Cornamuse" ("Little Bagpipes' Band") was founded in 2012 with the aim of gathering together Italian players of the "musette" bagpipe from central France, as played in the regions of Berry, Bourbonnais, Morvan and Nivernais. These pipes, from the end of the '70s to today, have seen a rebirth which has spread throughout Europe, well beyond the confines of their region of origin. In 1989 in Italy there were only three "musette" players, including Gabriele Coltri, one of the founders and director of the Piccola Banda. Unlike the Highland Bagpipe, the "musette" does not have a band or military tradition, but it fits well to polyphonic arrangements thanks to its large range and the different pitches it is made in. The "Piccola Banda di Cornamuse", is made up about twelve musicians from the north-west of Italy plus one from Canton Ticino (Switzerland) and it bases its repertoire on music from its native central France, together with Italian and English traditional tunes. These are supplemented by original compositions for "musette" and adaptations of pieces coming from other musical worlds. The band uses "musettes" in pitch of G/C (16") and C/F (23") and occasionally also in D/G (20" and 10").
The artistic director, who also arranges all the music, is Gabriele Coltri. The group has played at various folk festivals in northern Italy and at the FIM (International Music Fair) in Genoa. In 2015, the group performed the programme "Siamo qui a cantar la Stéla" ("We are here to sing the Star") for the first time featuring European Christmas music and songs and Caterina Sangineto was the guest singer and Marc Novara played organs. Following this initial outing, the pieces were then augmented with other instruments such as recorders, chalumeau and synthesizers and the work recorded and released by the Italian label Felmay, which specialises in folk and world music. The group has continued to develop its offering and, together Caterina Sangineto and Marc Novara, a new repertoire was developed this last summer for bagpipes, voice and organ and the pieces included a range of European dances, ballads and aires.