In the Bag: Roly Scales
By: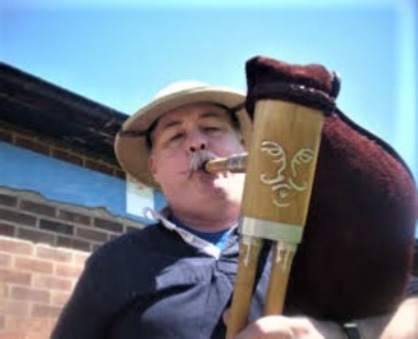 Roly was born in February 1954 and is still living. British/French dual national. A serial dabbler in all sorts of stuff, including bagpipes. Main instrument: Anglo concertina. Currently reading "A Place of Greater Safety" by Hilary Mantel and "Les Ch'tis Hommes Libres" ("The Wee Free Men", in French) by Terry Pratchett. Ambition: to place a chameleon on a tartan rug and see if it dies of over-exertion.
What bagpipes do you play?
More accurately, what bagpipes do I own? I don't necessarily play all of them all the time, particularly as I live in a flat. French Cornemuses du Centre in 'G', 'A', 'D' and 'F' tunings; Border pipes ('G' and 'D'); Boha ('G'); Bag-hornpipe (a 'G' caramère which was bagged up with a drone); modern sac de gemecs (Catalan bagpipe) in 'C' with laterally-mounted drones.
What led you to take up piping?
A desire to discover the nooks and crannies of Western European traditional music, and French music in particular. I approached the French traditional music from a totally different angle from the British F'n'B scene. In the first instance I was drawn toward the songs, both in French and in regional languages – and still am. I was actually aware of the hurdy gurdy before I knew anything about the French bagpipes.
My French (maternal) grandparents were given a Joseph Le Guluche (1849 – 1915) polychrome ceramic figure of an elderly Breton hurdy gurdy player as a wedding present. This was later half-inched from their house in a burglary about 18 years ago. I actually heard a hurdy gurdy for the first time in the Place du Tertre in Paris one evening when I was in my late teens. The next time would be when I first met Blowzabella at Hood Faire in Devon in the early 1980s. I was able to listen to Jon Swayne and Paul James' piping at close quarters.
My first engagement with a parpy reed instrument was quite by chance when I encountered a pibgorn (I now have four of them) and I was completely won over. It was Peter Stacey and Jean-Pierre Rasle who persuaded me to join the BagSoc following a concert they gave at Bracknell. From there it was a short step to getting into piping although actually learning to play the pipes properly has been nowhere near so straightforward.
Which pipers do you most admire?
Tricky… I owe a huge debt to Jon, Paul, Peter and Jean-Pierre. I don't play much Irish music but I have huge admiration for Liam O'Flynn – and while I'm about it I must flag up an Italian uilleann piper named Gregorio Bellodi who teamed up with my old university chum, the fiddler Ben Hall. Cracking stuff. I also enjoy listening to Fred Morrison's piping, and you can't go wrong with Philippe Beauger, Joanny Nioulou, Julien Barbances or my old mate Yan Cozian. Antón Varela leaves an Antón Varela-shaped gap behind him. I admired him for the warmth of his personality, the quality of his playing and for keeping it real. He never mucked around with Lord of the Dance –styled gimmickry, unlike certain other individuals I could name.
Name three, non-piping-related musical influences:
Unaccompanied hymn-singing by a mostly elderly congregation in a chapel somewhere near Cirencester when I was a child, complete with the unusual phrasing and vocal ornaments. If anyone tries to tell you that English traditional singing is unadorned, don't believe them! These good people liked to seek out all the nuances of a tune.

The day my Dad brought home a record player. I listened to all sorts of things: Mozart, Rossini, J.S. Bach, the Beatles, Mahalia Jackson…

The day I was given an LP of blues by Robert Johnson. Between the ages of 17 and 19 I wanted to take up jazz and blues guitar, but I discovered that I had no aptitude for the guitar. Folk singing came to me more naturally.
What album is top of your playlist right now?
"Tonight at Paddy Mac's" by Gregorio Bellodi and Ben Hall.
If you had your life again, what instrument would you play?
The violin. A decent player can do so much with it. I have one or two bowed instruments at home, but I figure that I've used up most of my three-score years and ten, and I should be looking to take up the harp instead.
Name your favourite music festival.
That's a choice between the Fête de la Vielle en Morvan (Anost), back in its heyday, and the Bordées de Cancale.
What three words describe your piping style?
Mercurial. Erratic. Undisciplined.
What tune would you have played at your funeral and why?
La Marche de la Saint-Martial , by Une Anche Passe. It's the processional tune that's got everything. It's histrionic but it's also cool and full of surprises. It's essentially jazz for shawms and brass.
Bellows or mouth-blown?
Mouth-blown.
Cats or dogs?
Parrots. You can teach them to recite Baudelaire, George Herbert, and stuff. Find me a scarlet macaw that has memorised John Donne's "The Dream"!
Do you prefer playing, dancing or both?
Playing, every time. As a dyspraxic I have poor physical co-ordination and can never understand where I'm supposed to put my legs.
Cane or plastic reeds?
Of course! You can't have a working set of pipes without cane or plastic reeds!
What's your greatest musical achievement?
Commanding a silence. I have played to people who were nattering at the bar, looking at their phones, or wandering off. To get the attention of an audience and something stronger than polite applause is exciting.
What's your most embarrassing bagpiping moment?
When the bass drone of the grande cornemuse I was playing slid off my shoulder and tapped some old bag on the head. I apologised but she wasn't listening and quickly justified my description of her.
What's the most annoying question you get asked about the bagpipes?
"Do you wear a kilt too?"
What advice would you give a novice?
If you want to take up the pipes, don't go for the first old rubbish you come across. Take advice from someone who knows about bagpipes before you decide to buy a set.
I love bagpipes because…
I'm not even sure I do love them. I've been wrestling with them since the late 1980s. It remains to be seen who will win.
As told to Andy Letcher