A Tradition of Breaches: On the Renaissance of Bagpipes and Bagpipe Making in Austria
By:

This article has been edited to be spread over two editions. In this first instalment, Michael explores the modern revival of bagpipes in Austria and in the Autumn edition of Chanter, he will feature the current makers of the instrument.
Part One: A bagpipe? In Austria?
1756: Carnival
"Here comes the Peasant Wedding (…) It also has a bagpipe and a hurdy-gurdy in it." Thus Leopold Mozart described his most recent work to his publisher in 1756. The 'Peasant Wedding' is a nice little sinfonia he had written for the carnival season of this year. At that time, bagpipes had been en vogue among the German speaking nobility of the Holy Roman Empire for almost a century. They were employed at court celebrations, often in a fake rural context - this phenomenon mirrored the court trends of France, where musette and vielle served the same purposes. The bagpipe in question was commonly called 'Dudelsack' or 'Polnischer Bock' (Polish buck), the latter name pointing to the origins of the instrument. With one drone pipe two octaves below the chanter tonic, a plagal chanter range from dominant to the sixth, single reeds only and cylindrical bores, this instrument belonged to the Eastern European bagpipe family. A carved goat head served as chanter stock, and a natural hide bag and cow horn sound bells added to the sometimes grotesquely feral appearance of the instrument; during the 17th century it became regularly equipped with a bellows and thus quickly surpassed the older mouth-blown 'Sackpfeife' type (conical chanter with double reed, two drones with single reeds) in popularity. Where 'Dudelsack' could mean both high and low-pitched pipes, the term 'Bock' was reserved for low-pitched ones exclusively.
When Mozart wrote the Peasant Wedding, the hype of rural instruments had already subsided. Consequently, the performance at Augsburg was no big success. Yet, the piece is of immense value for us today, as it is a source of contemporary dance music of the peasantry and shows the popularity of bagpipes and hurdy-gurdies in Bavaria and Salzburg at that time.
1954: Advent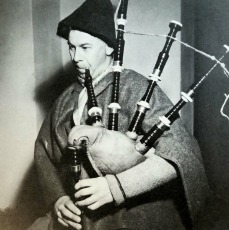 In 1946, Salzburg folk musician Tobi Reiser founded the Salzburg Advent festival, an evening combining Advent and Christmas songs, texts and a short shepherd play. For the 1954 edition of his festival he decided to try something which had been unheard of for decades – he wanted to have a bagpiper on stage. Well-known folk songs of the Salzburg region mention the bagpipes, yet the instrument had completely fallen out of use probably already around 1800. Reiser had to start from scratch. Through Eleonore von Trapp, member of the famous Trapp family, he obtained a set of Scottish Highland bagpipes. Bereaved of the tartan bag cover and all other reminders of its Scottish origin he entrusted the instrument to a fellow musician named Haimo Falkensteiner. With the reed scraped down considerably and the drones shut, Falkensteiner premiered as the first bagpiper of the 20th century in Salzburg.
Naturally, the difference between the possibilities and characteristics of a Great Highland Bagpipe and the requirements of Alpine folk music were insurmountable. However, Reiser's attempt was not entirely misplaced – only twenty years earlier the very last Western German bagpipe culture, where the pipes were played at the "Schäferlauf" (Shepherd's Run) in Markröningen (Suebia), had used Scottish bagpipes when the last ancestral and autochthon bagpipe had dropped out of being used around 1900. Thus, even before Scottish pipes became en vogue with celtophiles all over Europe, they were briefly used in an attempt to bring the pipes back from oblivion.
1968: Spring in Prague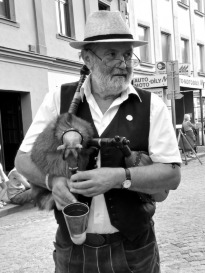 Rudolf Lughofer, born in Kremsmünster (Upper Austria) in 1948, visited the Czechoslovakian capital several times during what later became to be known as the "Prague Spring". Coming from a musical background and being a flute player in a brass band himself, he became involved with Bohemian brass music during his trips. Finally, shortly before this Spring ended with the arrival of Soviet troops, he came across a recording of the then already famous Konrádyho Dudácká Muzika (Konrády's Bagpipe Band) from Domazlice in Western Bohemia. Lughofer learned that the instrument he had until then perceived to be Scottish, was in fact very traditional in Bohemia. He was intrigued with the appearance, construction, sound and function of the Bohemian pipes. Luckily, a music store in Prague had one set of pipes at hand; Lughofer bought the instrument just for fun. He somehow managed to get some notes out of the instrument and used it for his pastime in the military service. Delicate as bagpipes are, it stopped working not too long after, and without someone around to help with fixing it, Lughofer hung it on a wall.
It wasn't until the early 1980s that he chose to find the maker of the instrument – with some help from Czech acquaintances like famous Josef Rezny (founder of the International Bagpipe Festival in Strakonice) and Josef Krcek he finally met maker Frantisek Havlicek, who agreed in tutoring him in 1983 and made a new set of pipes for him. Thus, through the obstacle of the ever looming Iron Curtain, Lughofer slowly realized the potential of the instrument not only to play Bohemian music, but also to bring back the Bavarian and Austrian tunes that had once been played on it.
1940: Carissimo Agostino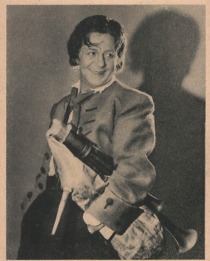 Legend has it that the piper "Dear Augustine" lived in Vienna during the 17th century and survived the plague by being so splendidly drunk that neither the germs nor being accidentally interred in a mass grave could break his spirit or his body. While the story has obvious precurrants (a similar account dates back to 1598), the song "Oh Du lieber Augustin" remains popular all over the German language area; the melody itself is at least 300 years old and is also known in England ("The more we get together") and the Netherlands ("Da wordt aan de deur geklopt"). The choice of name in the German version probably relates to August the Strong of Saxony, who was blamed with some military failures during the war against the Ottomans after the siege of Vienna - after all, "Oh Du lieber Augustin, alles ist hin" translates as 'Oh, dear Augustine - all is lost'.
In 1940, the legend was made into a movie with Austrian actor Paul Hörbiger starring as Augustin. The choice of the decoration department for Augustin's bagpipe is intriguing - Hörbiger was not provided with a Scottish bagpipe, but rather with an Italian zampogna. While this may at first seem to have been a political choice (clearly, an Italian instrument was less problematic than a British one given the area and time), the reasons may very well lie deeper. Iconography shows that Italian bagpipes were present in Austria already in the 18th century; by the end of the 19th century, wandering gypsy musicians from Southern Italy were a common sight in the Alpine regions, as is proven by photographs and private accounts. These boys and men wandered across all Europe and even carried their often very large zampogne up to Scandinavia. For an albeit brief period, the one bagpipe most inhabitants of rural areas knew was in fact neither Bohemian nor Scottish, but - curiously enough - Italian.
1989: Crossing Borders
After having been taught extensively to play and maintain the Bohemian bagpipes, Rudolf Lughofer quickly became convinced that there was indeed a dormant potential in the instrument and its music. First experiments with a band called "Dudelsackgruppe Lughofer" ('Lughofer Bagpipe Band') quickly led to the founding of the "Kremsmünsterer Bock- und Leiermusik" ('Kremsmünster Bagpipe and Hurdy Gurdy Band'), featuring a modified 'Bohemian' lineup: clarinet in Eb, clarinet in Bb, two violins, double bass, Lughofer on the bagpipes and his colleague Franz Lacherstorfer on the hurdy-gurdy. The band turned out to be an immediate success. After initially playing mostly Bohemian tunes, Lughofer soon began to research older sources for bagpipe music. Finally, the group encompassed a broad repertoire of Austrian, Bavarian and Bohemian tunes and became the first ensemble to use bagpipes in traditional folk music during the 20th century.
In August of 1989, Lughofer managed to get some musicians together for a small festival in Kremsmünster; his long-standing contacts beyond the Iron Curtain proved to be very useful for this matter. On stage were Regensburger Bordunmusik, who had pioneered the renaissance of bagpipe music in Germany, Josef Rezny's Prachensky Soubor from Strakonice, the family band of Estonian piper and pipemaker Ants Taul, and the recently founded Steyrische Bordunmusik by newcomer piper Sepp Pichler from Styria. These Kremsmünster festivals later developed into larger folk and balfolk celebrations and continued to attract both professionals and laymen until the early 2000s. In 2016, this festival was reactivated by a team consisting of Upper Austrian culture developer Gotthard Wagner, Rudolf Lughofer and myself; the new festival is planned as a biennial event and will next take place in the summer of 2019.
1946: Eviction
While bagpipes had become forgotten among most German speakers by the end of the 19th century, there were two notable exceptions: One was the already mentioned tradition of piping in Suebia, which, however, was in its very last phase by the early 20th century. The other was the community of German speakers who inhabited the Bohemian region of Egerland (in Czech Chebsko). The Egerlanders had settled there for centuries and had remained somewhat out of the main focus of German history. When the Austrian Empire crumbled in 1918 they became a minority in the newly formed Czechoslovak republic. The annexation of their land by the Germans in 1938 was welcomed by most of them, and the reciprocation of the re-established Czechoslovakian republic after World War Two was immediate and total: Nearly all Germans, who made up 90% of the population of Egerland, were evicted - most of them relocated to Germany, some to Austria. Only after the fall of Communism a slow process of healing between the two ethnicities began, which is now heeded by good musical contacts between Czech pipers like Tomas Spurny and the descendants of those evicted.
The forceful resettlement also had a massive impact on the bagpipe culture of the Egerlanders, which until then had remained intact. Like their Czech neighbours, they used bagpipes in small ensembles with violins and clarinets, sometimes also harps or guitars, providing the musical background for social and religious celebrations. This tradition was rural and deeply connected with life in the countryside. Once the Egerlanders found themselves in large cities in Germany, their tradition was destined to change dramatically. Bagpipe music did not survive long outside its original context, and so, induced by the eviction from Bohemia, the last German bagpipe tradition in Europe ended.
1863: Off to a new world
The 19th century was the time of settlers and explorers. Within the great magnitude of people who risked and often lost everything in search for a new and better home was a group of Bohemians from the town of Staab (in Czech Stod) near Pilsen. They set out in March 1863 for the region of Puhoi, north of Auckland, New Zealand. After having survived the initial hardships of colonizing the land by the great help of the local Maori tribe, their settlement became stable and flourished. All of them were ethnic Germans and spoke their Egerland dialect. Of course, they brought their instruments with them: Several bagpipers lived in this community by the beginning of the 20th century, all using instruments which had been made probably up to a century earlier in Bohemia. This stronghold of German-Bohemian piping remained entirely unknown to most pipers in Europe. It was not until the 1970s that some of the newly emerging players of Bavaria, who had modelled their instruments after those of the last Egerland players, got into contact with the settlers of Puhoi. Today, the old Bohemian dialect has all but vanished, but the community remains very proud of its Bohemian heritage
Part Two: In the making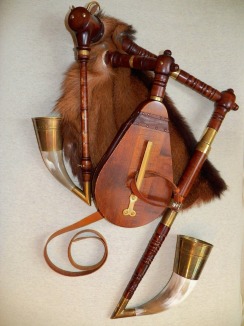 How should a bagpipe be constructed, if there is no direct tradition of making one? This was the question for the first bagpipe revivalists of the 1970s. In Bavaria, self-taught pipe making pioneer Tibor Ehlers was the first to recreate a 'Bock' type bagpipe as well as the older 'Sackpfeife' or 'Schäferpfeife'. For the Bohemian instrument he could rely on surviving instruments from Egerland maker Johann Ziederer, for the Sackpfeife he more or less had to fantasize and create an instrument that fit the iconography and the surviving sheet music. Sadly, only one complete historic model of this type has survived until today, and as it was probably made in the Netherlands and was altered at a later point, conclusions are not entirely easy to draw. From descriptions by Michael Praetorius (Syntagma Musicum, 1619) we know that the Sackpfeife regularly had no thumb hole and achieved the highest note (octave or fifth, respectively) by overblowing. The surviving instrument, which is on display in the Vienna Hofburg, features the same chanter design. The resulting oddities of the plagal scale, which essentially turns anhemitonic due to a sharp fourth and flat leading note, were mentioned by Praetorius and seem to have been a common feature on bagpipes in older times; in some regions of e.g. Poland one may still encounter such scales today. However, for the reconstructed and reimagined instrument, the scale had to be more soothing to modern ears.
In Bavaria, the seminars which were organized to teach people how to play the pipes were from the very beginning also designed as crash courses in instrument making. Though only few of the pipes made there actually worked, the incentive was successful. Until today, the annual course at Waldmünchen offers the possibility of making a bagpipe with guidance by a professional maker. For several years now Toru Sonoda, originally from Japan, has been sharing his bagpipe making skills there. In Austria, the situation was entirely different. There were no organized courses and no regional culture association backing Lughofer in the beginning. He tried early-on to find a local maker in order not to be dependent from the Czech sources beyond the border, but experiments with a craftsman from Hallstatt proved to be unsatisfying. Naturally, the expertise of Czech makers, who were part of a living and uninterrupted making tradition, was difficult to match. After some years, Lughofer turned to German maker Helmut Moßmann, who made both Sackpfeife and Bock; when the Iron Curtain fell, Lughofer finally got acquainted with professional woodwind maker Pavel Cip from Moravia, who had started his bagpipe making under the auspices of Josef Rezny. Cip's instruments combined a classic traditional look with good function, light pressure and an impressive versatility of the maker, who was always keen to experiment. When the first bagpipe seminars were started around 1990, Bock newcomers were almost universally equipped with instruments by Cip; therefore, they used the Bohemian layout of having the bag on the right-hand side, but were tuned in F like the Bavarian instruments (Lughofer had switched to F when he used Moßmann's instruments).
New makers - new tradition?
During the 1990s, the re-emerging traditional Austrian piping scene was therefore entirely dependent from German, French or Czech makers. It was only in 1996 that young Stephan Widhalm started a bagpipe workshop in Vienna; however, Widhalm did not opt for any bagpipe from folklore, but concentrated on making Renaissance smallpipes like the Hümmelchen described by Praetorius. He later developed them into multi-key high-end produced instruments and still offers them today; Widhalm's work is definitely outstanding, but naturally only covers one aspect of piping, namely and mostly the historic one. Later, models based on Renaissance smallpipes were also crafted by Fritz Dokter from Styria, however in a much less sophisticated manner. Peter Kapus, also from Styria, made some French bagpipes around the turn of the millennium. It was not until the early 2000s that regular Austrian makers of traditional pipes reappeared. In the following, I would like to present two people who are, each in their own way, engaged in crafting new instruments for the local piping scene.
a.) Thomas Rezanka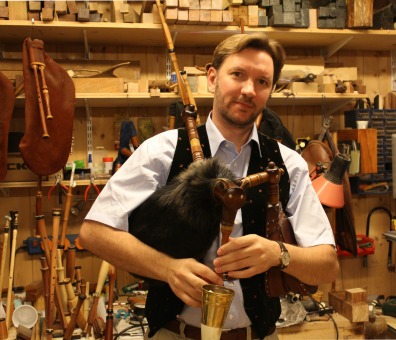 Coming from a musical family, Thomas Rezanka started to play the Bohemian pipes in 1994 at a seminar in Lower Austria. About ten years later he added the French pipes to his repertoire and became increasingly interested in making such an instrument. After learning from famous German master Andreas Rogge (who is also a renown provider of Irish pipes) and German-Swedish maker Alban Faust, he started to make bagpipes in 2007. Over the years, he gradually broadened his field of interest and his work. One branch of his business has its focus on making traditional bagpipes like Schäferpfeife, Cornemuse berrichonne, Swedish säckpipa and the historic Hümmelchen smallpipe. Recently, he has also added the Dreibrümmchen to his list, an all single reed three-drone smallpipe home to Lusatia and Bohemia (described as Dudey by Praetorius). Aside from this, Rezanka offers reconstructions of historic wind instruments; his Ancient Greek auloi have found their way into the hands of professional music archaeologists like Barnaby Brown or Stefan Hagel. I myself have a copy of the late 14th century chanter from Rostock, which he completed into a full medieval bagpipe.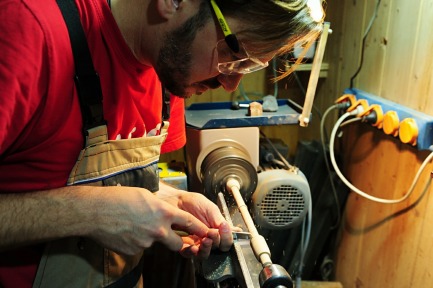 As of now, he has not taken up making Bock type bagpipes, though he regularly repairs or augments instruments of other makers. In any case, Rezanka is the most professional and versatile Austrian bagpipe maker of today who serves customers both at home and abroad. He sees himself in the tradition of historic Central European makers and combines a traditional choice of materials and decoration with innovation and creativity. Rezanka also gives annual courses in making historic German and contemporary Swedish bagpipes in his workshop, thereby passing his knowledge on to both amateurs and aspiring professional makers.
b.) Sonja Vereno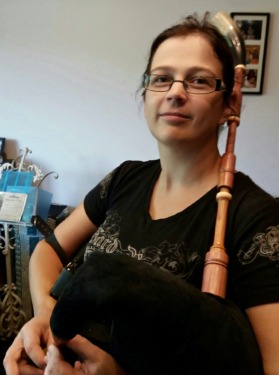 Being my long-standing friend, partner and wife of five years now, Sonja Vereno has been acquainted with bagpipe music for a long time. Originally being a singer and guitar player, she took up the pipes and the hurdy gurdy in 2005. After some years of thinking about trying to make a bagpipe herself, the decisive moment came early in 2017. Having just received a nice set of Moravian pipes made by Pavel Cip's son Petr, who has now taken over the family business, the decision was made to try going for a Bock type instrument. Sonja thought about what design the instrument could and should have, and finally decided to skip some of the features the Bock amassed in Baroque times and go back to an earlier version of the instrument. With a straight drone on the shoulder, no brass connections between the pipes and the sound bells and no carved goat's head serving as a chanter stock it very much resembles those Bock types that where depicted by various artists in the 16th and 17th centuries. Sonja's approach to making bagpipes is, as she herself insists, that of a skilled amateur and artisan; a number of pipes has by now left her hands, each has an individual appearance following the colours and grain of the woods used.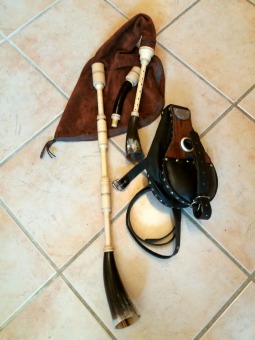 Drilling the tone holes and making the reeds falls into my obligation. As I am otherwise terribly incompetent in even simple tasks of hand work, I am glad for this matrimonial share of responsibility. As the general design is somewhat a retrograde development, so are the reeds, which I only make as up- and downcut idioglottal single reeds. The chanter, however, is in contrast to this: Additional holes for the pinkie and the thumb of the lower hand create a scale which is still consistent with that of historic Bock types (dominant, leading note, tonic through sixth, e.g. g' - b' - c'' - d'' - e'' - f'' - g'' - a'') yet adds both a minor third (e.g. eb'') and the sixth beneath the tonic (a'), which is traditionally absent on such pipes as it was seldom or never needed. As a nice plus, the chanter normally overblows to the minor seventh and octave (I have no physical explanation for this odd phenomenon, but it comes in rather handy). The drone remains at two octaves below the tonic, (e.g., c). The first outcome of this experiment worked - to our welcome surprise - very fine and proved its possibilities as an instrument both for traditional Central European music as well as pieces from Scandinavia, France or other parts of the world. Deviating from the standard key of F, Sonja currently makes sets in C and G, as these two keys are used the most also by players of other types of bagpipes and hurdy-gurdies.
Current situation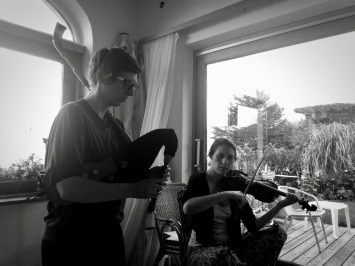 Austrian piping deviated from any linear tradition a long time ago, as this region is not and has never been a monocultural one throughout its history. That is the reason why I tried to illustrate the meanders of piping history in this region by simply telling stories. Austria is a land of crossroads, where for centuries many different peoples, cultures and creeds have met - sometimes in peace, sometimes in war.
The 20th century has been a burden to this region, and with all its former bonds of heritage cut by the Iron Curtain has somewhat forgot about its own history. But the fall of Communism reopened these regions to my generation, and - though slowly and not without drawbacks - new bonds and ties are being formed which are not just copying what has formerly existed but do get inspired by the transnational relations of old. The piping culture that re-emerged in Austria, beginning with Rudolf Lughofer, bears witness to this development: The seminars that started to offer professional teaching of the instrument brought Bohemian masters to Austria early on; most people who play the Bock got their instrument from Czech makers; on the other hand, the presence of the balfolk scene and its music has opened a new perspective and has laid the foundation for new types of bagpipes like the Swedish säckpipa to arrive in Austria; these instruments enjoy considerable popularity among Austrian pipers, since they offer not only an exotic sound but also an exotic repertoire; consequently, other makers like Norbert Wallentin or Stephen Pajer concentrate on such types. Aside from all of that, there is also an active Irish and Scottish piping scene.
This tradition is very young, and one might question whether it is therefore safe to call it a tradition after all. Yet, what Lughofer, Pichler and many others started three decades ago has grown into a vital and colourful scene which gradually becomes more and more accepted by the folk music establishment as something which might seem alien, but is still genuine. It features numerous bands like Hotel Palindrone, Schikaneders Jugend, Ensemble Unisonus and Aniada A Noar, who use bagpipes in a broad musical variety. The scene is lucky to have many talented players in its current and coming generation, and with instrument makers who are innovative and creative and yet deeply rooted in their tradition, the seed for a functioning and authentic new tradition will likely grow.