CD Review: Molten Amba – Slide to the Side
By: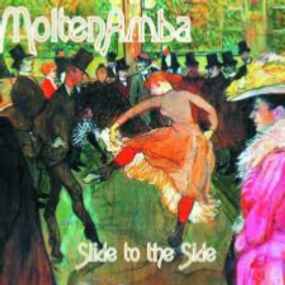 They say that timing is everything! Jane had sent me this CD for review a few weeks previously but I first listened to it on one of those glorious sunny and warm April days we've had this year. I should really have been outside, but found myself with a rather tedious administrative job to complete. So, bound to be inside to prevent my papers from flying about, I decided that was the morning to listen to Molten Amba. I wasn't disappointed.
The excellence of Chris Walshaw's piping and flute playing is well-known to most of us, setting a standard for us to aim for. On this CD he plays whistles and sax as well as pipes. He is joined by Anna Tabbush on fiddle and vocals, Bruce Knapp on guitar, slide guitar and mandolin, Geoff Nicholls on percussion and Richard Jones on keyboard's accordion and bouzouki. As Molten Amba they make a fine sound, on a CD that is well produced.
Jane had pointed out that this was a CD of dance music. Other clues are the front cover with its copy of a painting by Toulouse Lautrec, 'At the Moulin Rouge, The Dance'. The titles of the tracks also point towards dancing, but what is unexpected – yet delightful – are the song tracks featuring Anna's voice. 'Slide to the Side' (with vocals, slide guitar, accordion, sax and percussion), 'Quand on danse' (with vocals, guitar, percussion, whistle) and 'The Very Last Dance' (with vocals, guitar, whistles) all have a bluesy feel, and really prompt you to dance. They create a different sound scape to the other tracks.
Three tracks in and the pace is still a sensuous one – no rush, just enjoy the moment! This is music creating the gaps and then oozing into them. Then, bang - we get the introduction of Chris' pipes on 'PS' and suddenly we're at jig pace, woken to the urgent need to move and dance. Then it's back to the slumbering, yet shimmering Parisian moment created in 'Scattering the Ashes'. Such changes of tempi and mood are the very essence of great dance nights.
The question is posed in 'Quand on danse': what is the very nature of dance? As the sleeve says:
Hand in hand we reel and spin
Quand on danse je te desire….
Quand on danse
I can't take my eyes off you
Allume mes senses
When we dance I think I love you…
Once we exit the bluesy atmosphere of 'Quand on danse' we're now dancing to a very danceable tune – 'Honey Trail' by Richard Jones with Chris playing pipes; this has all the hallmarks of the great deux temps bourrees of Central France. Although the track 'Easy Sleazy' sounds as if it should be for the last dance, there is still 'The Very Last Dance' to come – maybe that's the encore? But, no - the final offering of the evening is to come in the last track where 'Bar Headed Goose' again takes us back to a balmy evening in Central France.
So, in short this is a CD of dance music for dancers, and it is a great CD. Lovely playing and singing. Buy it! www.moltenamba.com