In the Bag
By: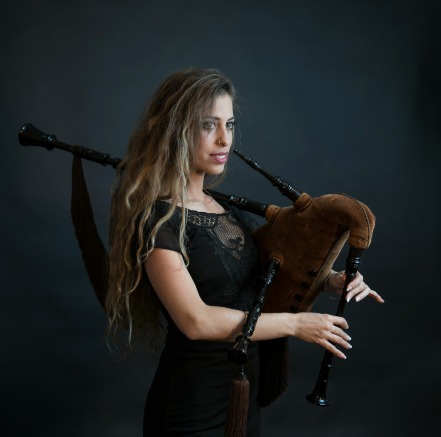 Meira Segal was born at 1986 in Israel. Her love to music started in childhood when she started playing recorders but when she was 18 she discovered the reed flute, or Ney, on one of her travels to the Sinai Desert. She started playing both Turkish and Arabic ney but over the years she has added the Bulgarian Kaval, Egyptian Kawla and agpipes were added to her repertoire. Most of her musical studies were conducted at the Labyrinth Music School in Crete. Together with music, she practices and performs Sufi and Central Asian dancing. Today she collaborates with a number of different musicians and bands in Israel and around the world. such as Labyrinth Music Orchestra, Efren Lopez, Zohar Fresco, Kelly Thoma, Gaidushka, Orvim Ensemble.
What bagpipes do you play?
I am playing the Gaida, Schäferpfeife, Gaita Gallega and a bit of Askomandoura.
What led you to take up piping?
Wind instruments had always been my passion. the first time I heard and saw bagpipes live was only 5 years ago in a music festival that I was playing at in Switzerland. It was a band called "Kel Amrun". Thom Freiburghaus and Lukas Flückigerand were playing the Medieval and Scottish bagpipes. I was really charmed by the power of these instruments, but I didn't think it is possible for me to play it since it looked so huge and complicated. A few months later I met a friend from France, Aurore Séguier, and she was playing Gaita Gallega. I tried her instrument and realized it is difficult but possible. I ordered one in that same day!
Which pipers do you most admire?
I don't know many specific players. I listen a lot to Gaida and Kaba Gaida players from Thrace and Rhodope mountains in Bulgaria. I love the old style of playing.
Name three, non-piping-related musical influences:
Classical and Sufi Music from the Ottoman Empire. Folk music from central Asia.
North African music.
What three albums are top of your playlist right now?
Taos- The new album of Lopez/Petrakis/Chemirani trio, Anamkhara - Kelly Thoma, Kerim Aydın - Black Sea recorders
If you had your life again, what instrument would you play?
I guess the Cretan Lyra, I really love it.
Name your favourite music festival.
Houdetsi Music Festival in Crete.
What three words describe your piping style?
(I think better to ask "what describes your piping style" since I have no idea how to describe it in 3 words…;-) I guess my playing is a mix of influences from various musical traditions. For example I am changing often the scale of my Gaita Gallega to an eastern scale by using sellotape and then I can play Arabic Debqa and different kinds of Zourna dances.
Bellows or mouth-blown?
Mouth-blown
Cats or dogs?
Cats, I have 5 in the garden.
Do you prefer playing, dancing or both?
I love dancing. Combination of both is perfect but in the last years I play more than I dance.
Cane or plastic reeds?
No clear ideology about that. for the Gaida and Gaita I have cane but for the Schäferpfeife I use plastic and it sounds great. By the way all of my bags are synthetic, vegan bagpipes.
What's your greatest musical achievement?
Playing with musicians whose work I had admired for many years, such as Ross Daly and Zohar Fresco. This is a great satisfaction.
What's your most embarrassing bagpiping moment?
It was during an acoustic concert: my colleague, who is also a very funny guy, knew I had to tune my Gaita. So he told the audience in Spanish, which I can't understand, that the next piece will be a solo dedicated to the delicate wings of the butterfly. Of course when I started to tune this loud instrument everyone were laughing so much and I couldn't understand why…
What's the most annoying question you get asked about the bagpipes?
"so you play Scottish music, right?"
What advice would you give a novice?
Get ear plugs!
I love bagpipes because…
when I hear and play them their powerful sound gives me strength. And also I really enjoy having a drone, other wind instruments don't give this facility.
As told to Andy Letcher