Fourth International Bagpipe Conference
By: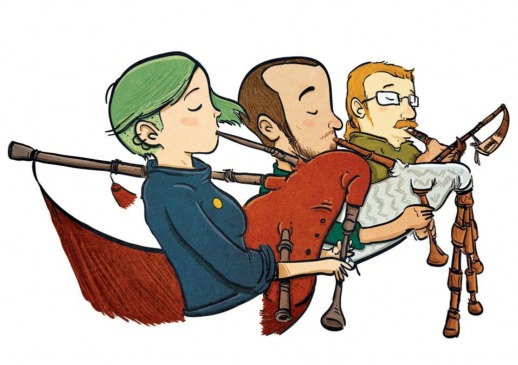 9-11 March 2018, Palma, Mallorca, Spain
Tired of rainy, grey days? Why not join us in March at the fourth International Bagpipe Conference in Palma, Mallorca. We will be celebrating International Bagpipe Day 2018 (10 March) with our regular biennial conference in Mallorca, where there is a rich and unbroken piping tradition. Supported by the Bagpipe Society, the LBPS as well as the Mallorcan government, the Council for tourism, the town of Palma, the Council for culture and the town of Sóller, we have a full programme of piping activities prepared. Here is what you can expect:
Friday 9 March, 8pm
Opening concert: For this international concert, we have booked a very diverse line-up including: Xeremiers de sa Calatrava, Xeremiers d'es Pla, Xeremiers Pau i Candid (Mallorca) Zampogneria Fiumerapido (Italy), Cätlin Mägi (Estonia), Trio Bellón Maceiras (Galicia)
Saturday 10 March 9am-6pm
Conference: International Bagpipe Day will be celebrated with a series of fascinating talks on a plethora of subjects. We have speakers coming all the way from Turkey, Lithuania, Belarus, Italy, Austria, Germany, France, UK, Mallorca and more to talk about a wide range of subjects, from the development of Scottish piping in Hong Kong to the bagpipe revival in post-Soviet states. There will be a free lunch (local specialities guaranteed for vegetarians and non-vegetarians!), included in the ticket price and a wide range of bagpipes to try and discuss during the breaks.
In the evening we have booked a bar where typical local food and drinks can be purchased and where we can all play informally, sharing our music, so don't leave your pipes at home!
Sunday 11 March 12am-5pm
On Sunday, the Xeremiers de Sóller (Pipers of Sóller) have organised with the support of the town of Sóller a ride on Mallorca's historical train (it is over 100 years old), meandering through the UNESCO protected mountain range to reach the northern town, where we will be greeted by the Xeremiers del Puig de sa Font. We will also be invited to visit an oil-making factory and there will be time to have lunch on the town's picturesque square. If you need to leave earlier, return tickets are open or alternatively you can purchase a bus ticket to get back to town more speedily. There is a limited amount of space, so get your ticket early (this is included in the conference tickets). For those of you who do not wish to come on the train ride, or who need to leave earlier, a leisurely stroll in the beautiful town of Palma will be just as satisfying. It is simply stunning and there are many historical attractions to visit.
We hope to see as many of you there as possible. If any bagpipe makers wish to come and exhibit their instruments, please tell us in advance so we can organise a table for you.
Tickets and further information (available on www.internationalbagpipeorganisation.com)
£35 full price, £25 concessions (etudents and unemployed)
We look forward to seeing you there! Cassandre Balosso-Bardin and Roger Landes
International Bagpipe Organisation