The Bagpipe Map Revisited
By:

The Bagpipe Map Revisited - Pete Stewart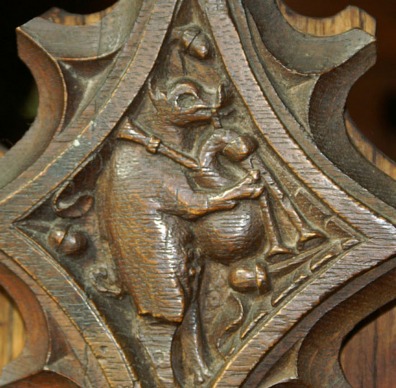 The Bagpipe Map was officially launched at the International Bagpipe Conference In Glasgow in March 2016, at which point it contained around 35 items with many more awaiting uploading. This total rose to around 140 during the following eighteen months or so. Since then it has gone into recuperation mode, though a new separate map has been introduced containing details of carvings of Pipe and Tabor players in the UK, and one or two tentative ventures across to mainland Europe have been made.
This year we hope to launch a new venture, more of which in a moment. Firstly, I can report the recent addition, not just of the double-chanter-playing pig above but also a growing number of stained glass bagpipers. Stained glass is not really my topic of expertise and so I am sometimes wary of retrieving images from the web, many of which contain little or no information about sources, but even when locations are available it is often difficult to date many of the images – not just because of the wide range of styles but also because of the frequent repair and 'restoration' work that the medium generates, with areas being replaced or re-used in new settings. My response to these dilemmas has been to include items whose date I am unsure of in the hopes that someone with greater knowledge can help sort things out. Maybe that someone is reading this…
A good percentage of pipers depicted in stained glass (and they are usually either angels or shepherds) are the work of late 19th century artists; these may be delightful and skilfully executed, but they do not meet the criteria nor serve the purpose that inspired the original project; the proposal had from the beginning been to include only early depictions, by which we meant 17th century at the latest. Nevertheless, there may be a 'historiographical' reason for including them; if you're inclined to collect such images, let us know and we'll make a space for them.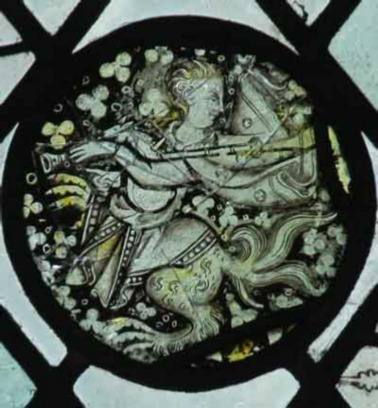 The second matter involves a larger projected development, one which can only happen with the assistance of Bagpipe Society members. As I mentioned, the map already has one or two images from the continent of Europe. We would very much like to expand this by adding maps for regions of Europe (and beyond?). For this to happen volunteers from the regions will be needed. So, if you're reading this in the Balkans, or Spain, or Italy, or France and ae interested in acting as a co-ordinator of any of these new maps please let us know.
The Bagpipe Map now has details of more than 160 locations (the Pipe and Tabor map has 45). If you are interested in expanding the map into new areas, please contact us via the editor. We are always happy to receive photos and details of any early piping imagery not yet on the map that is pre-18th century and preferably available to public view (this last is particularly true of paintings).
The map is not just a research tool; with maps, locations and in many cases opening hours and access details, it is particularly designed to help you plan your next holiday or work trip to take in some of these unacknowledged gems in our cultural history. Hopefully you will be fortunate enough to encounter new contributions – details of how to submit items are available on the website.