In the bag: Olle Gälmo
By:

… as told to Andy Letcher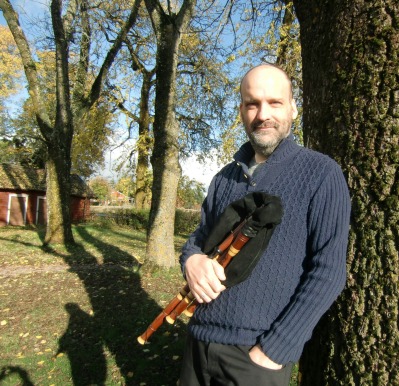 Olle Gällmo is a Swedish musician and tutor, most well-known for his work in playing and promoting the traditional Swedish bagpipe – säckpipa. He became aware of the Swedish bagpipe tradition in 1991 and has since become one of the instrument's most vocal proponents, in Sweden and abroad, not least through his comprehensive website about the instrument (http://olle.gallmo.se/sackpipa).
To hear Olle play and tell stories of Swedish bagpipe history, is a musical and cultural ear opener. Most Swedes have never heard of the Swedish bagpipe tradition, so Olle's concerts tend to be an educational experience, not just a musical one. In 2008 he received the Zorn silver medal and, thereby, the right to the Swedish honorary title 'Riksspelman' (piper of the realm). The same year saw the release of his first solo CD "Olle Gällmo – med pipan i säcken", which provides a thorough presentation of the instrument and its possibilities.
Olle is also a lecturer in artificial intelligence and machine learning at Uppsala University, and the director of the bachelor programme in computer science.
What bagpipes do you play?
Nowadays mostly Swedish bagpipes, but I have also played and performed on Uilleann pipes, Northumbrian smallpipes, Macedonian gajda, Gaita galega and various forms of continental half-closed fingering pipes.
What led you to take up piping?
I met a student at Uppsala university in 1991, who happened to play Swedish bagpipes (though he was, as am I, a computer scientist). I was active as a pianist and choir singer/master at the time, but I had never heard of Swedish bagpipes before. I quickly repented my sins, stopped playing the piano, bought a set of pipes and through that also 'discovered' Swedish traditional music.
Which pipers do you most admire?
Currently? Too many to mention I'm afraid. In my early bagpiping days, my main inspiration came from Swedish pipers Per Gudmundson and Anders Norudde, Uilleann piper Liam O'Flynn, Northumbrian piper Kathryn Tickell, French piper Jean Blanchard and Spanish piper Carlos Nuñez. The first three probably influenced my style the most.
Name three, non-piping-related musical influences:
Väsen (in particular nyckelharpist Olov Johansson), low-whistler Cormac Breatnach, and Johann Sebastian Bach.
What three albums are top of your playlist right now?
"Astar" (Breabach), "Kontra" (Eriksson&Paulsson), and "Inga kônstiheter" (Blå Bergens Borduner)
If you had your life again, what instrument would you play?
Uh... bagpipes? (but I would have started earlier – I was 25 when I discovered this crazy world)
Name your favourite music festival.
Korröfestivalen in Sweden.
What three words describe your piping style?
Closed, harmonic and melodic (at least that's what I'm striving for).
Bellows or mouth-blown?
Both. When I sing to my piping, which I often do, I prefer bellows. When I teach, I prefer mouth blown pipes – they are quicker to start/stop and it's easier to walk around the room.
Cats or dogs?
You mean live ones? If so, cats. Definitely cats.
Do you prefer playing, dancing or both?
I prefer playing. I love to play for dancing though, so of course I have had to learn at least the basics, but I can't say I enjoy dancing myself.
Cane or plastic reeds?
They are not the only options. I have cane reeds in my bellows blown sets, carbon fibre reeds in the mouth blown chanter, and plastic for the mouth blown drones.
What's your greatest musical achievement?
My web site on Swedish bagpipes, now 22 years, which I know have helped lots of pipers to get started. I'm very proud of that. That, and receiving the Swedish honorary title riksspelman (piper of the realm). Of course, being interviewed for "In the bag" comes to mind as well.
What's your most embarrassing bagpiping moment?
Either the time I interrupted a solo singer during a concert, by starting to play the pipes a few bars too early, or the time the drone package on my Uilleann pipes decided to leave the stage with a PHOOMP, aiming for the door.
What's the most annoying question you get asked about the bagpipes?
As long as people ask questions, I'm happy. It's when then they don't, you should be worried. Bad timing can be annoying though. When I play bellows blown pipes I am often interrupted by people who think I can talk while playing, since my mouth is free. Talking also requires a brain, unfortunately.
What advice would you give a novice?
Hang in there. Don't give up. You will overcome the issues you have right now, and you will learn much faster if you have fun. Playing is more important than practicing in my opinion (though you need to do both).
I love bagpipes because...
… they're bagpipes. The limitations of bagpipes are also what makes them fun to play. I love the challenge of playing music on an instrument where, compared to most other instruments, you have so little control.