In the Bag
By: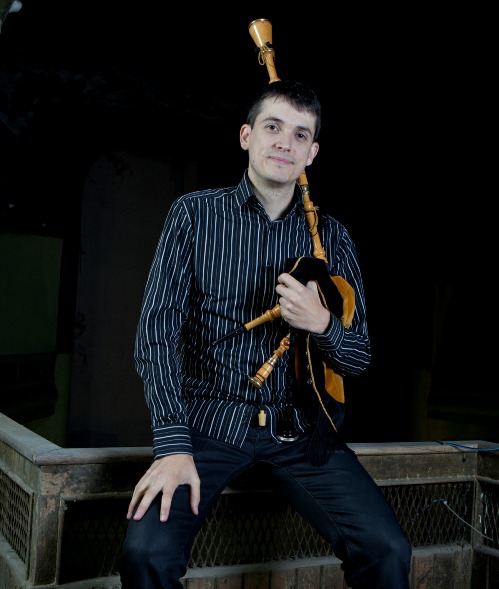 Born in Ferrol in 1985, Daniel has always been interested in music, especially the music of Galicia. He is probably one of the most highly revered bagpipers alive today with over 40 major prizes under his belt and he has performed across Europe and the US. He plays saxophone as well as gaita for 'BellónMaceiras'. In 2010, he co-founded BellónMaceiras Music School alongside Diego Maceiras (accordion) in Fene, Galicia.
His playing career started whilst still at the Music Conservatory in Ferrol when he formed the bagpipe group Airiños de Fene (1995) but he went on to record a number of solo CDs such as "Identidade". He is a founding member of the groups Roquementroque and Venela, and also plays with Xaloucos, a bagpipe quartet. As a soloist he has won numerous significant awards throughout Spain and France and in 2001 he was selected to participate in an exclusive course for bagpipers led by Carlos Núñez . He has also served as a judge and composer for Galician music contests since 2007. He has been involved in many groups and musical collaborations. For more information, videos and recordings http://www.danielbellon.com/
What bagpipes do you play?
I play Galician Bagpipe
What led you to take up piping?
I started playing bagpipe because one of my school teachers said to my mother that I played the flute very well, so she decided to send me to a traditional association for playing bagpipe.
Which pipers do you most admire?
A Lot!! Carlos Núñez, Edelmiro Fdez, Fred Morrison, Callum Armstrong… and more!
Name three, non-piping-related musical influences:
Fusion music, jazz music ( I play saxophone ), folk music.
What three albums are top of your playlist right now?
From Billie Holiday to Edit Piaf ( Richard Galliano & Wynton Marsalis ), CMS Trío, Nova Galega de Danza ( Tradiccioón )
If you had your life again, what instrument would you play?
Bagpipe again!
Name your favourite music festival.
Piping Live (Glasgow)
What three words describe your piping style?
Soft sound, variations and flexible.
Bellows or mouth-blown?
Bellows
Cats or dogs?
Dogs
Do you prefer playing, dancing or both?
Playing
Cane or plastic reeds?
Always Cane
What's your greatest musical achievement?
Maybe being the bagpiper with more awards in Galicia, but in fact for me the most important thing is that I make a living from what I like doing.
What's your most embarrassing bagpiping moment?
When I lost the "chion" ( little drone ) during a concert because it flew away….
What's the most annoying question you get asked about the bagpipes?
Nothing especially, I have always been very lucky with the interviews I have had.
What advice would you give a novice?
I would tell him to enjoy his learning every day like a game without worries.
I love bagpipes because…
Its sound is the greatest in the world. As told to Andy Letcher