A Galician Gaiteiro in London
By: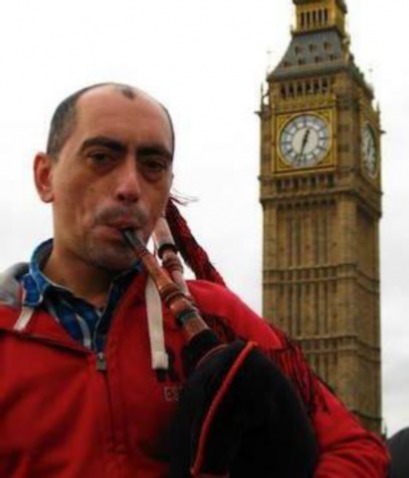 I've been playing Galician bagpipe in London for eight years. After studying bagpipes in Galicia, I came to the UK from a very small village in the Galician northwest to a huge and cosmopolitan city like London, where everything is possible and where people from every culture of around the world coexist with their custom and musical traditions.
For me, as a bagpiper, it was something amazing coming to this city. I soon started to work in a Galician restaurant belonging to a social club, the Centro Galego de Londres, where they want me to play my gaita accompanied by percussion every Friday and Saturday nights. It's a very special and magical show with Celtic music, queimada and conxuro, a bit of Galicia in the heart of London, loved by everybody that enjoys it, I can proudly say.
In London I have also had the chance to play with people from very different cultures such as participating in Irish sessions, in Scottish parades or in Arabic weddings, and I'm also playing with other musicians in other kinds of styles, like flamenco and Latin music, using the gaita and the Irish whistle. What I found amazing was how, in London, how interested people were in me and my bagpipes, and how easy was to get performances once you got known. Here I found that bagpipes can be used in all types of music, not only in the Galician tradition, but the sound of the gaita can also be adaped to play flamenco and other rhythms. I have a project called Spontaneous, with features a guitar player from Orihuela, in the southeast of Spain, and he is influenced by the jazz and bossa. Also in the group is a girl from the south of Spain who plays guitar and a very peculiar kind of three-holed flute typical in Huelva, called "gaita" as well in that area, even when it's not a bagpipe at all.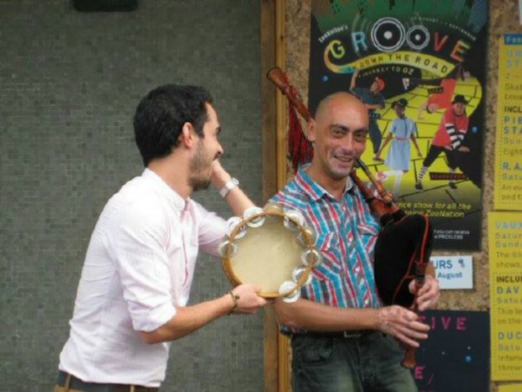 I'm also proud of collaborating with the "Centro Galego de Londres" bagpipe band, leaded by Rafael Porro, and I've been offered to lead it due to the actual teacher retirement. I want to take the chance to say that everybody is welcome every Sunday noon in the Centro Galego restaurant for classes of playing Galician bagpipes, tambourines and drums.
Please, understand me, bagpipers, I'm a lover of the tradition in which I was born (and all others too), and I understand traditional musicians. For me it is very important that the pure interpretation of the traditional tunes are preserved exactly how they were composed, but there are other people doing this very important work. However, I'm a free musician, I can play the tunes I play in the traditional way but I rarely do and I enjoy playing in my own style. So whilst I love and respect traditional bagpipers, please, respect me as well even if I change some notes in your favourite tune, or if I use bagpipes to play other styles outside of the Celtic cultures.
If you wish to contact David, then he can be reached at davidcarril@yahoo.com or via Facebook https://www.facebook.com/david.carrilcastineira