Review: David Faulkner & Steve Turner - More Tunes About Baggage and Hills
By: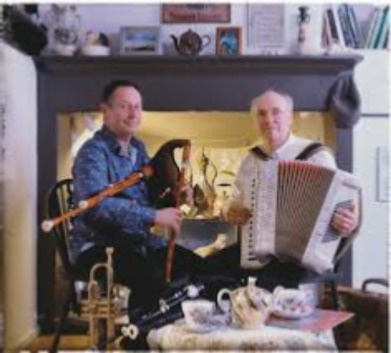 English and Border Music, 1625 to 2017
David Faulkner (border pipes) and Steve Turner (piano accordion) have made an excellent album showcasing a range of tunes that sit well on border pipes (the Jon Swayne design) either of their own composition or carefully chosen from a range of English and northern border sources from the 17th to the 19th centuries. 
David, as you doubtless know, is a very fine piper and he puts in exemplary performances here on a range of 3⁄2 and 5⁄2 hornpipes, jigs, airs and marches on G, D and low C pipes. He manages to steer the right course between the sort of expressive fingering that works well on an English tune such as Mount Hills (John Playford's "English Dancing Master" - there's a lot of great tunes for pipers there, in the first edition in particular) and the classic border style that suits The Auld Goodman - while all the while sounding like himself, rather than a technical imitation of any style. That comes with experience, and also, through a love of the tunes and wanting to make them sound just right.
I have two main prejudices - Brexit and piano accordions. The second being caused by an unexpected encounter, as a teenager, with something called (inappropriately in my view) "social dance" which caused me to run screaming from Cecil Sharp House. Since then, through players of the calibre of Steve Turner, Becky Price and Paul Hutchinson, I have seen the error of my ways. Steve inevitably has to play support to the pipes, as they carry the main thrust of the melody  - and the sound always demands attention - but the arrangements are very even handed, based on a lot of experience of playing together, and both of them step out to lead variations. 
Largely the album is very straightforward. It is what it is and all the better for that. Duo is a tough format, very exposed, and they come through with flying colours as they summon a lot of depth through their rapport and the choice of music. David does play a bit of trumpet (pipers, it's a metal tube, you blow in one end, and sound emanates from the bell which, although very pleasing, is not very bagpipe like). Buy this because David and Steve play so well together and/or if you are interested in border pipes and how to get the most out of them on a variety of styles of tune. 
You can buy downloads and scores at www.eelgrinders.co.uk