Review: Geordie Syme's Paircel of Tunes
By: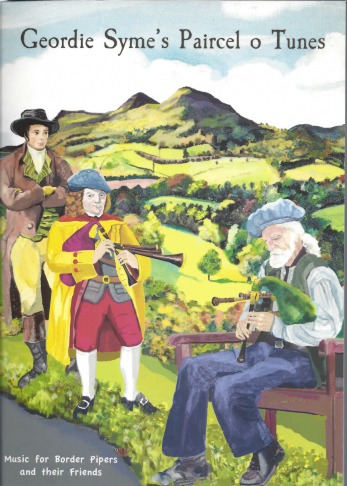 Geordie Syme's Paircel of Tunes – Music for Border Pipers and their Friends. Edited by Matt Seattle, Dragonfly Music
Pipers everywhere owe Matt Seattle a debt of gratitude for the significant contribution he has made to the discovery and publication of music for pipers and other musicians. I suspect that most members of the Society will have at least one Dragonfly Music volume on their shelves and more than likely in their collection they will have a copy of "The Master Piper", the William Dixon manuscript. And even if you don't play any of the Dixon tunes, then you will certainly have heard many of them as they are now under the heading of "standard repertoire" for pipers. Thanks to Matt's pioneering work in both uncovering the manuscript and then transcribing and publishing it, a forgotten repertoire for the border piper came to light.
In his preface for "The Great Northern Tune Book", Matt described William Vickers having a "serious case of tune-acquisition syndrome". And so it is with me! I am a great collector of tune books and even if I don't necessarily play all the music in the volumes I have on my bookshelf, it's very comforting to have them there to view, research, take inspiration from and, of course, play the occasional tune from time to time! So I was particularly excited to receive a hefty volume through the post from Matt – his newly published "Geordie Syme's Paircel O Tunes". I can safely say that all my needs as a collector have been met in this one book.
Geordie Syme's portrait is instantly recognisable from the engraving of him where he was described as "a famous piper in his time" which was the mid 18th century and it was recorded that he knew the knack of being able to extend the range of the instrument by pinching the back hole of the chanter to reach the second octave. The premise for the book is Matt's search to discover the music and repertoire of Geordie Syme. Unlike the other known border piper, William Dixon, Geordie left no legacy in the form of a music manuscript but there were other resources and clues to be found along the way. Following the northern and Scottish tradition of having a retained piper, Geordie had been employed by both the town of Dalkeith and the Duke and Duchess of Buccleuch for whom he was required to play for entertainment as well as making a round of the town at five in the morning and eight in the evening each day. For this he was required to wear a long yellow coat, lined with red, red plush breeches, white stockings and shoes with buckles. This garb was provided by the Duke. The library of the present Duke and Duchess was therefore starting point for Matt's search and he found music, whilst not directly attributable to Geordie, which was contemporary with him and would fit on the range of the border pipes. The Montagu Music Collection at Boughton House in Northamptonshire was also a source for many of the selected tunes as it contains books of early Scottish music. The bibliography lists an impressive 82 sources for the music and will inevitably lead to other victims of tune-acquisition syndrome into further research and purchases! Inevitably there is some crossover with music that has appeared in other publications but the majority of them are certainly new to me and regardless, it is good to have these tunes in a single collection. Matt has not reprinted tunes that are included in some of his other collections but has indicated in which of the volumes Geordie's possible repertoire can be found.
In all there are nearly 200 pieces in the book and, as you would expect from Matt, these are accompanied by full notes, concordances and as well as some interesting historical background information to both the music and the repertoire. For me, these notes are of as much interest as the tunes themselves. Matt wears his research lightly as they are immensely readable and provide excellent context and background for the accompanying music. The book is also illustrated with a mixture of contemporary engravings and modern photos/images.
The tunes are divided into sections according to their type with charming headings such as Time out of Mind (3/2 hornipes), Over the Border and Under the Coverlet (9/4 and 9/8 jigs) but, as Matt says, some tunes do not easily fall into a particular category and some could appear in more than one place. The tunes are well laid out and the notation clear and easy to read and the whole production has a quality look and feel. Whilst the bulk of the repertoire is dance based, Matt makes the point that during this period the "baroque aesthetic" would have been dominant and to reflect this, longer variations and suites are also included (similar to that in the Dixon manuscript). The nature of the music has, needless to say, a distinctly "northern" characteristic and players of border pipes in G or D will have to transpose (easily done after a bit of practice) as the music has been notated for border pipes in A.
Would Geordie have played and known all these tunes? No-one can say for sure but regardless, Matt has given today's pipers and musicians yet another volume of tunes that needs to be on your bookshelf - even if you think that mid-18th century northern music is not your bag. As Matt explains in his preface, the collection should be viewed as:
a source plain and simple

a springboard for further explanation

an opportunity to revisit and/or revise work already done

as a spur for creative work

any combination of these
Copies of the book can be obtained from http://www.dragonflymusic.co.uk/geordie-syme.html Price £24.00 plus post and packing