Review: Carnet de bal en Gascogne
By: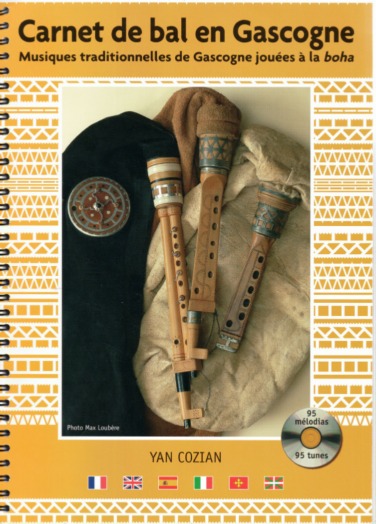 Carnet de bal en Gascogne: Musiques traditionnelles de Gascogne jouées à la boha by Yan Cozian
Like many regions of Europe, the last 40 or so years has seen a revival in interest in the traditions and culture of Gascony. With this came an increased desire to dance the old dances to the old tunes, using traditional instruments such as the boha. Starting in the 1970s, revivalists, including Yan Cozian, set about collecting traditional songs and dance tunes from the old players and so preserved a link with the past that was very nearly lost.
This book is a collection of tunes commonly played on the boha – 95 in all - with the aim of providing a core repertoire for dance. Yan has classified them not only by dance type (Congo, Rondeau etc), but also by popularity, mode and degree of technical difficulty. They are mostly traditional or from named sources, but also included are a small number of modern tunes and three from the UK, which have been adopted by the bohaires.
So far so good, but what sets this book apart for me is the accompanying CD: each tune is played twice through on solo boha at dance tempo, first time relatively simply, the second time with subtle phrasing and ornamentation. The playing is crisp and the emphasis is clearly on playing for dance. I like this feature a lot and I hope that more publishers take it up. It is one thing to learn the tune, but giving it the "lift" and correct tempo can only come by listening, imitating and playing along.
As for the tunes, they all fit the compass of the modern G boha and are mostly in G or C but there are also a good number in A minor, which involves adjusting the drone to play E. Of the 95, I have found about half that appeal to me, which is a pretty good success rate for any collection!
There are occasional discrepancies between the written and played versions, but these are trivial, especially if, like me, you largely learn by ear. Personally, I would have liked some suggestions for drone configuration but this is not a big concern as you can soon work out what sounds right and what doesn't.
I loaded the tunes on to my PC and played them through The Amazing Slowdowner, which allows for looping and slowing down if necessary and I now have a sound, basic repertoire ready for any passing Gascon dancer I may encounter!
I would definitely recommend this book for anyone who wants to explore the Gascon repertoire and how to play it - boha not required.
The book is €15 + postage and can be ordered from http://www.yancozian.fr/en/