The Piper of Mykonos - Dimitrios Koukas
By: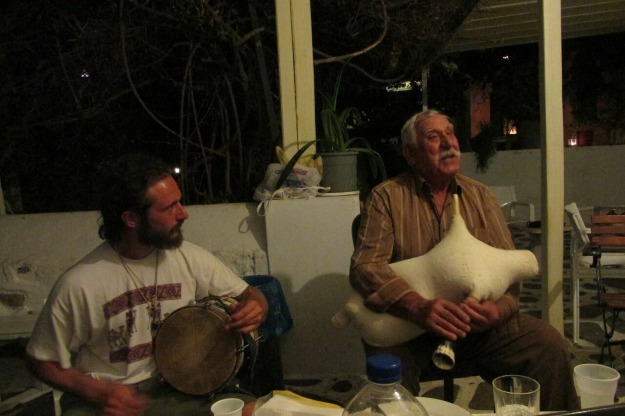 I first came across Dimitrios at the Paros tsabouna* festival in 2013. He was clearly a highly respected musician and he certainly cut an imposing figure on the stage with his "bull roar" of a voice and his ability to coax singular and expressive music from an apparently primitive pentatonic bagpipe. That was as far as it went as far as I was concerned. That was until 2015 when we were staying with our friend and tsabouna enthusiast, Evgenia Chanoti, on Mykonos who announced that Dimitrios would be arriving as a special party guest. He was very quiet to begin with and was content to sit back, eat a little salad and watch the other singers and musicians until he judged the time to be right and he unrolled his tsabouna from a carrier bag at his feet. For the next 2 to 3 hours we were treated to an almost uninterrupted stream of songs and tunes performed with a virtuosity and passion that was all the more remarkable for someone in his mid-eighties. This was not a 'solo' performance - he was at one with his "audience" who sang along, played percussion or danced as the mood took them. Inspiration flowed in both directions and the highlight for me was when a young Turkish girl started to dance in her traditional style, which encouraged Dimitrios to extemporise with ever more imagination and energy. Around midnight, his daughter arrived to collect him, he said his farewells and left. It had been a special evening, but my one regret was not being able to talk to him. Maybe another time…
In September 2016 we returned to Mykonos hoping to meet with Dimitrios and learn something of his story. This was arranged by Evgenia, who also translated for us. Dimitrios, now widowed, lives with his son, daughter and grandchilden on the outskirts of the town. We sat outside his rooms in the cool of the evening, drinking Raki and swapping tunes. He talked of his life:
"I was born in Mykonos in 1931. My parents were both farmers. When I was 8 years old my father decided to send me to Diles (Rinea), an island located very near Mykonos where a few farmers were living there sowing barley and that carries on to this day. I stayed on the island until I was 17 years old. My parents would visit me at weekends but the only company I had was the tsabouna and singing; this way I learnt my first melodies and sang the first songs. My father and older brother played the tsabouna, so it was always around, but they never taught me. I had to teach myself. My first instrument was a simple 5 note single reed pipe made of bamboo, known as the monotsambouna. With plenty of time on my hands and no more experience than having watched my brother, I taught himself to make a tsabouna using any materials to hand. I still have my first one, but I no longer play it. They do not last forever and I have learned to make better sounding ones!*

When I turned 18 years old, I went to Athens to work as a casual labourer. In my 20s I was settled in Athens where I was working in building construction, but I was also visiting Mykonos for a few months in the summer to help my parents with the harvest. In 1958 I got married to Euaggelia Kontou from Ano Mera and we had four children. In 1969 I had worked on a big public construction project in the village Kastelia in Fiotida. In 1972 I returned to Mykonos where a lot of development was taking place, so I worked in construction. I worked hard and did not play the tsabouna for 20 years. Today I'm retired and I play tsabouna in cultural events, for village fiestas in Mykonos and anywhere else that I'm invited. In addition we have organized an association of wind instruments and we visit other islands in Cyclades."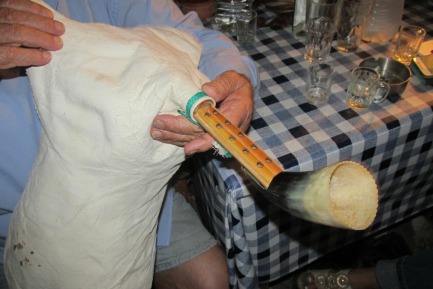 His repertoire, he says, is entirely drawn from the tradition, although the style of playing and extemporisation is his own. I can vouch for this: as a non expert, even I can tell that his playing is in a different league to that of others.
Mykonian tsabouna music is intimately entwined with song and dance. There are far more songs than tunes and the lyrics are constantly evolving, due to a tradition of adapting the song to the event, incorporating local experiences, and in no small measure the player's inability to exactly recall the "correct" lyrics! Dimitrios thought he once knew hundreds of songs, but he has forgotten many. I think he still has plenty left.
I asked about the non-return valve in his blowpipe and compared it with the Cretan Askomadoura, which is stopped by the tongue, making it impossible to both sing and play. I was told that up until his father's time it was the same on Mykonos and before then pipers only played. The introduction of the valve changed this and now it is rare to come across a non-singing player.
At its peak, he reckons there were around 50 active pipers on the island, but this has declined and there is now just a handful of the old players. There are young musicians rediscovering the traditions and taking up the tsambouna but it is not the same - modern society is very different and they do not have the soul or heart of the old players who were so central to local gatherings and ceremonies. There are also so many options now and no modern musicians seem to take up the tsabouna as their main instrument. There were never female players before the current generation; they would play the drum in accompaniment but that was all. Evgenia was of the opinion that a female voice was just wrong with the tsambouna and she felt that it lacked the necessary power and presence.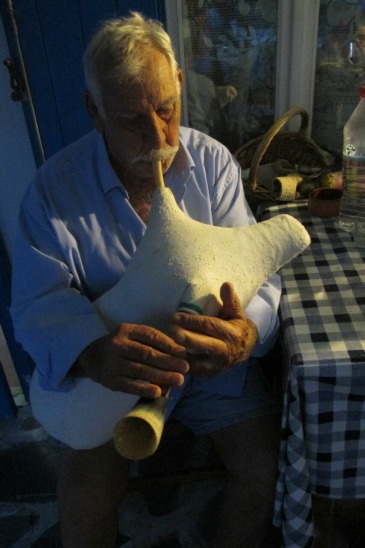 At 86, Dimitrios is feeling his age - his legs are not so good and he can no longer play, dance and sing all night, now needing to stop after 3 to 4 hours!
So what about the future? He did not know, but his feeling was that the interest among the young musicians meant that the tsabouna would continue, but would probably no longer hold its prized position within local communities. There are too many alternatives and society although still strong locally, has changed hugely. He was very pleased that his music is being appreciated and he was looking forward to the professional recording of a new CD the following week.
You can read more about the tsambouna in the Winter 2013 edition of Chanter. There is a photo of Dimitrios, incorrectly labelled (by me) as Musicians from Crete.
*tsabouna or tsambouna - same instrument, different spelling!
Grateful thanks to Evgenia Chanoti and Thodoris Ziarkas for their help.
---
Editor's note: Ian explained to me in his covering e-mail that Dimitrios is also known at Papous, meaning Grandfather. He continued to say that the old players often have several nicknames and another of Dimitiros's translated as "crooked horse" on account of how his eyes point in slightly different directions. Ian decided against putting this in the article – but I think it's a rather endearing name which should be known!