Grace Notes
By: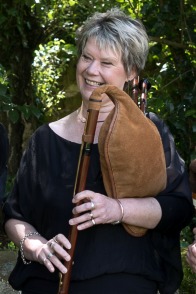 Welcome to the first ever full colour edition of Chanter. As editor it gives me much pleasure in being able to write that sentence! It has always been something of a frustration that some of the articles are not reproduced to their best, as the colour photographs that are normally submitted by contributors do not always clearly convert to black and white. Hopefully, that is now all resolved.
I am sitting at my desk writing this column whilst looking out at grey skies and frequent showers – a sad sight for the beginning of August. Just over two weeks ago I was enjoying almost perfect weather (for me at least) at Le Son Continu in France. As a regular attendee at the festival, the years sometimes blur one into another but what stays in the memory are the odd caught musical moment or the meeting up with a long lost friend. The highlight of the 2017 edition was the first time visit of some Italian musicians and makers who play in the group FiumeRapido. I have long been a fan of theirs and thoroughly enjoy their various video performances on their Facebook postings. I am, I have to admit, something of a sucker for zampogna, especially the very large version which features in the group and three zampogna playing together in harmony really is a joy for the senses. On the Saturday they were joined by Eric Montbel who has been working with them investigating the links between zampogna and sordellina (more about that project will be featured in a future edition of Chanter). If that musical encounter wasn't good enough, on the Sunday Nigel Eaton, Dave Shepherd and Jon Swayne joined the group – sheer perfection. If you visit my Facebook page you will be able to watch the results of both performances.
I was particularly sad when Anton Varela wrote to tell me a few weeks ago that he was unable to attend Le Son Continu this year but he was planning on being back in 2019. I knew Anton was ill but I certainly wasn't prepared for the news I received on 26th July that he had died. Anton exuded life and vitality and he had the most generous of souls and he will be missed by all that knew him. It is therefore very poignant and fitting that he was featured in the recent Iberian Special and that he graced the front cover of that edition. His testament is his music and his instruments and through them, his name will be very slow to fade from our memories. One memory that will stay with me is from a few years ago when one of the acts could not attend Les Maitres Sonneurs festival. They were due to play on the main stage, which that year was a huge marquee accommodating 5000 people, a daunting audience for any seasoned performed. Anton agreed to stand in and perform with very little notice and singlehandedly he filled that stage and that auditorium! A momentous performance. Many thanks to Cassandre who has written about Anton, see page ..
I don't normally seek a theme for each Chanter but it's funny how the majority of submissions can, from time to time, have a common link. That was the case in the Spring when "making" emerged as a thread and "beginnings" has emerged for this edition. Tom Hughes, Julian Goodacre and Gordon Lindsay all refer to how they started out with piping in their articles and Remi Decker gives some online advice to beginners and novice players. We all have to start somewhere and we all take different paths and routes but we are all linked by the love of the bagpipes! I hope you enjoy reading this edition.