From the Chair
By: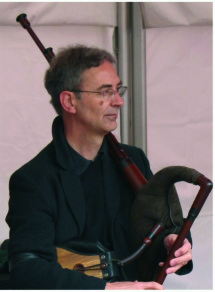 One reason why the Bagpipe Society continues to flourish after 30 years is the energy and enthusiasm of the Society's committee. Since the very start, we have been fortunate to have a committee that willingly devotes large amounts of time and talent to establishing and continuing the high standards we have come to expect.
This year there have been some changes: after many years as membership secretary and treasurer, Michael Ross is standing down from the committee. We thank him for his work, particularly in the transition to online payments and membership. He will remain, as a non voting advisor to our new treasurer George Swallow. Andy Carter has also resigned and his work in setting up online audio and video resources, plus his input to discussions have been greatly appreciated. I am pleased to welcome new committee members David Faulkner and Quentin Budworth, both of whom have areas of expertise that will greatly enhance our future development.
The AGM was well attended and we had wide ranging discussions covering finance, the Blowout, membership recruitment and retention, future spending, among other things. We now have a list of items to work through, which will no doubt keep us busy through the winter months and beyond!
The full minutes and annual statement of accounts will be published on the new updated website. Please have a look and contact me if you have any questions or suggestions.
The big development this year will be the new website, which has the potential to become a major resource centre and we will be looking to draw on your expertise and knowledge to make it the best it can be. More news later…
Finally, we have a very healthy bank balance. PLEASE help us spend some of it! We are buying more student pipes and are financially supporting events, but there is plenty more money we would be happy to spend. All we need are proposals. So, what are you waiting for?
Contract Ian Clabburn at info@bagpipesociety.org.uk