In the Bag - Yannis Pantazis
By: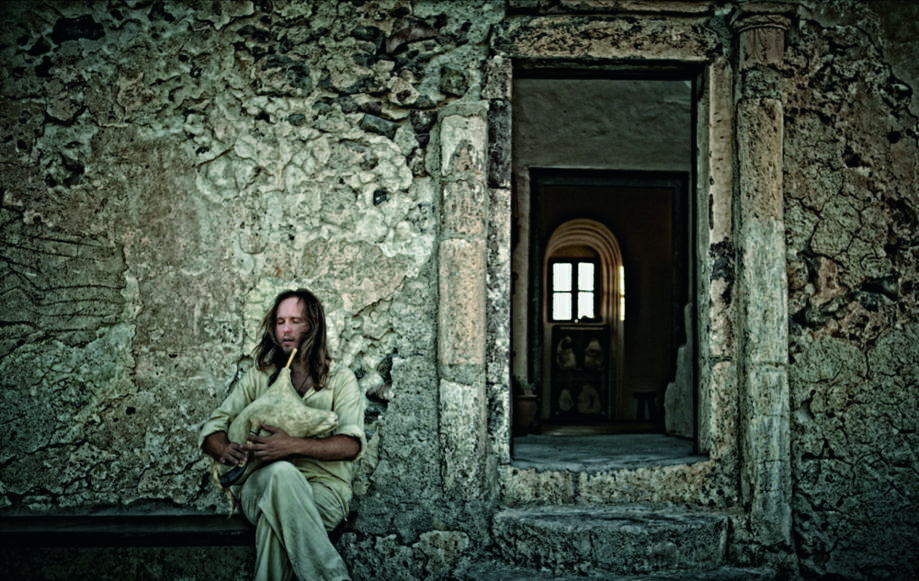 Yannis Pantazis lives on the island of Santorini where he founded a Greek bagpipe workshop and exhibition at La Ponta. As well as making tsabouna, he plays and teaches the instrument and has given workshops, lectures and concerts in many countries such as Italy, Norway, Estonia, France, Great Britain, USA. Alongside the bagpipes, Yannis plays saxophone, blues harp and flutes.
He was influenced at very young age by the music of his region (Grevena, Greece) and was brought up in in a musical environment as his father was a percussionist. Yannis initially studied saxophone at conservatoire level and played with groups such as 'Captain Sung and his Electric Tangerine' and 'Mylos 1927' before becoming involved with ethnic music group 'Namaste' and exploring the sounds of his homeland. He was particularly attracted to the sound of the tsabouna and in 2005 was taught to make and play the instrument by local shepherds on the island of Naxos. Since then, Yannis has settled in Santorini where he helped revitalise the lost tradition of the bagpipes and takes an active part is staging and participating in local traditional festivals. He believes in blending the sounds from his funk and blues background with the traditional sounds of his country. Yannis was featured in the BBC programme "Pipe Dreams" and as well as appearing as a guest artist with a diverse range artists, he also has released his own cd, 'Aylos Avlos'.
What bagpipes do you play?
I play the tsabouna primarily. Also the Thracian gaida.
What led you to take up piping?
In the town where I was born there were no traditional bagpipes but the first time I heard the Greek bagpipe ( Gaida) was on a rainy Sunday morning as I watched a film on public television. I was nine years old. The film was about a robber, something like Robin Hood, who helped the poor. When he realized that the police would kill him, he asked a musician to play the bagpipes. This sound redeemed him from fear of imminent death. The sound of the bagpipes reflected deeply into my childhood soul and I carry the sounds with me today. The Thracian gaida was the beginning of my love for the Greek bagpipes.
Which pipers do you most admire?
Every player that respects the music and the instrument.
Name three, non-piping-related musical influences:
Folk blues harmonica, Music from Epirus (Greece), Persian classical music.
What three albums are top of your playlist right now?
Twilight Kingdom-Lisa Gerrard
Byzantine Mysteries- Divna Ljubojevic
Symphonies Of The Planets - NASA Voyager Recordings
If you had your life again, what instrument would you play?
Any musical instrument donated by the Muses, to be able to serve them.
Name your favourite music festival.
The Pan-Cycladic folk wind instrument festival.
What three words describe your piping style?
Maybe I'm not qualified to answer this..Words inherently limit the vastness of the meanings.
Bellows or mouth-blown?
Mouth blown.
Cats or dogs?
Cats…once they told me that playing the tsabouna is like "fighting with a bag of cats".
Do you prefer playing, dancing or both?
Both, although it depends on my emotional state …
Cane or plastic reeds?
Cane On…… I invite anyone who would like to come with me during harvest time ( which is now November- to cut cane on the island of Santorini and nearby Anafi.
What's your greatest musical achievement?
I learned to distinguish the different tones. Somewhere during my adolescence I lost the audibility that I had developed since childhood. I became tone deaf . To regain that for me was the greatest achievement.
What's your most embarrassing bagpiping moment?
What else … to be out of tune when it is the time to play solo with other orchestral instruments.
What's the most annoying question you get asked about the bagpipes?
Is that a real goat??? Uhhh..poor goat…
What advice would you give a novice?
Αn old tsabouna player told me … ʹIf you have ʺmaniaʺ you will learn …
I love bagpipes because
they carry an archetypal voice of creation..