In the Bag - Catlin Magi
By: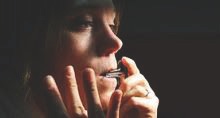 Cätlin Mägi is a leading figure in Estonian piping. A champion of the torupil, the Estonian bagpipe, she is a charismatic teacher, performer and recording artist, most recently releasing an album with the Torupilli Jussi Trio.
What bagpipes do you play?
As I am an Estonian I only play Estonian bagpipes. I have thought of getting myself bagpipes from other countries as well, and being young it seems I still have time …
What led you to take up piping?
It would be nice to answer here that "my grandfather was a bagpipe player…", but the picture isn't as romantic as that, although my grandfather did play the accordion.
Everything began when, as a teenager, I saw a female bagpipe player on TV in the semi-finals for Estonian Eurovision contest, and everything else happened after that. I started to research what instrument it was and where I could study it. I went to camps and to the university, ordered myself an instrument made by a master and just played and played and researched and played again.
Which pipers do you most admire?
When someone already plays the bagpipes, it is wonderful and when you see the sparkle in their eyes and interest in the thing in their heart, that's the bagpipe player worth admiring.
Name three, non-piping-related musical influences:
My family, thanks to them I simply have this kind of blood in my veins that inevitably takes you to music. My father, uncle, grandfather, aunts - everyone sings or plays an instrument.
While in high school we had a Folk Club where we would hang out and play songs by Nirvana on the guitar, i.e. friends.
Maybe also the fact that there is, on the whole, something called traditional music, and it is possible to learn that. This music suits me and that is why I continued my studies at a university.
If you had your life again, what instrument would you play?
I played the piano at the music school and I also play the flute, pipes and Jew's harp in addition to the bagpipes. I play quite a number of different instruments already and it is hard to think what I would change if I could relive my life. And since the life is not over yet, I can play very many instruments over and over again.
Name your favourite music festival.
Well, that's a very difficult question, however, since it is the interview for a bagpipe magazine, I remember Glasgow Piping Life Festival right away. I have been to it twice and for me it's bagpipers' paradise. In the morning, as soon as I open my eyes, I can hear how under my windows a beehive starts buzzing, then the drums get rolling and then a melody begins to sound. And there are very many men who walk around with serious looks on their faces and everyone looks very important as if bagpipes and bagpipe music and bagpipe players were the most important thing in the world. I look at them and admire this attitude and seriousness.
What three words describe your piping style?
traditional
serious
flitting
What tune would you have played at your funeral and why?
I haven't thought about it, however, I would probably be very satisfied if very many bagpipe players play together as a bagpipe orchestra. And let them play whichever tune.
Bellows or mouth-blown?
Mouth-blown…
Cats or dogs?
I have an aquarium at home, so I'd rather go for fish – catfish
Do you prefer playing, dancing or both?
I don't like dancing although I can and I do not have anything against it really. So, I'd rather play.
Cane or plastic reeds?
Estonian bagpipe reeds are made of (natural) reed. In the old times the master would make them from old saxophone or clarinet reeds but I cannot say at the moment precisely what material it was.
What's your greatest musical achievement?
A tough question, although I can remember some highlights. One of them was in Moscow at the Estonian Embassy where the Estonian Prime Minister started dancing flatfoot waltz to my bagpipe playing.
I am also very happy that old bagpipe tunes can again be heard on the stage and that young traditional musicians are keen on learning and playing them. That the popularity of bagpipe playing is on the increase and it is specifically the traditional bagpipe tunes that get played again.
What's your most embarrassing bagpiping moment?
We were at a bagpipe festival with another female bagpiper. One concert was taking place in a mountain village and when we reached there they wouldn't let us play because women had never played the bagpipes there before and they didn't want to let us either. The organiser, however, allowed us to play a couple of tunes, yet I felt embarrassed in front of those old masters who were peering at us from underneath their eyebrows.
What's the most annoying question you get asked about the bagpipes?
Again I cannot tell, as when someone asks something and is interested in the bagpipe then I am already very delighted and always ready to answer … What advice would you give a novice?
There are no tricks or tips as to how to master bagpipe playing. You simply have to play – play - play.
I love bagpipes because…
Bagpipe players are rich and happy!
Interviewed by Andy Letcher