Gracenotes
By: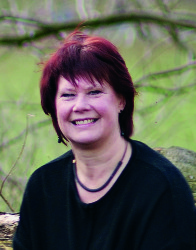 Welcome to the Swedish Special. This is the first time that Chanter has been devoted to one particular type of bagpipe and I hope you enjoy the format.
I would like to thank all the contributors who have been cajoled and had their arms twisted in order to submit articles. All have come up trumps with a wide range of interesting and different aspects on the world of Swedish bagpipes.
So why Sweden? Well, at this point I have to declare my hand. I love Swedish music and have listene. to it for years but I wanted to know more about the traditional bagpipes. Olle Gälmo wrote a fascinating history of the Dalecarlian bagpipe in Chanter Winter 2013 (refer to the online library) which followed on from a Swedish themed Blowout in that year. So this edition of Chanter felt like the next logical step!.
Alban Faust, one of the foremost makers of the pipes, describes his instruments, Olle Gällo explores development in synthetic reeds and Vicki Swan shares her love of this instrument and the inspiration for playing it. Mattis Branschke shares one of his inventive workshop secrets and Hilke Nentwich, as a novice piper, describes her journey to improving her technique. So often, as pipers, we play for dancers – but how tuned in are we, as musicians, to what the dancers are doing? Pat Lindop illustrates the close link between music, musicians, dance and dancers. Two great players of the instrument, Erik Ask- Upmark and Anders Norrunde, both Rikkspelmän, complete the edition.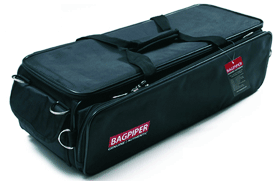 I don't know how many people knew of the online shop for drone related music books, instruments and cds. The website http://www.spielleute.de/ was run and managed by Michael Hoffman. Many of the books and cds were published by his company, Spielleute, including "Playing the Bagpipes" by Bernard Boulanger. Sadly, after 26 years of trading, Michael decided that the business was no longer sustainable due to the changing market towards digital sales and downloads.
However, a new business had been established at http://www.bagpipe.de and some of the old publications are still available there, together with many other of your bagpiping needs. There is a link (bottom left) to the old Spielleute site where tune books and cds can still be purchased.
Whilst browsing the new site, I saw that bagpipe cases were being sold. Finding the right case for your instrument(s) can be a bit tricky and they can be relatively expensive once you do find them. The bagpipe case on the http://www.bagpipe.de site looks to be pretty substantial with additional pockets and has two straps which can be attached in various ways. It even has a rigid tube for carrying your chanter. It costs 92.50€ plus p&p.
A lightweight case I can recommend is produced by Gama, a French maker, and is supplied by Bernard Loffet. It is available in 2 sizes (for 16/20 or 20/23 pouces (G or D/C pipes). Again it has a pocket on the front, a side handle and backstraps. I have bought this one for my own use and have found it to be extremely good. It costs 90.00€ plus p&p. Bernard sells via an e-bay shop so the purchase was simple and hassle free. http://tinyurl.com/nvuoll.
Dear Jane
I realise that when people submit articles, you can't pin them to the wall and demand explanations, but the article by Christian Robert suggests that it might be a good idea.
He gives a list of chanter dimensions in inches but what is it that is measured? On the chanters I have and have seen, there are usually a pair of unfingered vent (?) holes that fix the pitch of the bottom note and perhaps do other mysterious things, so if the chanter continues beyond these, does it affect the pitch or anything else? Where does the 16" start and stop.
One of my former correspondents (Markus Gäbel, now vanished) told me that the chanter in the back of the Bernard Boulanger book was a 14 pouce model and that the 16 pouce version is now the norm, allowing for whatever a pouce may be.
The Rostock chanter was a breath of fresh air, with dimensions with from and to points stated so that anyone could understand. But I am eternally curious about these secrets that are half-revealed.
Yours, George Swallow.
If you have any comments or feedback for George, then please contact me by e-mail and I will forward them to him - and reprint them in the next Chanter. Please submit any other burning questions or queries you may have and gain the feedback of the collective knowledge of the Bagpipe Society membership.
Julian Goodacre gave a fascinating presentation, called "Bagpipes, Tradition and Innovation" at the Greenwich Early Music Exhibition last November. Joining Julian were Barnaby Brown and Callum Armstrong. To view a YouTube video follow this link http://tinyurl.com/o8xsrvx. If you want to skip to the musical highlights, then Barnaby is playing at 4:15 and Callum at 20:30.
The commemorative book featuring articles written by Roderick Cannon has now been published. You may remember the feature on this book which was published in Chanter, Autumn 2014. Roderick has now written a foreword to the collection of his seminal articles on the English bagpipe, which were initially published in the 1970s. The book also contains tributes written by just some of the many people who have been influenced by his research.
Copies of the book can be obtained for £14.50, which includes post and packing, from Ian Clabburn at 6 Greyfriars Road, Daventry NN11 4RS. Cheques should be made payable to The Bagpipe Society. Email ian@zootalors.co.uk beforehand to check on availability - we may sell out.