Andrew Heywood - Obituary
By: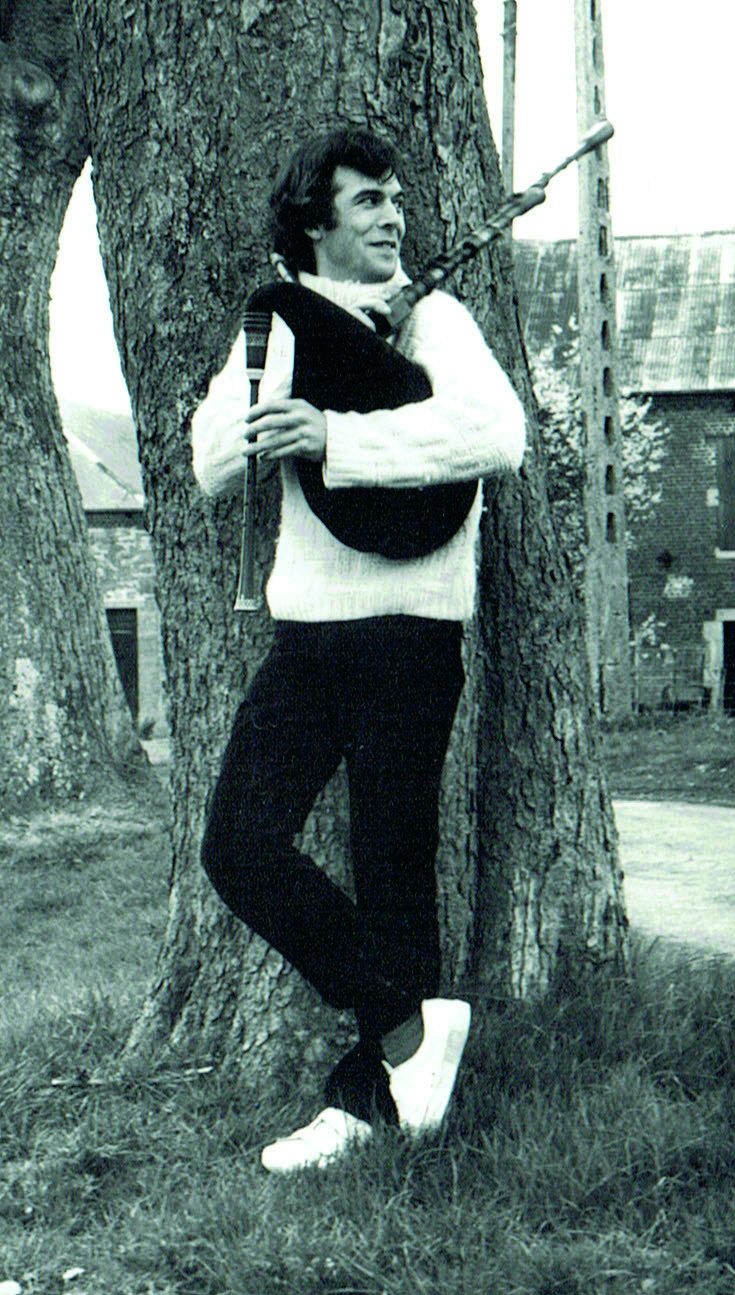 I am sad to report the sudden death of Andrew Haywood in early January this year. Although Andrew may not be known to the present generation of French bagpiping enthusiasts, he was a well known and respected maker during the early days of the present revival.
Andrew was a pupil at Winchester College where his musical interests led him to study both the piano and the bassoon. His enthusiasm for the bassoon led him to become a member of the College's Senior orchestra. After leaving Winchester he went on to study theology at the University of Kent in Canterbury.
His instrument making career first started when he came to work in my workshop in Forest Hill, London in the late 1970's. He had been introduced by a mutual friend and musician as somebody who was interested in becoming an instrument maker but did not have a clue where to begin.
However we quickly discovered that he was actually a very intuitive craftsman and a very fine wood turner. After a few years of learning the skills associated with producing renaissance reed instruments he left with a view to making French and Flemish traditional bagpipes. His first workshop was in the basement of his house in Forest Hill. Later he moved to a nearby studio complex before eventually moving down to Cornwall where he continued pipe making.
I cannot remember where he got the inspiration for making pipes. However I do know that before working with me he had spent some time in France both in Paris and, I believe, working in the French countryside, so maybe it was here that he came across traditional music or met some players. He was fluent in French so communication would never have been a problem..
The late '70's were early days in the revival of the Cornemuse and Gurdy tradition in Central France and Andrew became increasingly active in this scene, researching and constructing pipes as an independent craftsman alongside the French makers and players of the day. Jean Pierre van Hees gave him a lot of guidance and was no doubt influential in introducing his pipes to other players. Andrew was a regular exhibitor at the Rencontres de Maitre Sonneurs in St Chartier at the festival's beginnings and was accepted by the French makers as being one of them. One year, to the other makers astonishment, he managed to talk the Madame of the Hotel Restaurant in the middle of St. Chartier into giving him accommodation for the festival's duration even though she had turned away several other French makers saying she had no more rooms.
His pipes were of the highest standard and he developed a method for creating the incrustée decoration found on the traditional French Cornemuse. This involved undercutting by hand the decorative patterns on the turned and finished chanter and drones and then creating a mould and casting molten pewter around each component. This was then carefully turned away to reveal the original item, now with the pewter embedded in the pattern. He also claimed to be the first maker to come up with the idea of putting a thumb hole in the chanter for the right hand in order to obtain the minor third of the scale (although several other makers have made this claim!).
Andrew's pipes were not for the faint hearted as they were built on a high wind pressure, with cane reeds, and were not unlike highland pipes to play. But they produced a bright and unique reedy sound somewhat different from the lower pressure instruments that are more prevalent today. At the time his pipes were very popular and were taken up by the traditional French and Flemish dance groups that were being formed, mainly on the continent.
As well as being in the vanguard of the revival of the Cornemuse he also developed a cylindrically bored chanter, probably based on crumhorn technology, which sounded an octave below the usual g chanters.
Andrew was the sort of person who, having achieved the highest standard in whatever field of interest he chose, would then move on. Sometime after moving to Cornwall we lost contact with each other and he stopped making pipes. (No connection!) He then moved back to London where amongst other jobs he worked for a book publisher and distributor, Central Books. My workshop was then in Bermondsey, South London, as was Central books. We walked the same streets, visited the same sandwich bar, and used the same Post office but astonishingly our paths never crossed! Eventually, around 30 years ago he moved back to Buxton where he had lived for part of his childhood. Buxton is only 12 miles from Leek where, coincidentally, I had moved in the same year and it was here that we met up again. He settled in Buxton, married Jennifer and became an active member of the local community.
Andrew continued to work with wood, to the highest standards, producing furniture and other decorative objects but in the '90s he decided to focus on his new career as an IT systems developer and closed his workshop for good. However, his tools and equipment are still put to good use as his workbench is used every day in my workshop and Jon Swayne is now the proud owner of Andrew's lathe.
He will be remembered as an influential maker within the fraternity of French and Flemish Bagpipers who played his part in the revival of the instrument making and playing tradition in central France.
You can see a tribute to Andrew and hear his pipes on a video made by Claude Ribouillault. http://tinyurl.com/or3uhh.
Andrew Heywood, Bagpipe Maker, 9 December 1950 – 6 January 201.
Eric Moulder