Spotlight On .... Lisa Wolf
By: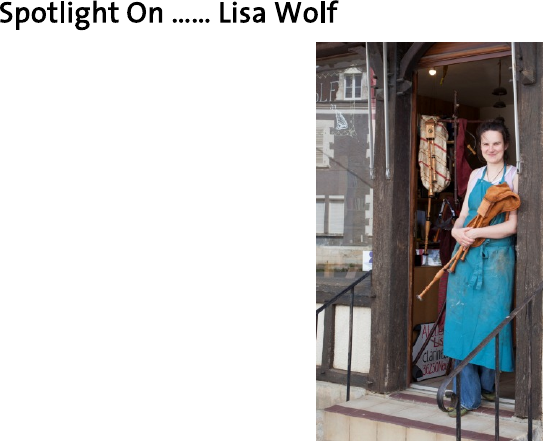 Lisa Wolf, is a bagpipe maker and player, born in Germany but is now living in central France.
But how did I get there ?
It is a long way from the mountains of Swabia to the beautiful Berry region ; the country of George Sands: the Maitres Sonneurs, the festival of St Chartier, the seventies revival of traditional music and, of course, the all-important bagpipes, culminating in the development of the
'Europipe'.
Bagpipes?
The pipes are probably not the first instrument you think of if we are talking about Germany. My father was a music teacher and was my first musical influence, I'd like to say that I learned music the way I learned to ride a bicycle: My father gave me the basics and the balance and after a few trips together I went my own way. I started with piano then added clarinet and my teenage rebellion was wanting to play an instrument my father did not play!
My teenage crush: Bagpipes! My parents thought: "It is just a phase, it will pass". For my fourteenth birthday my parents gave me a voucher for a beginner's bagpipe workshop, little did they know that this was the point of no return. At the workshop I met Olle Geris and Jürgen Ross both bagpipe makers. The workshop also opened the door to traditional dancing and music, late night sessions, I soaked it all up like sponge.
Since my early childhood I also had a keen interest in handycrafts: knitting, embroidery, sewing, making things, creating.
My A-levels approached and I had to figure out what to do next: University? Apprenticeship? I loved physics, math and the other sciences but music and crafts as well. Career guidance confirmed it: Guitarmaker! Well, not quite.
Apprenticeships in bagpipe making were not exactly abundant in Germany so I opted for the 'classical route' and found an apprenticeship as a woodwind maker. In the clarinet workshop in Bamberg I worked on all the different sizes of clarinets, fabrication, restoration and repairs. Three years under the watchful eye of the "Meister" gave me a solid foundation in the craft. I learned wood turning with Andreas Rogge and spent time with Olle Geris learning the basics of reed making. I worked in other workshops and in 2011 I obtained the Master certificate of the German Guild of Woodwind Instrument Makers.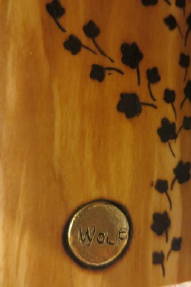 France, Berry
The first time I came to play in France was to play with the "Société Fraternelle des Cornemues du Centre", or simply "La Frat", on the invitation of piper Julian Barbances, my husband to be. In the "Frat" I found my new spiritual home and the love of my life. In 2011, when I joined my husband in the Paris, we also knew that we wouldn't stay in the city. We looked for a region where we felt attached culturally and where the houses were not too expensive for a musician and an instrument maker. The Centre of France is indeed known in the drone music scene and for Saint Chartier and therefore we knew the region. Musically it was ours and there were also no other wind instrument makers locally. In the Berry you find a lot of bagpipes and hurdy- gurdies in local village fetes and celebrations. You also can find bagpipe and hurdy-gurdy in the course programs of Conservatoires and music schools. Throughout most of the year you can find a bal folk on weekends but it is very rural, so you are dependent on your car to get anywhere.
Since I set up my workshop in Neuvy Saint Sépulchre, in the Black Valley of George Sand, in central France, in 2014, I have been repairing and restoring clarinets, saxophones and flutes and I started making bagpipes. 'Atelier WOLF – le loup des bois' could mean either 'the wolf from the woods'or 'the wolf of the woodwinds' .
La Louve
In France, instrument making is a "métier d'art" (kind of art/craft) and there are numerous competitions for all kind of craftsmen in different categories. In 2018 I took part in a competition of the 'Ateliers d'Art de France'. I had to build an exceptional show piece, which resulted in the creation of 'La Musette de la Louve' (in art you always have to give a title to your work). It's a central French bagpipe, 16 pouces in g-c. It's made in olive wood, with horn rings, guilded with gold leaf and lines of gilding wax, bronze inlay
(to make a link between incrustation and mirrors), a head and also some pyrography. To follow a
'traditional' way, I decided to limit the use of plastics, so the drone reeds are made from boxwood and bronze. The bag is hand-stitched and covered with an antique fabric, buttons which turned in the same wood as the instrument, plus some bits of embroidery.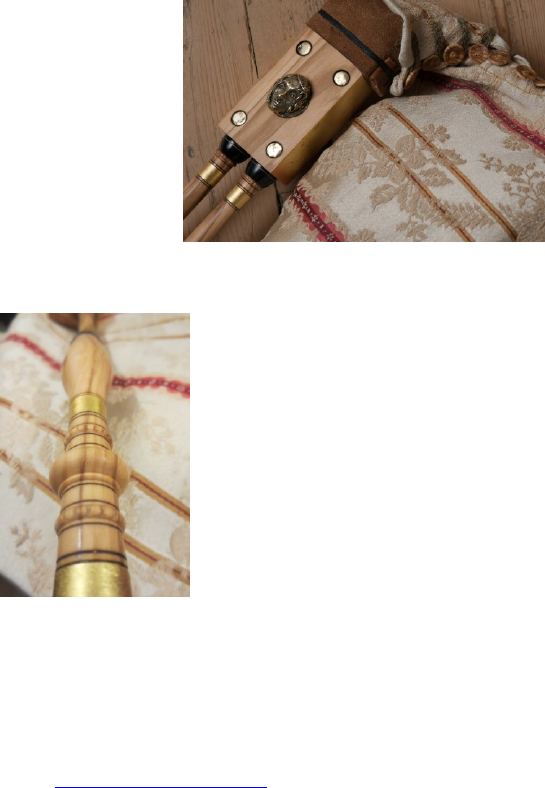 I was awarded the regional prize in the category 'Patrimoine' (kind of cultural heritage) and my bagpipe was exhibited in an exhibition at Bourges, then at the Salon International du Patrimoine Culturel at the Carroussel du Louvre in Paris and afterwards for some more time in an art gallery in Paris.
Today…
I'm still doing repairs on modern instruments but also taking care of the pipes of Jean-Sylvain Maître's customers, who has now retired and is kind enough to share his knowledge with me. I currently make 16 pouce pipes in G while developing the range 14p,18p, 20p as well as a child friendly size. In my making I favour the traditional woods like service, box and plum and my instruments are strongly based in the tradition of the region though I have developed my own sound and turned ornaments (I like adding the little carved 'pearls' to my rings).
I also teach bagpipe playing at the music school of Argenton sur Creuse (where the Rond d'Argenton comes from) and sometimes I give individual lessons at the workshop. I am available for workshop weekends if you want me to give a bagpipe workshop.
You can find pictures of my work on my Facebook
website www.Facebook.com/atelierwolf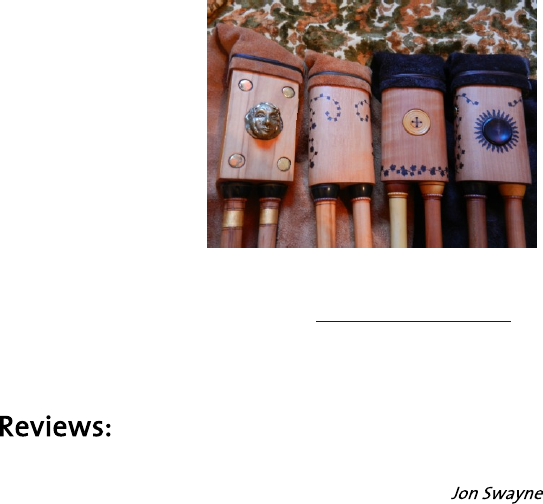 Last July I played a solo concert on bagpipes, presenting parts of my solo cd (reviewed in the Chanter by Paul James, Spring 2019). I still play in the Société Fraternelle des Cornemuses du Centre and other dance music projects, in a duo with Julien or in Trio Sousbock
(which means 'beer mat') with Julien and Johan.
I would be happy to meet you at one of our concerts or bals or – bien évidemment – next year at Le Son Continu at Château d'Ars. And if you should be interested in one of my bagpipes, please do not hesitate to contact me. http://www.atelier-wolf.com/
Editor's note: Thanks for Kai Toenjes for helping with the translation.