CD Review - Woodwose - Live at Dartmouth
By:

Many of us are familiar with the wonderful 2012 recording by Woodwose 'Dancing Stones' and will have been on the lookout for more in this vein from Steve and Katy who have for a long time delighted us all with their sweet bagpipe and gurdy mix. This album introduces us to two talents who may be less familiar to those of us in the bagpipe and gurdy world: Katherine Christie Evans with a wonderfully warm voice and Richard de Noronha providing a powerhouse of perfectly judged rhythmic patterns. The whole combines to create a truly mesmerizing variety of sound, sometimes hauntingly sweet and at other times potently energetic.

Live at Dartmouth comprises 5 pieces captured live in performance and 5 studio recorded pieces. All the music is based on medieval sources, with quite a few drawn from the Cantigas de Santa Maria. There's lots to like here for drone fans. Bagpipe and/or gurdy feature on nearly every track, occasionally giving way for the harp or overtone flute. Readers of this review will be pleased to note that the bagpipe is particularly prevalent in this recording, featuring prominently in 6 of the 10 tracks on the album – all under the skilled hand of Katy Marchant.

The medieval melodies are thoughtfully adapted and brought to life in such a way that interest is effortlessly maintained. One wonderful sound gives way to another quite different wonderful sound each unveiling a whole new world of entrancing patterns, serene melodies and foot-stomping goodness. As we have come to expect from these folks the quality of performance is very high, with virtuosic flourishes coming quite naturally to each player and with a very light touch. The CD comes in a slender cardboard sleeve, and given that we are all trying to reduce production of plastic consumables, that seems like a good way to go. The album is not yet available as a download or stream, but copies of the CD can be bought from the website given below and if you happen to bump into them on the scene.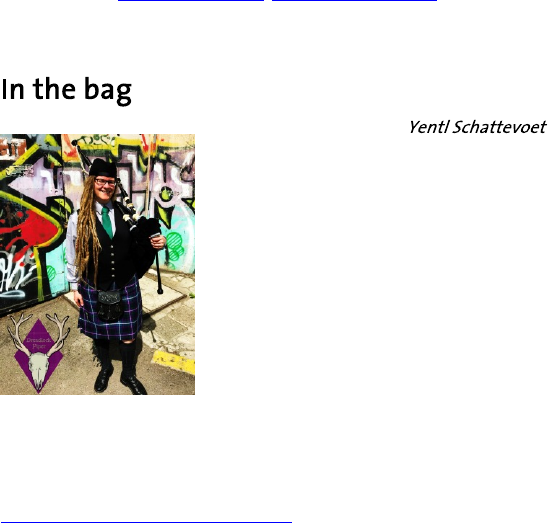 Woodwose will be attending Medieval Music in the Dales next year where we hope to hear some of the wonderful sounds presented on this magnificent recording.
Katy Marchant – bagpipes, gemshorn, Steve Tyler - hurdy gurdy, gothic harp, cittern, lute, Ricardo de Noronha – percussion, fijara, Katherine Christie Evans – voice, percussion www.woodwose.com steve.tylerhg@gmail.com
£10 each plus £1.50 p&p within UK.