The planning and setting up of my new workshop
By:

An interview with Thorsten Tetz

Thorsten, how did you get into making bagpipes?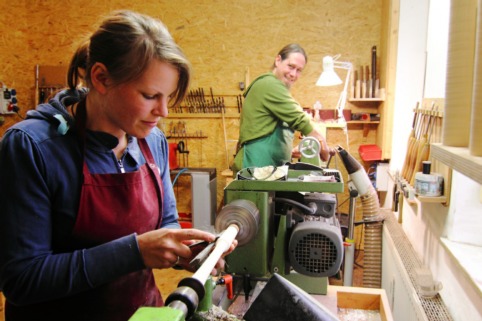 It was clear to me that I did not wish to keep my job as a nurse until I collected my old age pension. In the search for alternatives, a happy coincidence gave me the opportunity to work for the bagpipe maker Olle Geris. I was at Olle's workshop having some maintenance work done on my instrument and Olle complained that there was so much to do. So, I asked him why not employ someone? And that is how it turned out that at the end of 2010 I worked for the first time in a bagpipe workshop. At that time, I had been playing bagpipe for about 10 years and also taken part in reed making courses and had maintained my own instruments. I worked with Olle Geris for a few months where I learned woodturning and how to sew a bag by hand, but mainly it was about making reeds, making reeds and making reeds. Without this excellent groundwork I would not have managed to make the step to becoming an independent bagpipe maker.
At the time I was still living in Katzem but then I moved to Tübingen in Southwest Germany to be with my then girlfriend, and present wife, Anne - who is also a woodwind instrument maker. In Tübingen there was a house big enough for both of us and space for my fledgling workshop with a lathe and some other small machines. In 2014 I became self-employed and started my own business. We lived there for five years while I worked in my small workshop.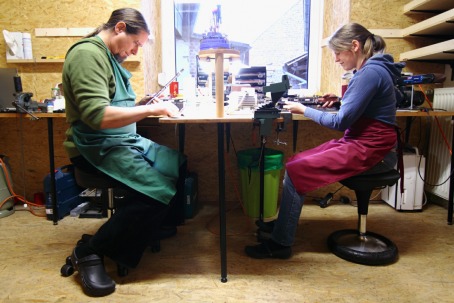 How did you come to have a joint workshop in Katzen in the west of Germany?
As we have the same job. there was constant discussion that Anne and I wanted to run a workshop together. However, we did not want to leave southern Germany but we could not find a suitable house for us with a child and space for a workshop. Even on my own, without Anne, I could not have continued working in the small workshop. In order to be able to carry on working efficiently, more machines and, of course, more space were needed. In addition, there would have been no room for a second nursery.
So, with some sadness, we have now moved away from Tübingen back to the house that belonged to my family since it was first built and which I inherited from my grandmother. I grew up there and had also had a very small workshop there before I moved to Tübingen.
What is the history of this house?
The original main house dates from 1896, but then in the 1930's an extension was added to become an ironmonger's store run by my great-grandmother. Dishes, pots and pans, cinema tickets, everything was sold here. The current customer entrance to my showroom used to be the entrance to the store. Where our living area is now was once the workshop of my grandfather, who was a blacksmith, however, the smithy was demolished at some point. The current extension on the house is from the 1970s. So, in this house over the years, three to four generations have lived under one roof, alongside a blacksmith's smithy and a shop … that was a very full house!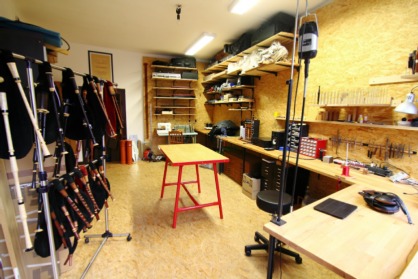 And now you revive this tradition…?
Exactly! A craft business in a residential building. Family and work under one roof - that's a nice way to be. I'm a dad at home being with my children. My kids know exactly what we, Anne and I, are working on. They can come to my workshop and get to know many of the tools and work processes. And if maybe something just does not work as it should, I can just go over to my family, have a cup of tea and then go back to the workshop with fresh energy.
How big is the house and the workshop?
The entire house is 270 m², and the workshop is 85 - 90 m² of it. Of course, the way it's now laid out for living and working has largely been dictated by the building. Some things are just obvious - nobody wants a living room with a door directly onto the street and a workshop with direct access to the garden is not necessary. But also the fact that I had lived here for so long and that some things were just "always was like that" also played a role. Our living room is still where the living room was when I was little.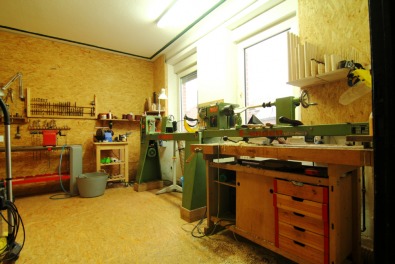 When did you start planning the new workshop?
Initial plans for a workshop here in the house already existed in my mind for a number of years and my plan was always to have one room for woodworking and one for all the "clean" work, such as leatherworking and reeds. I had assumed I would need less space but keys, forging, soldering and the like were not planned at the time.
When we finally made the decision to actually move here, I thought a lot about it. The current showroom which also has leatherworking and reed building (the former home goods store) is the largest room in the workshop. The main work as a woodwind instrument maker is however working with the large lathe and other machines. The question was - should this not be in the largest room? The showroom would then have to be where the wood store is now. That would have been big enough, but where would the wood store then go? The largest room has three doors and a window which never gives enough space for shelves which would also have given an impractical workflow. And then there is the main entrance, previously the entrance to the houseware business.
How did you do your final plan?
I drew the workshop out on A2 paper. First as an overview, then I cut out each room individually together with every machine and every piece of furniture, true to scale, and started to push it back and forth on the paper, showing it to Anne and working together on great detail. As we were still in Tübingen, five hours away, I could not just re-measure something as soon as I noticed that I had forgotten the height of a window sill. Does the table fit under it or not?
And did it work?
95% of the workshop has become what I had thought on paper. We made a few small adjustments on site. There is even a former kitchen that we could use if our machinery and space requirements were to grow in the future.
What was important to you when setting up the workshop?
An important element in the setting up of our workshop was the light and the existing windows. Anne and I both wanted a window for our lathe, and the current woodworking room has exactly two windows. Therefore, this decision was soon clear. As I had originally planned it we would have looked at a wall all the time whilst we were turning. Now however we have natural light and also a little variety when we look outside. Daylight is not only important to us because we want to see what we do - we also wanted to have natural light for our own well-being in our artistic and creative manual work. The workshop plan gradually came about by itself and now we have a very logical workflow through the rooms.
What is the workflow in your new workshop?
Work on a new instrument begins in the wood store, where the cutting into blanks also happens. Here I can come in with an empty box, cut everything to length and then go with the prepared wood blanks for an instrument in the next room. Over the corridor, between the wood store and the wood turning room, we pass the dust extraction system, which fits perfectly into this former main entrance of the house. Opposite the dust extraction system is space for an enclosed polishing cabin for keys in an unused part of the hallway. But that is still in planning. Then it goes into the wood processing room. Turning, drilling, reaming … here we also have the belt sander and spindle sanding machine. Everything that makes a mess and wood shavings.
From there it goes into the room for keys, metal and detail work, where the wooden parts are assembled with everything that has a mechanical function: keys, stop-key, tuning beads for the drones and drone stock. There is a corner for forging, a soldering station and the milling machine. There are also two workplaces where we can sit opposite each other to work. These workstations are also by a window with plenty of natural light.
Finally, in the showroom, where the bags are sewn in the leather corner, the instruments are assembled and reeds are set up. The workplace for reed making is also by a large window which gives plenty of natural light. Repairs and maintenance are done here.
What will a visitor experience when they come into your new premises?
The customer can enter as if it is a shop, which has the feeling of also being a "bagpipe workshop" with the stock and demonstration instruments, the smell of wood, oil and leather. Although they are not right in the middle of wood shavings and wood dust, those who wish to visit the whole workshop can of course get a tour in the dustier rooms!
I like to receive customers and guests here. Due to the higher ceiling in the showroom, the acoustics are particularly good and the space for trying out and tuning is perfect. I think the room makes my instruments sound at their best acoustically. It is also big enough for us to be able to offer courses here and hold workshop parties someday. We could get seven to eight, maybe even ten people in here. It's not just about living and working under one roof, we also want to fill the workshop and the whole house regularly with lots of life and music.
**What Bagpipes do you make? **
We make German, French and Swedish bagpipes - more precisely Shepherd Pipes with one to three drones, Cornemuse de Berry (in G/C and A/D) and Swedish Sackpipa (in E/A and D/G). As well as them looking good, we are primarily concerned with functionality, intonation and sound. We build instruments which can meet modern musical demands; such as having keys and drone tuning mechanisms which enable playing in a range of keys. We also have a drone switch in which the drones can be switched on or off individually on our three drone Shepherd's Pipe - a unique selling point.
Have you any plans for future developments?
At the moment we are planning instruments in other keys, especially chanters with deeper tunings and deeper drones with triple back bores to shorten them. But there is also a possibility of higher keys such as High C in the future. In addition, we would also like to offer decoration in the Sautivet style on our Cornemuse de Berry. And then the possibility of the German bagpipes with Hümmelchen will be considered. But there are many more ideas that I hope will be implemented in the next few years.
If you would like to find out more about Thorsten's pipes, then his website is www.Tetz-Dudelsackbau.de