CD Review: Piccola Banda di Cornamuse
By: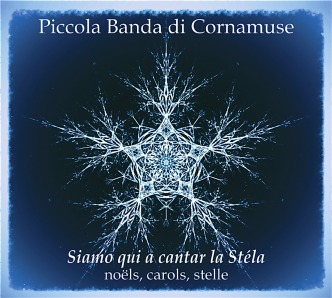 Piccola Banda di Cornamuse is a band of 11 musicians from Italy. This is their seasonal Christmas offering. It is undoubtedly a Christmas album, but one that has been wonderfully put together and deserves to be played at any time of the year. Although most of the tracks are about the birth of Christ, it is definitely not an album of Christmas carols.
The first track, La Passion/Les trots Anges, opens deliciously with solo musette and organ playing a tune from Bourbonnais in France. It builds steadily until we have the full ensemble in a magnificent finale. Track two features the voice of Caterina Sangineto in the well-known Christmas carol, See Amid the Winter's Snow. The ensemble of bagpipes play wonderfully together, supported in the bass end again by organ. This is the format for many of the tracks, with voice, sympathetic organ playing and a mix of solo musette up to full ensemble. This mix works extremely well keeping the listeners attention with good variety in the blend of timbres and instrumentation.
Notably the fourth track is a rendition of the Halsway Carol, sung beautifully by Caterina, accompanied by Marc on the organ. The full ensemble follows in the middle, playing together so sweetly that they could themselves be one person at the organ. Track five, Nouse Sommes Trois Souverains Princes, changes the light and shade of the album with recorder, just as wonderfully played. The ensemble is equally at home singing en-masse as playing together and their voices combine in track six, Siamo Qui a Cantar la Stéla, recreating the scene of the "companies of the Star" going from village to village announcing the birth of the Redeemer and singing for food and wine.
Track eight departs from the traditional using electronic sequences, voice and chalumeau, but of course there is full musette ensemble in this eclectic mix. This style is carried on to the final triumphant track of the album.
The album is beautifully recorded and mixed and is an absolute must for any bagpipe player's Christmas CD collection. It is beautiful and varied and at times most sublime.
Available from their website, you won't be disappointed.