CD Review: Cornemuses by Jean-Claude & Bernard Blanc
By: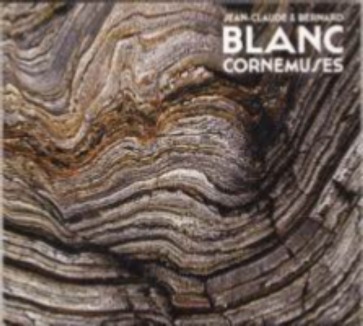 Here is a great CD for those of us who love the piping of the Berry and Bourbonnais regions of central France. Nine of the fifteen track are pipe solos by Jean-Claude who is joined by his pipemaker brother Bernard on five tracks. It has been on my stereo at the workshop for the last three weeks and I still hear no reason to listen to anything else. It captures the essence of what I have long admired in the piping tradition from central France; grand self- assured playing of marvellous melodies with no attempt to stun the listener with speed or wizardry. A Cape Breton fiddler was quoted as saying, "Playing a tune is like driving a car - sure you can play fast, but you'll miss all the scenery!" and this perfectly sums up the playing of Jean-Claude and his brother Bernard.
My love of this style of piping goes back nearly 40 years. After I first encountered Blowzabella in 1981, I began to track down and buy some of the few LP's of French piping that were then available. One of the first ones was of a trio calling themselves Vielleux du Bourbonnais which featured two gurdy players, Frédéric Paris and Bernard Blanc, with brother Jean-Claude Blanc playing diatonic accordion and bagpipes. Looking at the cover photo now I realise Frédéric was not very old when this LP was recorded in 1979. I have always relished the sentence on the record notes which states Les harmonisations, contre-chants et variations sont dûs pour la plupart à l'exubérance et à la volubilité de Frédéric. (The harmonisations, countermelodies and variations are due for the most part to the exuberance and the volubility of Frederic). In those days of the French folk revival musicians appeared to have the enviable ability to play an instrument with brilliance and then move on to master another one with equal brilliance. It takes most of us a lifetime to master an instrument but on this LP Bernard and Frédéric were playing the gurdy and six years later on their next LP they are both playing pipes. Frédéric never curbed this tendency as he later recorded a wonderful LP on diatonic accordion, and now is mostly seen playing clarinet and cittern. He has certainly never lost any of his precious exuberance and the volubility!
I set myself up as a pipemaker in 1984 and a year later I hitched a ride to have a stall at my first St Chartier. Everything was new and wonderful, the sun shone, everyone was playing bagpipes and I was captivated by the music, dance and ambience. I returned home clutching a small fistful of orders and a copy of the new LP by Vielleux du Bourbonnais, which was wittily titled Coupe de 4. The new member of the group was the a 22 year-old gurdy player Patrick Bouffard, who had already begun stunning everyone who heard him with his virtuosity and musicality. His solo tracks proved him to be a master musician, but what made the LP so special for me were the pipe trios in low A, D and high A. (26, 20 & 14 pouces). The first few seconds of track 1 proved to be an important inspiration for the formation of The Goodacre Brothers in 1986. Coupe de 4 remains as one of my all- time favourite LP's.
Over the years I have followed the musical path of three of them. Jon Swayne later introduced me to that wonderful musical collective La Chavanée, of whom Frédéric and Patrick are now mainstays. La Chavanée is much more than a musical group - it is a regional cultural association which never seems to stop spawning more brilliant musician and groups. Long may it thrive on the banks of the Allier!
Pipemaker Bernard Blanc is one of the two 'fathers' of the pipe revival in Central France, having developed a range of cornemuses which have characteristics and a sound that somehow for me now define the music of the region. He is also a gifted musician though it seems to me a very long time since I heard any new recording on which he plays. His pipe making has been an inspiration for me and many others makers, and I am happy to have become friends with him and to have visited his workshop in Vichy.
Since Coupe de 4, Jean-Claude has sunk below my personal 'radar screen'. It is possible that he has made other recording that have not heard. So, I was delighted when he released a CD this year. And it is clear from it that he has been busy playing and practicing in the intervening years! On all the tracks he plays his chosen instrument, the low A cornemuse (26 pouce). This is a big beastie, the sound of which oozes grandeur and presence and has a profound effect on me, often evoking emotions that I cannot put a name to. The only other bagpipe that that can sometimes have a similar effect on me is the Bulgarian Kaba Giada.
Earlier this year I read a translation of George Sand's romantic novel Les Maitre Sonneurs and I have to admit that I am highly susceptible to falling under the spell of the romantic picture she evokes of music and piping in central France. 'all the wood used in the instrument, which was of black cherry, dazzled your eyes with its lead embellishments, which gleamed as if were made of fine silver, and were encrusted all over the joints. …. the work that had gone into it had been done in so craft manlike a fashion that all you had to do was puff lightly to fill the whole instrument and create a sound like a clap of thunder'. I am a sucker for this kind of writing*! '… among those who dance the bourée, there are very few who aren't either in love, or have great dreams*.' Yes…yes!, take me back to these days of yore! (However much I may yearn for those lost and glorified Golden Days, I comfort myself that I am still in love and still possess Great Dreams.) This CD features many gorgeous tunes that for me are redolent of her romantic notion of a bygone era. So, it came as quite a surprise when I looked at the list of tunes and saw that many of the ones that he has chosen to play come from west of the Bosphorus!
With so much richness of melody and playing it is hard to pick a favourite solo track, but I have grown very fond of his performance of the traditional tune from Limousin air Or Ni Argent followed by King Arthur's Liver- a contemporary tune by Jean Blanchard. On just three tracks he is joined by brother Bernard and of these I my favourite is currently Le Pauvre Laboureur, a tune from La Bamboche, in which Bernard plays an A pipe (14 pouce), which is pitched an octave higher than his low A pipe. Initially they play both follow the melody, an octave apart but in unison before they split off into harmonies. The two pipes perfectly complement each other and I find Bernard's delicate and judicious use of vibrato very moving. On three of the tracks Jean- Claude is joined by Olivier Giteneait, playing very tasteful alto sax with Aloïs Gitenait playing double bass.
My all-time favourite track however is the stately (and unmistakably French) tune Alacyas, which turns out to be an Armenian melody! This starts with Jean-Claude playing the melody solo low A. Bernard then joins in playing in high A and finally they are joined by Olivier Gitenait, playing in D (20 pouces), to create gorgeous, rich and swirling trio that recreates the gorgeous piping trio sound from Coupe de 4. I can listen to that interplay and those harmonies all day!
This CD is a testimony to the pipemaking of Bernard who, along with Remy Dubois, are regarded as the fathers of the current flourishing revival of piping in central France. One of my Great Piping Regrets was that I missed the Brothers Blanc when they visited Scotland over 30 years ago and played a concert at Findhorn. It would be wonderful if some day we could lure them over the channel to play at The Blowout. I would be sitting in the front pew in Polesworth Abbey on Saturday night with tears of pleasure running down my cheeks. Meanwhile I am starting my fourth week of leaving their CD on my stereo!
CD available from jc.blancnjeou@gmail.com