Säckpipa Workshop Weekend
By: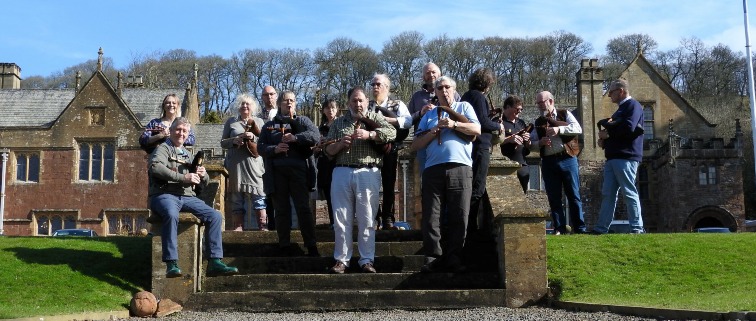 Fourteen of us got together to play Säckpipa in the deepest depths of 'sleepy' Somerset. There were 12 workshop participants, one who had travelled from Belgium, the rest from all over the UK. This first weekend for the Säckpipa was led by the talented multi-instrumentalists Vicki Swan and Jonny Dyer. Four were relative beginners, mainly working with Jonny in the library, while the more experienced players were led by Vicki in the Long Room. We also shared the weekend at Halsway Manor with melodeon makers learning from Emmanuel Pariselle.
Although the weekend was initially open to a range of pipes, all of us had the A/E Säckpipa and G border pipes. A number of Säckpipa makes were represented, including those from Alban Faust, Thorsten Tetz, Terry Mann and others, mostly using cane reeds. The group was very friendly and willing to share information and experience of piping, reed making, etc. We focused on the standard Swedish Säckpipa repertoire and tunes from Småland, along with articulation and general bagpipe technique.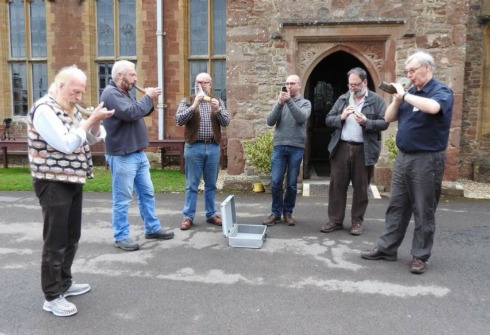 Gathering on Friday afternoon/early evening (after plenty of tea and biscuits on arrival) we began to learn some tunes, beginning with a Långdans (Long dance). After an enjoyable dinner, there was an informal session, drinking in the bar, chatting, relaxing, chilling… until it was time for bed.
The following morning, having eaten a big breakfast, we commenced at 9.30 with our workshops. Overall, we learned nine tunes, including two Långdans, various Polskas, Schottis, hamburska efter Pehr Ericsson, etc. Vicki taught us by ear, though music notation was also available, breaking each tune down into small and manageable sections. Emphasis was on 'gracing', use of staccato and rhythm using the feet – though I can't do it! We had a short break from the Säckpipa when Jonny brought out his horns for us to play. They are cow horns with three holes cut into them for one hand and, using the other hand in the end, a range of notes can be played. Some managed quite well, but I failed completely. There is a brilliant video clip of us driving Jonny away in great pain!
On Saturday evening, Vicki and Jonny provided a wonderful concert of songs and music called 'Smörgås ballad'. This was based around the seasons of the year, from the dark days and the devil into the light. The music from nyckelharpa, pipes, guitar, accordion and voice was superb; very evocative and beautifully played by two very talented musicians. I really enjoyed it throughout; thank you. Following this, we headed to the bar for an informal session of music and drinking – or to bed.
Sunday consisted of more great food, good music and teaching. Later, group photos and video clips were taken. We finished with a Somerset cream tea – is it jam or cream on top?! – then said our goodbyes and left with many of the tunes playing in our heads.
A weekend at Halsway Manor consists of plenty of food and drink at regular intervals , interspersed with workshops. We were really well looked after by the staff at Halsway – thank you.
We all agreed that it was a superb weekend – informative, very friendly, with great company, music, food and drink. For me, it has provided a good basis for continuing to play the Säckpipa. Vicki has since offered various links of her playing all the tunes we learned on video clips. We will do this again next year!
If you would like to attend, then the dates are Friday 10th - Sunday 12th May 2019.