In the bag
By: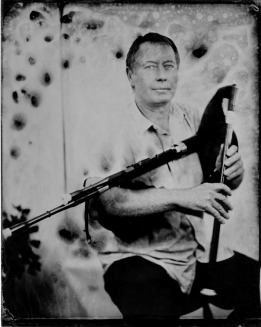 David is a musician who plays pipes and various other things. He has played the pipes, in some form or another, for about for 30 years now. He plays with Zephyrus, The Eelgrinders, the Faulkner Turner Duo and other occasional bands for ceilidhs etc.
David enjoys researching repertoire, writing and arranging music, running bagpipes courses and making lots of noise. He "Calls" and teaches dancing. He has worked as a community musician for 18 years and in his spare time enjoys cooking and digging the allotment. He has a partner called Ann, and they have two children, one dog and four chickens.
What bagpipes do you play?
Mostly Jon Swayne's – G, D & C. I also have a Swayne set in A and a high C Chabrette made by Marius Lutgerink
What led you to take up piping?
I played bass and whistle in a folk band in Hatherleigh, Devon and heard that a chap who owned a local shop selling folky stuff, CD's etc. He had an English Renaissance style bagpipe unused and hidden in a chest. I thought it would be a laugh to borrow it, get it working and see what happened! I also enjoy singing along to vacuum cleaners. Besides that it is a really sensible thing to do.
Which pipers do you most admire?
Ones that use pipes as a musical instrument
Name three, non-piping-related musical influences:
Sex Pistols, Black Uhuru, Thomas Mapfumo
What three albums are top of your playlist right now?
I've been listening to Groupa again recently but check out the Esbjörn Svensson Trio (EST) – beautiful music – Steve got me into them
If you had your life again, what instrument would you play?
I would sing more
Name your favourite music festival.
Don't get out much - but really enjoyed Château d'Ars last year. First time I'd been there since it had moved from St Chartier
What three words describe your piping style?
Evolving, generous, mine
Bellows or mouth-blown?
Bellows
Cats or dogs?
Dogs
Do you prefer playing, dancing or both?
Both
Cane or plastic reeds?
I think all my reeds are plastic now – I haven't looked for a long time!
What's your greatest musical achievement?
For piping it would be playing at St Chartier with Zephyrus - fab.
Non piping would be conducting 90 singers and 100 musicians together in a performance at Exeter Cathedral in Devon – that was a pretty epic sound.
What's your most embarrassing bagpiping moment?
It's either packing Lawrence's pipes into my car for a gig, getting there and then realising his pipes were not in the case; or it is forgetting how a tune went at a Festival Hall Foyer gig and then having the wrong tune sung into my ear. Nobody was hurt on either occasion so it was fine, and now I always let people pack their own instruments!
What's the most annoying question you get asked about the bagpipes?
I don't get annoyed
What advice would you give a novice?
Play. Don't be shy and it's not just for Christmas
I love bagpipes because…
It's the best way to make friends and influence people (and you don't need a plug point)