Review: Anytune - Music Practice Perfected
By:

Play it again but slower, lower, over and over!

Anytune - Music Practice Perfected (Anystone Technologies inc)

Ian Clabburn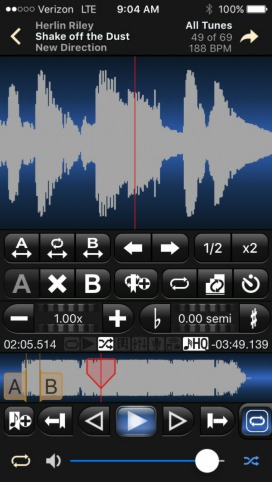 Some years ago (Chanter Winter 2006), I reviewed The Amazing Slowdowner from Roni Music (https://www.ronimusic.com). I still use it regularly and have yet to find any similar Windows based software that combines all the desirable features – independent key and tempo changes, EQ, looping – with a simple, intuitive interface you can understand and master within minutes. There is only one drawback from my perspective: I need to crank up the volume of my PC's speakers so the track can be heard over my borderpipes. Fine with me, but not necessarily so popular with the neighbours, apparently.
I tried connecting earphones to the PC, but the lead gets in the way and the physical restrictions are not conducive to practising good posture, especially when it gets caught on the drone.
Having recently bought a new iPod, it occurred to me that there might well be a solution: use the the music library, open up a "slowdown" programme and tuck the iPod in my shirt pocket (or similar) or even better if you have a pair of those Bluetooth earphones. Hey presto, no trailing wires and less unnecessary noise to distract casual listeners from my wondrous playing, ahem. After a short search through the App Store, I came across Anytune, which does everything I wanted, and more plus … it's free!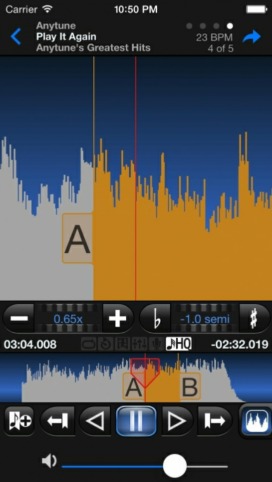 There's a Quick Start Guide which will have you up and running very quickly:
1. select a tune from your library; 2. tap Play; 3. change the tempo by pressing the + or – button;4. change the pitch by pressing the sharp or flat sign (one semitone change per press). Now you are in action.
You can also easily set up loops for practising those more challenging phrases. There are other interesting and no doubt very useful features, but I have not felt the need to explore these as yet. This is a sophisticated and versatile bit of kit and no mistake. The basic version is free, but upgrades start from a mere £1.99 (basic) to £4.99 each module for additional connectivity and improved audio, not that the free version is bad – far from it, in fact. You can easily get by without paying a bean, but come on, send them a bit of cash, even if it's just to say thanks.
Anytune is currently only available for iOS (iPod, phone and iPad) and Mac, but Windows and Android versions are on their way. https://anytune.us/products