Grace Notes
By: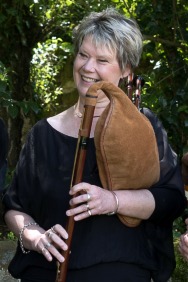 Welcome to the Winter edition of Chanter and I hope there will be something to interest everyone whether a player, maker, researcher or simply an enthusiast. I am particularly pleased that Paul Roberts has submitted his work to date on the evolution of the "pastoral pipe" in Britain. I have heard Paul's presentation at both the International Bagpipe Organisation's Conference and the Blowout and as the majority of members were unable to be at either of these, it is good to be able to print it in Chanter. I also happen to know that Paul has far more material than could be covered in just one article and I hope there will be more from him in the future. I'm also very pleased to feature Olle Gällmo on the front cover and "In the Bag". I'm a lover of Swedish pipes and a great admirer of Olle's playing. If you have never visited his website, which is a real tour de force, then I encourage you to do so even if, like me, you don't play Säckpipa. If you have a love of Swedish music then you will be interested to read about Vicki Swan's new course running at Halsway Manor in 2018. For those interested in the cutting edge of instrument making, Donald Lindsay's journey into the world of 3D printing continues and Jim Parr explains how a slight miscalculation in wall thickness can have unforeseen consequences.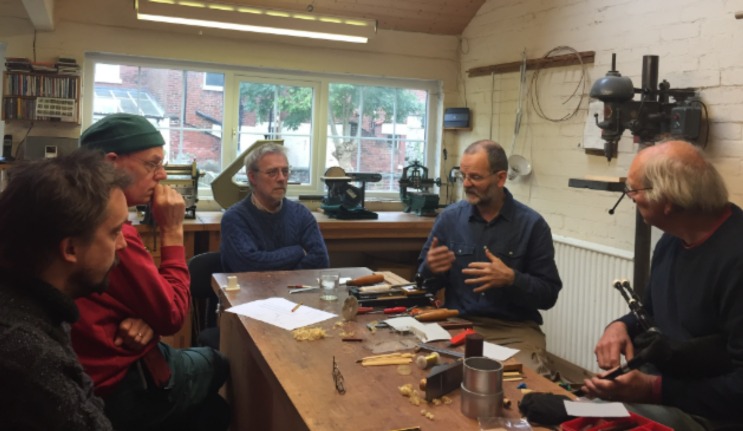 Whilst there are many upsides to being an instrument maker, I personally know that one of the biggest downsides is working in isolation. There is no one to ask when something does not work as expected, no one to mull a problem over with and, equally, no one to share the joy and elation of having finally solved that niggling tuning problem. So it was a real pleasure at the beginning of October when a number of bagpipe makers converged on the Moulder workshop to spend a weekend together to catch up, eat and drink – but mainly to talk about REEDS. It always comes back to reeds! Jon Swayne, Mike York, Julian Goodacre, Sean Jones joined Eric and myself for a "show and tell" of our various reedmaking tools and methods. It was a fantastic weekend, illuminating and inspiring in so many ways and we all learnt a huge amount from each other. I'm pretty sure that we all went away with renewed energy and a myriad of thoughts and ideas. Sean commented afterwards that he couldn't imagine that there were many industries where competitors are also best mates! Hear hear to that!
You will read in Ian Clabburn's comments that the Society is looking for new committee members. I know that this is usually something that we all feel inclined to ignore and gloss over - but please, do consider getting a bit more involved and joining the committee: we definitely need you and your input. There are a few roles, such as Chanter editor or membership secretary/treasurer, where there is a considerable workload but for the "average" member, the onus is not particularly large. Having an interest in bagpipes, a point of view and an opinion is what is required – other than being prompt in responding to e-mails. So please consider putting your name forward and having a voice in how the Society works and develops.
---
Dear Jane
I read Julian's interesting article about Meerut.  In the 1950s, my piping teacher, the late Pipe Major Francis Frederick Ross (Pipe Major of the Argyll & Sutherland Highlanders in the First World War and the 7th Cameronians in the Second World War) told me that the best pipes were those from India & Pakistan because they were handmade, rather than Scottish ones which were machine made.  However, I noticed that his pipes were made by Lawrie!
best wishes, Mike Gibson