Bagpipes at Medieval Music in the Dales 2017
By: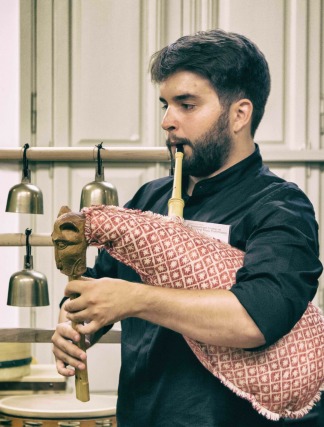 "If there is a heaven, I hope it's a bit like Medieval Music in the Dales"… It's always nice to get feedback, but that particularly made my day. Heaven will have to feature bagpipes, because there were plenty of them at Medieval Music in the Dales 2017.
Our theme was 'Spain Comes to Yorkshire', and we had two magnificent pipers from Spain. Sponsored by The Bagpipe Society was Eduard Navarro, who gave an illustrated presentation on the historic and traditional reed instruments of Iberia, and also a concert with percussionist and string-player Jaume Pallardó. Eduard had a lovely hand on the many pipes he demonstrated. Our second Spanish piper was Raúl Lacilla, who led workshops on the medieval bagpipe and played in concert with organettist Cristina Alís Raurich. Raúl demonstrated his wonderful medieval 'musa' – a reconstruction of pipes from medieval iconography, with chanter and drone in a single stock.
Paul Leigh of Trouvere also led workshops for bagpipe beginners, using The Bagpipe Society's stock of student pipes. This was a totally hands-on workshop that concentrated on getting consistent strong sounds from the instrument. It was a popular option and we hope to repeat this next year.
Jim Parr represented bagpipe makers in the Luthiers' Exhibition, and there were more bagpipe sounds over the weekend from Gaita and Blondel in concert, and from Katie Marchant, who played alongside Steve Tyler at the Bal which closed the festival. Plus on the open stages, yet more great piping sounds from Paul Martin, Maranella, Bear With Me and Tritor – and last but not least plenty of bagpipes in the informal Tavern sessions of an evening.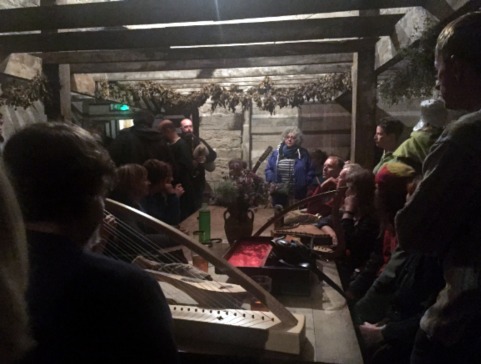 Next year's Festival will have the theme "The Matter of Britain – Medieval Music and Story of the British Isles". It would be lovely to see plenty of bagpipers once again in attendance – check out the website at www.medievalmusicinthedales.co.uk/ for more information; the full programme should be online by the end of the year.
Editor's note: Extracts from Eduard Navarro's talk will be printed in a future edition of Chanter