Inspired? Where to go Now?
By:

Where next? Well, I hope this edition of Chanter has whetted your appetite for finding out more about the music and culture of Iberia and its instruments. There are some established groups and sessions in the UK which feature Iberian music and are featured below. Also, Cassandre has selected her top picks of CDs and recordings for you to search out and listen to. We're also going to be treated to some historical Iberian piping at the forthcoming Medieval Music in the Dales. But if you want to get your pipes out and start playing now, then you need to go directly to this site.

http://www.folkotecagalega.com/pezas where there are lots of tunes for you to listen to and music notation to download. Many thanks to Society member Jean-Louis Caussé for this link.
Music reccommendations from the South
Portugal
Galandum Galundaina – This band is one of the first to bring Northern Portuguese traditional instruments to the forefront. Working extensively for the revival of their music, the musicians of Galandum Galundaina are key figures in Portuguese music and a good starting point for any exploration into the music of this part of the Iberian Peninsula. http://www.galandum.co.pt

Galicia
Bellon Maceiras – Whether you go for the duo or the quintet formation, these are some of the finest musicians in Galicia. Dani Bellón really dazzles with his interpretation of Galician tunes on the pipes and Diego Maceiras is his equal on the button accordion. My favourite album is Union das Terras, but all of them are fantastic. https://www.bellonmaceiras.com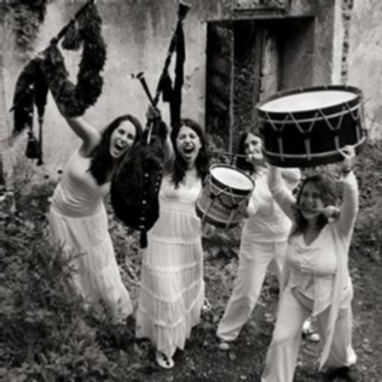 Habelas Hainas – An all-female quartet performing powerful Galician music with pipes, accordion, singing and percussion. They performed at the International Bagpipe Conference in 2014 and truly stole the show. No album yet but plenty on YouTube and a brand new collaboration called A verbena das irmandiñas (launched on 6 May 2017).
Anxo Lorenzo – Another Galician star (others include Susana Seivana and Carlos Nuñez). He plays his acoustic pipes like an electric guitar… Check him out! Os Cempés – Anton Varela's band and still a classic today! (Check out Luar na Lubre and Milladoiro as well if you haven't heard of them). Their discography is listed on Wikipedia: http://gl.wikipedia.org/wiki/Os_Cempés
Asturias
Hevia – Asturian born Hevia is the star of the Asturian bagpipes, awarded first prize for solo piping at the Festival Interceltique de Lorient in 1992. His first electronic fusions might sound a bit dated today, but I still love it. http://hevia.es/en/ Tejedor – originally a family band founded in 1995, the band has expanded and is still going strong, featuring Asturian bagpipes, tunes and songs. http://tejedorweb.blogspot.co.uk
Aragon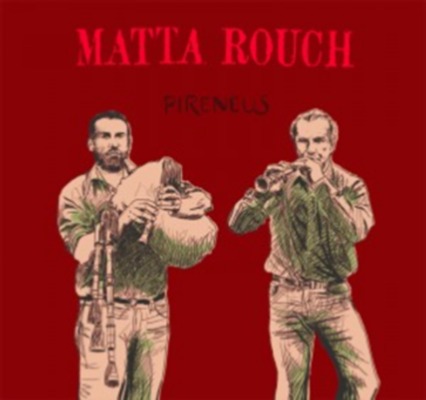 Nertam Folk has put up many historical recordings of gaita de boto online, all available for free on YouTube: [http://bit.ly/Chanter31](http://bit.ly/Chanter31. Amongst these you will also find videos of the annual bagpipe gatherings and hear the different pipers performing live.
Catalonia
Matta Rouch duo: Featuring two major musicians and bagpipe makers from Southern France, their latest album Pireneus (2013) features music from the Pyrenees from both sides of the border. Not an album to miss!
Mallorca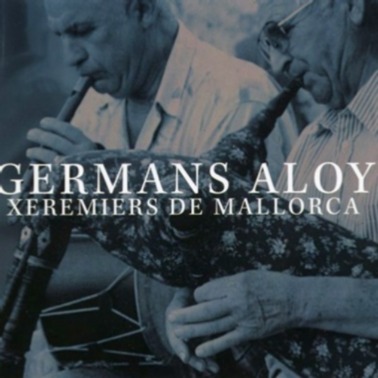 Mallorca is full of bands with traditional music. Some musicians even go and play for Catalonian bands such as Mesclat. I chose five bands but there are many more!
Boc: This fusion band with Mallorcan traditional instruments and much, much more features original compositions by Juan Frontera Luna, pianist and traditional musician. http://bocmusic.cat (most of the music is on YouTube as well).
Xeremiers de sa Calatrava (1988): One of the first recordings of the Mallorcan revivalists. A classic with repertoire for the colla played all over the island. Full album on YouTube: http://bit.ly/Chanter29
Germans Aloy (2011): Recordings of the last players of one of the most famous bagpiping families of the island. It also features whistled tunes that the men learned from their father, one of the island's xeremier legends. http://bit.ly/Chanter30
Al Mayurka: One of the main Mallorcan bands, ongoing since 1994, with a strong political and cultural message: http://www.al-mayurqa.cat
Música Nostra: Another great Mallorcan band. Founded in 1981, this band was essential to the revival of Mallorcan music, encouraging dancing in the streets and general participation in the celebrations: http://www.musicanostra.com
Sessions and Festivals
The Medieval Musa - Raúl Lacilla Crespo at Medieval Music in the Dales 2017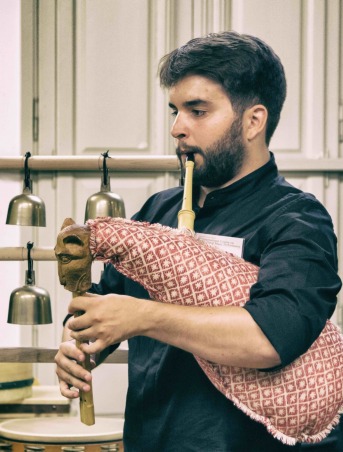 Medieval Music in the Dales has an Iberian theme this year, and we're delighted to welcome Spanish bagpiper Raúl Lacilla to provide workshops on the medieval bagpipe, or musa. The musa is commonly depicted in Spanish and French gothic iconography, having its golden age in the thirteenth century. The main feature of the medieval musa was the double chanter, that is to say, either a double melodic chanter or a melodic chanter with a parallel drone made from a single piece of wood, both operated by single reeds. Thus, drones were used, just not the shoulder-drone characteristic to many modern bagpipes.
Raúl Lacilla has been working on the historical evidence for the musa for more than three years, with the aim of reconstructing the performance practices of the medieval musa. His own pipes are designed by himself and constructed in collaboration with the Obradoiro de Gaitas Seivane and with the support of the International Course on Medieval Music Performance of Besalú. It is a double-chanter musa consisting of melodic chanter and a movable drone D-C.
Raúl will be leading a two-workshop course at Medieval Music in the Dales, open to players of intermediate level or above. You are welcome to bring your own instrument – the most suitable instruments are closed-fingering bagpipes in D or G (in either case with F natural), or boha-like bagpipes. The workshop will focus on articulation according to the treatises, Pythagorean tuning, solving chromatic problems and playing a piece from the Las Huelgas codex.
This is a unique chance to get to grips with an historical bagpipe style and repertoire. Limited places – early booking advisable!
NB: Medieval Music in the Dales also includes a Beginner Bagpipe Workshop with Paul Leigh, Eduard Navarro's presentation of traditional and historical reed instruments in Spain and bagpipe music in concert from Eduard Navarro, Blondel, and Raúl Lacilla. So plenty to choose from…
Booking online at http://www.medievalmusicinthedales.co.uk Thanks to The Bagpipe Society for their sponsorship of Medieval Music in the Dales 2017.
The Cumbria Gaita Band
The Cumbria Gaita Band was formed in 2014 and it currently comprises four pipers and three percussionists, playing authentic Galician instruments, and members live in Kendal and Lancaster. Bandleader Colin Blakey first discovered Galician music when he lived in Galicia for eight months in 1983. "Whilst on my travels in Iberia I was delighted to discover a thriving piping tradition in Galicia. I joined a band there, exchanging traditional music from my native Scotland for some Galician tunes."
He continued his interest in Galician music, investing in a Seivane gaita in the late 1980's. Settling in Kendal in 2006, he and his partner Philippa were both using gaitas in their ceilidh band (The Macaroon Ceilidh Band).
Through the Cumbrian traditional music scene Blakey met Bill Lloyd, who has had an abiding love for Galician music since his father returned from a trip to Galicia in the late 1980's with a gaita and some recordings of Galician music. When they realized that they had a mutual interest in Galician gaita music, they recruited some other players, and the Gaita Band was born.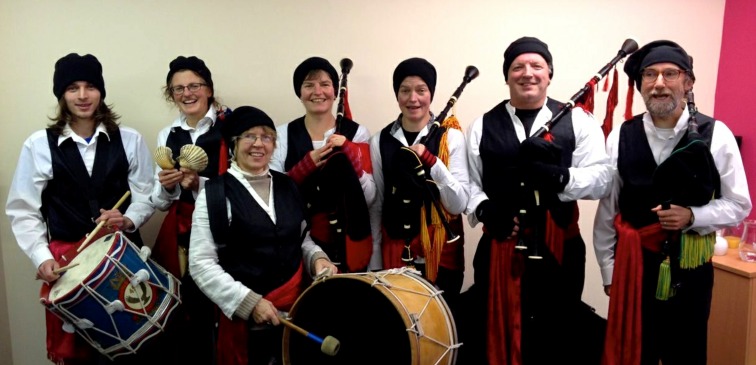 Blakey explains: "Our sound is based more upon the smaller-scale 'folklorique' bands, than on the much larger 'Bandas de Gaitas' that have emerged over the past 20 or so years. There is a sweet, rustic quality to the music played in this smaller format, that to me is lost when played by larger groups".
The Cumbria Gaita Band plays arrangements of tunes from the Galician repertoire. Gracings used are mostly for purposes of articulation, rather than embellishment, and harmonies are used frequently in their arrangements. The percussion used consists of bombo (bass drum), tamboril (snare), and pandereta (Galician tambourine). They play at local street festivals and gala days and they recently hosted a full day of Galician music and dance, inviting Galician piper Gerardo Albela González (who runs the Cardiff Galician session) to perform and give a workshop, and dancer/percussionist Marnie Kaputstinski to give a Galician dance workshop.
To find out more about them and where they are appearing, go to www.cumbriagaitaband.co.uk and at http://www.facebook.com/cumbriagaitaband
The Oxford Galician Sessions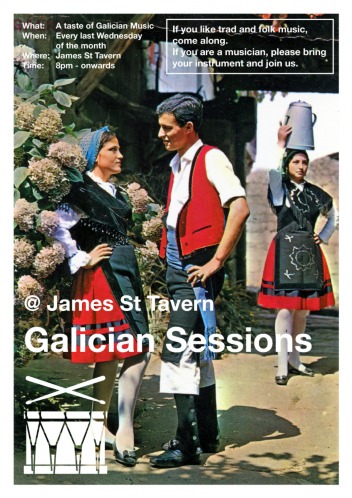 The Galician Session at Oxford, organised by the Galician piper Mano Panforreteiro, has been running since May 2012. It  takes place every last Wednesday of the month at the James St Tavern, James St (Oxford), between 8.30pm and 11.30pm. In the words of one of the regulars, the musician Edwin Pritchard: 'There is no pub folk music session quite like it, and the things that distinguish it from other sessions are the sheet music/song lyrics that Mano provides for everyone who wants them, the (very) loud gaitas, the tambourine-bashing choir, and the excellent Galician cake! The pub is always full on Galician night with musicians, singers, and people who have just come to enjoy the 'craic'. The music can be quite challenging. It is often in keys like C minor that are unfamiliar to English players used to G and D and some of the tunes go very fast – not for the faint-hearted, but providing a great adrenalin rush!'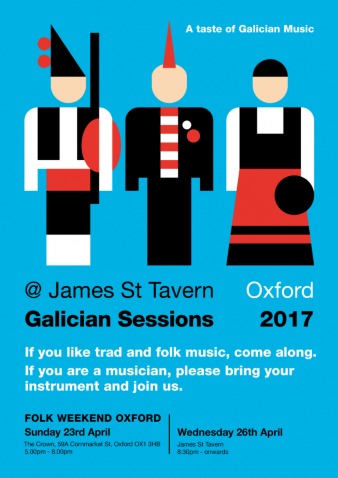 The Caerdydd Galician Sessions
The Caerdydd Galician Sessions are a monthly gathering of Galician and non-Galician musicians who meet to play the traditional music of the north-west of the Iberian peninsula.
The sessions were started by my friend Roberto Carracedo and myself, and are still run by me, having been inspired by a group that was being run by my good friend, Mano Panforreteiro, in Oxford. I used to live to live there and was a regular at the meetings, so when I moved to Cardiff I ended up taking the idea and applying it in my new home. Mano was actually instrumental on those first stages, providing us with lots of material that we could use for the sessions.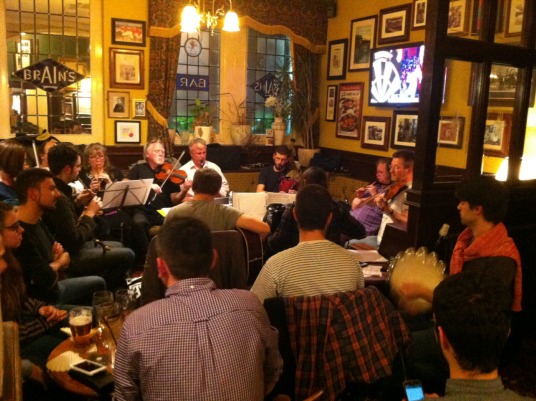 The session is held at The Albany, in the Roath area of Cardiff, and usually take place on the third Thursday of the month. All instruments are welcomed and at any session there are usually Galician gaitas, clarinets, whistles, recorders, hurdy-gurdies, fiddles, uilleann pipes, percussion of all sorts (from Galician tambourines, or pandeiretas, and drums, to bodhrans, cajón…), guitars and/or bouzoukis, traverse flutes… We've also had the occasional double bass and bass guitar, piano… So, as you can see, all are welcome to play this fantastic music. We always provide both the scores of the tunes that are going to be played and the lyrics of the songs to be sung on the sessions and they are also available online so people can become familiar with the music beforehand. However, anybody can start their own Galician tune/song, though, and we'll all just go for it.
One of the "offshoots" of the sessions has been the Welsh-Galician folk band Maelog (http://www.maelog.com/, https://www.facebook.com/Maelog), where I play and which is currently working on its first album.
So if you live near Cardiff or are passing my, please do come and join us to play, sing, dance… More details are on Facebook https://www.facebook.com/groups/caerdyddgaliciansession/