SOS Cornemuse: online bagpipe tutorials
By: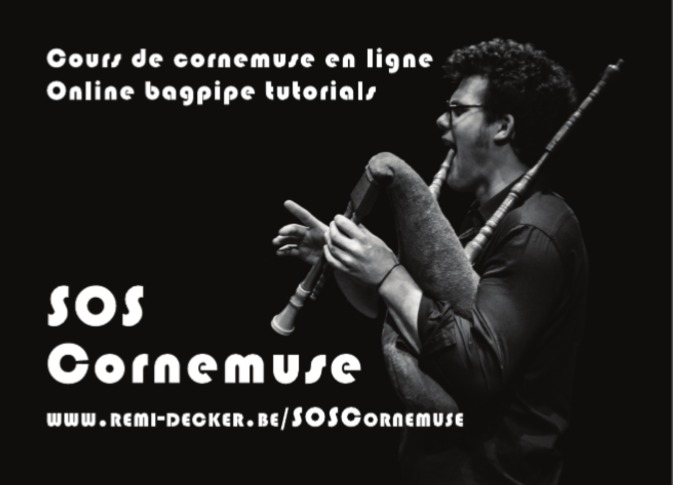 I have been very impressed with the online tutorials developed by Remi Decker and I was not sure how well they were known by Society members. Remi is an excellent teacher (as anyone attending his sessions at the Blowout will confirm) and so I asked him to write something for Chanter. A Dutch folk magazine had carried an article about the videos only last month and they have very kindly given permission for me to re-print it in Chanter. Thanks to Remi who, in between concert appearances with Griff Trio, managed to find the time to translate it from Dutch to English (with a little tweaking by me!).
Interview by Steven Vanderaspoilden published in FOLK magazine (www.folkmagazine.be) in June 2017.
Many know Rémi Decker as a virtuoso bagpipe player and driving force behind Griff. Rémi however, is also an inspired teacher who likes to share his knowledge about the instrument with others. Recently, he started a series of YouTube videos about playing "our" G bagpipe under the title SOS Cornemuse. A good reason to go and visit him.
How did get the idea to make online tutorials? I have not given regular lessons for a while, but I still get many bagpipe technique related questions, often from abroad, from people who don't have a teacher in their region or just cannot follow lessons. On the internet you can find tutorials for many different instruments, but strangely enough there is almost nothing for "our" G bagpipe (half closed fingering). I've always thought to make something… In January this year, I had some time and I recorded my first tutorial video. I decided to use the philosophy of the book series "for dummies". I really like this approach: it is not dogged down with words, but immediate hands-on, goes straight to the point and you can get started right away.
My first video was recorded (like the other ones) at home with the camera set up on a tripod. I wanted to make a video about the very first steps with your pipes. How to hold your bagpipe, how to blow the bag, how to get your first "sounds" and so on. I sent that video to different people to ask for their first impression. To my great surprise I received a lot of positive comments. These were not only from bagpipe fanatics, but also from friends from different backgrounds: people used to dealing with audio and video, also actors and pedagogues. I got many precious tips. The language matter has been discussed, the length of the tutorials, the sound quality, the script… For example, somebody gave me the advice to show only how it should be, and not how it should NOT be.
But that video has never appeared on your channel? Indeed. The tips I received made me realise very quickly that the core subject (First Steps with Your Pipes) is not easy to transfer to a video. Everything you do in a face-to-face lesson is built on "teacher's explanation – student tries – teacher corrects" and I found that this technique did not transfer to a one-way video tutorial. I had to think deeper how to fix that problem.
So I decided to delete the First Steps video and decided instead to focus first of all on some of the very common questions I get asked, like how to vary the tune on repeats, how to play a vibrato, how to play accents and embellishments on the tunes? These don't require an interactive approach to explain to a student. The result is a couple of three minute videos explaining the technique and its goal, showing how to play it step by step, and finally playing a tune where the technique is used.
They're easy to follow: there are no complicated terms, but some humour and no fairy tales. I also emphasize that it's my way of doing and invite viewers to develop their own way and introduce their personality by using those techniques.
I recognized many of the lessons you gave me about 10 years ago - This is in fact the result of more than 10 years teaching! Over the last 10 years I've gained the experience to know what works, how to explain things, what are student's expectations and frustrations.
What is your audience for the videos? As I said before, firstly they are for players with no access to lessons or a teacher. In Belgium, there are a lot of opportunities to study bagpipe whether in an academy, via private lessons, or during a one week(end) workshop like in Gooik or Neufchateau. But in some countries you are just alone wanting to play this kind of bagpipe, and it is for them that I made some clear tutorials. My videos are French spoken (my native language) and English subtitled. I thought this was the best option to reach an international audience. Each week I receive comments from around the world including Portugal, Italy, Brazil and even Russia. I'm happy those tutorials can help them.
At the same time, I also target people who can play but want improve and extend their technique. For example, I often get the question: "I know how to play a vibrato on C and D, but how do you play it on a F#? ". That's why I show each of the emblishment techniques on each note of the bagpipe from low F to high C.
The third audience that I'm aiming at are those musicians who play another wind instrument, or another type of bagpipe, and just need to know the specific things to play a bagpipe with half closed fingering in G.
There are now nine videos made, how are you doing? I guess people who have followed those nine tutorials need time to digest what they have seen and they need know and have everything in their hands to apply those techniques to their repertoire: vibrato, rappels, picotage, cuts & taps & rolls, slides…
I'm thinking about a second series for the beginning of next year. It will probably include some material to challenge advanced players. In the meantime, I regularly give workshops as well as face-to-face teaching where I can explain things I cannot explain in a 3min. tutorial
If you are interested in what you have read then you can follow Rémi Decker's tutorials on his website, Facebook page or YouTube channel: