CD Review - The Savage Prunes – Straight Line Talking (EP)
By: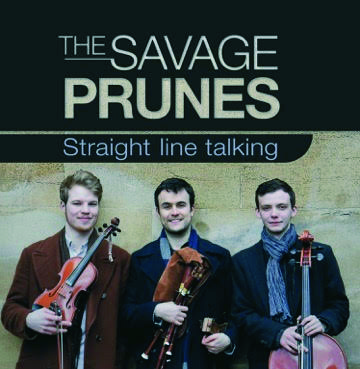 This was an eagerly awaited album, Callum Armstrong on pipes, George Pasca on Cello and John-Francis Goodacre on Fiddle. I'd previously heard Callum perform with George and I was looking forward to finding out where the journey had taken them.
The EP itself consists of seven tracks, beautifully recorded with each instrument in its place without overpowering the other. The first track Hamish The Hellhound shows you exactly what you can expect over the next 32 minutes: bagpipes with attitude. The release notes state that this is a band without an accompanist - if by accompanist they mean someone strumming out a chord sequence on a guitar, then that is correct. However all the instruments take their turn as accompanist in this album, there is no set soloist or set accompanist in this album - these three musicians are all that are needed. A guitarist is not needed as an accompanist, this role can be taken on by any instrument and indeed they do in this album in an extremely effective way. Nicolaus Copernicus is a stand out track, the pipes giving some very effective rhythm accompaniment uillean pipe style (knowing how Jon Swayne pipes work I can probably figure out how this was achieved). There is a lot of technically brilliant work in this track and I love it. The final track on the album has Callum performing on the recorder, but this marks the only tonal change through the album. It makes for a suitably quiet winding down of a frenetically pipey album.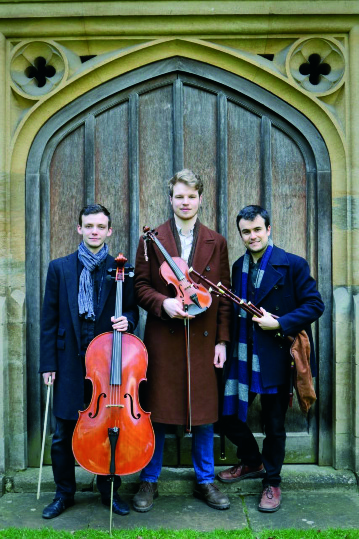 Callum plays the pipes in an instantly recognisable way. In his versatile hands it feels and sounds much more like listening to cor angles than border pipes.  The non-trained ear would be forgiven for mistaking this timbre of these two double reeded instruments, but for us pipers the grace notes give it away as being bagpipes.
There is a definite cross over from the modern classical and jazz world into folk which could be mistaken for improvisation, but it certainly feels scored and this is great. Callum's classical training shines through pushing the pipes in a direction I thought I'd never see and it's good.
The three instruments intertwine with each other, three lines weaving their own stories through the tracks. They are sympathetic to each other, they shine on their own lines, they subtly support, they fight with each other, they make up, they go down random paths and come back again.
As a trio the music seems much more mature than the duo I saw a few years ago. The melodies are still sophisticated but are now far more listenable. They seem to tell stories rather than being technical exercises in higher, faster, better. There is still a virtuosity about the playing, the piping in particular, but now it is more mature.
There is still a journey to be had with the Savage Prunes, already they are great and pushing the bounds of border piping - but the horizon is always far away and I really, really want to see how far they can go to reach the end. The Savage Prunes are cutting edge and have only just started cutting.
Hear clips and buy the cd from https://thesavageprunes.bandcamp.com/