Forthcoming Events
By:
Bagpipess Weekend at Halsway Manor, Somerset. Friday 10 to Sunday 12 Feb, 2017
A jam-packed programme of diverse bagpipe playing styles, with some of Europe's top players. The bagpipe tutors this year are David Faulkner (Britain) and Toon Van Mierlo (Belgium), both very talented players and teachers!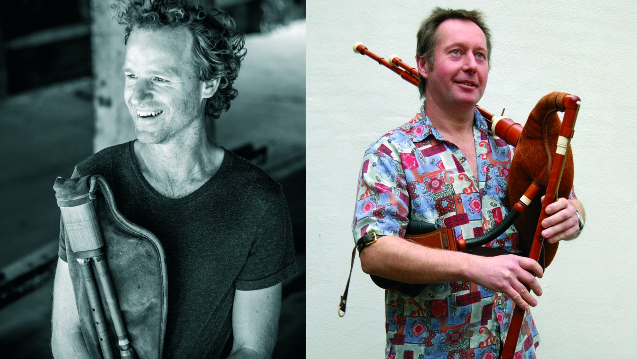 We will be exploring traditional English and Border Music plus new and traditional music for European Dance and also look into different and more unusual dance rhythms (for example 3/2, 9/8) and various playing styles, and explore how we can express emotion though our playing. We will learn variations and the techniques of how we can work them into our playing.  learning will be by ear but music scores will be provided during the course to support our learning. The group will be split into beginners-intermediate, and intermediate and above, and you'll spend time working with both tutors. 
The course runs alongside the hurdy-gurdy week-end. Hurdy-gurdy tutors this year are Anne-Lise Foy (France), Joel Turk and Mike Smith (Britain). Anne-Lise will also be leading singing workshops for all the participants (For both pipers and hurdy-gurdyists) before dinner on both evenings. 
All tutors will be playing in the Saturday night Concert. 
There are still places available in the bagpipe courses and bookings for the Concert only can also be taken. Don't miss out!
For more information and booking please contact Halsway Manor on 01984 618 274 - office@halswaymanor.org.uk  Or Claire Dugue (host) on 01843 588 470 - mail@claire-dugue.com
Real Roots! with Piva at Halsway Manor, Monday 20 to Wednesday 22 Feb, 2017

If your interests are in the 16th century, then bagpipes will be featuring alongside many other instruments as part of the Real Roots! weekend with Piva. Piva are a group which specialises in renaissance dance and ballad music (of which your editor is a member!). This mid-week course will be focusing on 4 and 5 part harmony music in small groups and sessions will be adapted to suit all levels. A key feature of the course is the opportunity of "having a go" on Piva's extensive range of instruments including bagpipes, hurdy gurdy, crumhorns, curtals, shawms and viols. These are perfect for beginners or those simply wanting to what the instruments are like to play. Other sessions will look at improvisation and developing arrangements. Piva will be giving a concert on the Tuesday evening.
For more information and booking please contact Halsway Manor on 01984 618 274 - office@halswaymanor.org.uk  or visit the website at https://halswaymanor.org.uk . Contact Jane on 07812 645460 or janethepiper@gmail.com if you want to find out more.