CD Review - Bla Bergens Borduner
By: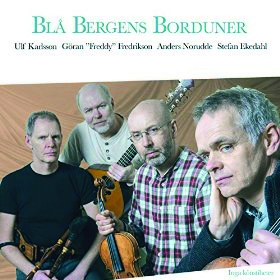 Bla Bergens Borduner — Inga Konstigheter
There aren't many CDs that show case the Swedish säckpipa and this album is an absolute gem. Bla Bergens Borduner translates as "The Blue Mountain Drones" and the album name translates as "No Funny Business" or maybe "No Strangeness". The group originally were originally active between 1984 and 1995 and have come back together again to release this new album.
There are only eleven säckpipa players who have been awarded the prestigious title of Riksspelman by the Zorn jury in Sweden and this group contains two of them: Anders Norrude and Ulf Karlsson. Out for the four members of the group three of them play säckpipa (and the third is just as great as the other two) — so this along with their first eponymous album is truly a must have! All three pipers are superb and play with a mastery that I would love to achieve, I could tell Ulf from the others only by the fact that I could hear the tell tale bellows sound, this was so slight that you'd have to want hear it and be very nerdy to know it was there. Other than that the pipers all play with such empathy that they could be one player.
As well as bagpipes you get an impressive array of instruments with a plethora of timbres. Fiddle, moraharpa (the oldest style of nyckelharpa) bouzouki, guitar, hurdy-gurdy, cello and flute. There is a constant stream of instrumental and timbre changes which leaves no corner of the aural spectrum un-explored. The listener is taken on a journey through the full range of emotions: happy melodies, sad melodies, dance tunes, old tunes, new tunes all treated with the same vibrancy and verve for music that they achieved in their first album, which was nominated for a Swedish Grammy in 1993.
The opening track is a slängpolska, the second track an older style polska in the finnskog rhythm led by the hurdy-gurdy (Sweden not only has a piping tradition, but also a hurdy-gurdy one too). One of my personal tracks has to be track four — Mäster Ekholms Polska. We have pipes, fiddle, bouzouki and 'cello all interweaving wonderful lines. I'd be surprised if this tune didn't make it into the common repertoire. You can tell the Stefan is an excellent 'cellist and he supports the melodies in a beautiful melodic fashion. The listener is taken on a journey through different polskas, through joy, through sadness, elation and poignancy.
Although this is a review for the second album, this album definitely shouldn't be purchased on its own — if you can get hold of the first album these need to be bought as a pair. To the point where the album covers of both albums are almost identical showing that they are two halves of the same musical experience - just the passing of twenty years shows which album is which. The music on both albums is fresh and innovative and even if you are only a fan of Swedish music this album is for you. If you are a fan of the säckpipa — then this is a must have album!
Editor's note: Both recordings are only available to purchase via download (as far as I can tell) iTunes has both whereas Amazon has only Inga Konstigheter.