A Coade Stone Piper
By: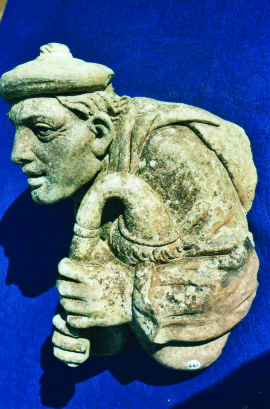 This short article has been in gestation for over fifteen years and relates to a corbel in the form of a bagpiper which was offered for sale by Sotheby's at the saleroom they used to run at Billingshurst, Sussex. The sale was of 'Garden, Architectural and Fossil Decoration' and took place on 20th September 2005. The item in question was lot 205.
The corbel which is known to date from 1814 (see Fig 1 consists of just the head and shoulders of a bagpiper. He is wearing a plaid and a bonnet with a pompom suggesting that he was supposed to be either Scottish or perhaps Northumbrian. All one can see of his pipes is the chanter and the bag; the former is depicted as being cylindrical and rather thicker than would be expected, probably necessitated by the material being used (of which more later). Sadly it is broken off just under the piper's right hand. There is no actual stock but a ring mount where the bag neck meets the chanter. At the point where the neck expands into the main bag there is a fringe. There is no sign of any drones. Most interestingly there is what appears to be a strap around the upper part of his right arm. There is no similar feature on his left arm which would seem to exclude the possibility of this just being a feature on his jacket. What it does suggest is that the pipes he is playing are bellows blown even if the bellows themselves are not depicted. In any case he has no blowpipe in his mouth. It cannot easily be determined with any certainty whether the pipes depicted are Scottish or Northumbrian small-pipes or border pipes although the date would seem to make the first of these alternatives unlikely.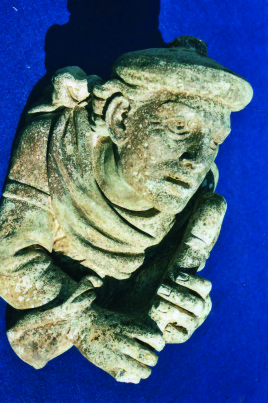 Fortunately we know quite a lot about the provenance of this corbel. Firstly it is made from what is known as Coade stone. This is an artificial stone sometimes called 'Lythodipyra1' made from a mixture of unfired clay, flint, sand, ground glass and a substance called grog produced by finely grinding pre-fired clay. This conglomerate could then be inserted in a mould, dried and fired. The result was a stone which had a greater resistance to weathering than most natural stones as can be seen from the large number of surviving structures made of it2.
Coade stone and the architectural objects made from it were produced by the successful London businesswoman Mrs. Eleanor Coade3 (b 1733, d 1821). She established her business at King's Arms Stairs, Narrow Wall, Lambeth, roughly where the Royal Festival Hall stands today. Mrs. Coade worked in partnership with her cousin John Sealy. After Sealy's death in 1813 the business was managed by William Croggan, a distant relation, and subsequently by his son Thomas John Croggan. The business was finally sold up in the early 1840s. Mrs. Coade worked with many of the great architects of her day including Robert Adam, James Wyatt, John Nash and in particular Sir John Soane. The catalogue4 of items that she produced included neo-classical statues, architectural features, commemorative monuments and tombs, garden urns and many other items many of which can still be found in country estates and urban houses throughout the British Isles. She could count amongst her clients many members of the aristocracy including the Dukes of Northumberland, Devonshire and Newcastle, the Marquis of Blandford, Lord Rosebery and last but not least the King of Portugal.
Fortunately it is known who ordered the corbel depicting this piper. According to the Sotheby's catalogue it was Sir Godfrey Webster, 5th Bt. (1789-1836) of Battle Abbey, Sussex. Battle Abbey was a mediaeval foundation, partly in ruins, built by William the Conqueror alongside the site of the Battle of Hastings as a memorial to all those (seemingly on both sides) who died in the Battle. Sir Godfrey inherited his title in 1800 following the suicide of his father. However he only inherited the Abbey in 1810 and found it in a poor state5. He then set about restoring the buildings and estate6.
As part of this work, starting in October 1814 he placed a series of orders for various items with Mrs. Coade. Croggan, now the manager of Mrs. Coade's business sent estimates to 'Mr. (sic) Godfrey Webster for Mr. Vidler7'. The item concerned comprised 'an archway 40/60 guineas, Arms 30 guineas, pedestal for a lion 20 guineas, chimneypieces from 40 guineas, window labels 8s 0d per foot, corbels [unspecified] 30s 0d to 60s 0d' and a few other items. A month later Croggan recorded the actual order8, this time including Sir Godfrey's correct title and specifying that there were "22 corbels for supporting window weatherings". In a later order for 6 corbelles (sic) the subjects were specified, "2 men carrying stone, 2 miser and thief, 2 friar and beggar". Sadly there is no mention of a piper although the other subjects, as Kelly points out, are eminently suitable for a mediaeval building. Some still remain in place (see Fig. 2). The corbels cost 2½ guineas each. Sir Godfrey's order for various Coade stone items was a large one. At one time the bill stood at £419.18.15. There seemed to be some difficulty in extracting payment. Numerous polite but firm letters were sent to John Vidler but seemingly to no effect9. Finally a letter was directed to Sir Godfrey himself which seemed to have had the required outcome.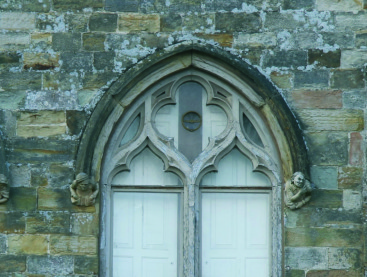 As a general rule most of the Coade factory's production was of classical subjects, mediaeval ones being far less common. The piper, at least to us now, does not seem to fit into either of these categories. Furthermore there seems to be no connection in the Webster family with either Scotland or the North East of England10. It certainly seems likely that the pipers was made to complete Sir Godfrey's order as it bears the inscription Coade, Lambeth 1814.
Bearing in mind that Coade stone items were made in moulds it is quite possible that further examples may exist. It would be interesting to know if anyone has seen another one.
All images are the author's
1 From the Greek 'litho' – stone, 'di' – twice, 'pyra' - fire
2 See Mrs. Coade's Stone by Alison Kelly (Upton–upon-Severn, 1990) and Coade Stone by Hans van Lemmen (Princes Risborough, 2006).
3 Eleanor Coade was never married but as was customary for Georgian businesswomen was given the courtesy title of Mrs.
4 Sadly the surviving company records are rather sparse. See p 18 of Kelly for a list of surviving records
5 See The Torrington Diaries, C. Bruyn Andrews (ed), pp. 121-122
6 The remaining non-ruined building at Battle Abbey are now leased to Battle Abbey School (founded 1922). Formerly the abbot's lodgings it was given to Sir Anthony Browne by Henry VIII at the dissolution of the monasteries. Browne's descendants sold the estate to Sir Thomas Webster in 1721. It remained in the Webster family until 1976 (excluding a period, 1857-1901, when it belonged to the Duke of Cleveland). It was then acquired by the State and is now administered by English Heritage.
7 Croggan was presumably unaware at first of Sir Godfrey's title as indeed neither was Alison Kelly (ibid) who assumed the title was awarded later. Mr. John Vidler is presumed to be the builder carrying out the work on the Abbey.
8 Coade order book in the National Archives, Kew, C111/106
9 Coade book of copy letters in the National Archives, Kew, C111/106
10 It is unlikely that the fact that the Duke of Northumberland was also a client had any bearing on the subjects of the corbels.