Pipes at the Ready
By:

Inverness Museum & Art Gallery has a fine collection of bagpipes the importance of which, I suspect, is generally underestimated. There are Highland Pipes, Scottish Smallpipes and Union Pipes, some complete and others fragmentary. Among the oddments are the three bagless, chanterless drones that so intriguingly resemble those on Geordie Syme's bagpipe (see Chanter, Winter 2003, 12-13). The Union Bagpipes interested me most when I examined the collection of items not on display, because of the quality of the Inverness specimens and the instrument's patchily understood history and evident importance in the music of England, Scotland and Ireland. Not only are there three complete sets, but also several accessories, including those most rare and ephemeral of items, reeds.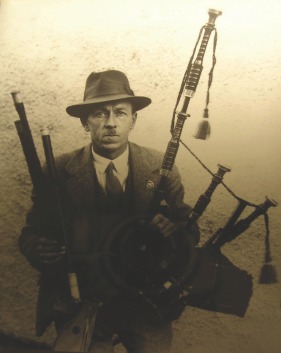 Several items labelled with acquisition numbers beginning 970 were donated to the museum by a bagpipe maker of Tain who died in 1974, Mr Torquil MacLeod (Figure 1), son of Donald MacLeod, also a maker, d. 1960. They include the intriguing leather Bag (G-KB5 970/6D) discussed here, the function of which has been forgotten, but which I deduce might be a home- made bagpipe carrier (Figure 2). [To avoid confusion, I will use 'Bag', capitalised, when referring to the carrier, whilst 'bag' will refer to the windbag of a bagpipe.] 970/6D has been loosely associated with a sweet little Smallpipe (G-KB5 970/5D) from the same donor and stored in the same tray G/KB5 before being put out on display in the eighteenth- century costume case. However, I judge significantly, a Union Bagpipe (Figure 3) has the same acquisition number 970/6D as the Bag so that we may suppose that Bag and bagpipe were once associated, perhaps intimately. I think the instrument must have resided for a very long time within the Bag and that eventually somebody separated them – either out of curiosity or for cataloguing/storage convenience – without recording the fact. Fortunately we can still link the two because of their identical acquisition numbers. This beautiful bagpipe is complete. It probably played in low D. Its bag, which looks to be made of sheepskin, is crumpled and rigid as though it was long ago stuffed into a restrictive container (i.e. the Bag) where it remained confined and scrunched up for many years as it dried out and hardened.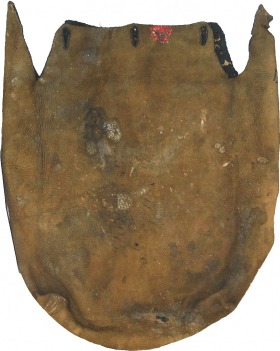 The Bag is made of once-soft leather with a green cloth or felt lining stitched within. At the open end there are three button holes and two out of three woven leather 'cardigan' buttons that would have attached the two sides of the opening with the button flap folded under the other (Figure 4). That leaves two narrow openings at the top of the Bag, adjacent to the corner 'horns'. On the neck of Bag there is a cracked wax seal the remains of which depict the sun with a serious face above a torse (the twisted cloth wreath that surmounts a helm). The badge of clan Kerr features such an emblem encircled by the cheerful, self-satirising motto Sero Sed Serio (Late, but in earnest). There is also some faded, almost illegible text written on one side of the Bag that, according to my notes taken when I was examining the real thing rather than my photos, includes the name MacKenzie. So far, no Kerr or MacKenzie connections have emerged.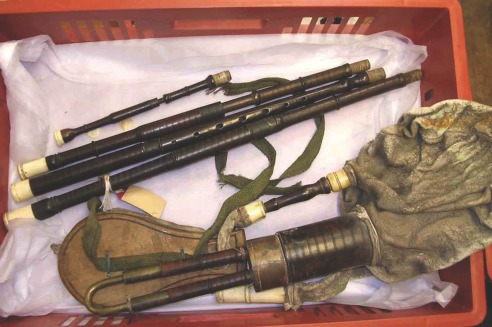 There are, of course, no instructions for Bag 970/6D, but we can perhaps work out a plausible explanation for this singular device, which I suspect is an ingenious bagpipe transporter with a particular practical purpose.
I think we may justifiably, in this context, overlook the Smallpipe with which it once shared the storage tray (temporarily replaced with a label indicating location on public display). However, a Union Bagpipe such as the one that shares an acquisition number with the Bag could have been carried, set up ready and tuned for immediate playing, with the chanter emerging upwards on one side and the drones on the other, prevented from rattling about by the buttoned flaps between (Figure 5, Left). Imagine a piper hurrying from one Highland ceilidh to another, keeping his bagpipes at the ready instead of dismantling and packing them away so that they needed a deal of inconvenient retuning on arrival at each gig.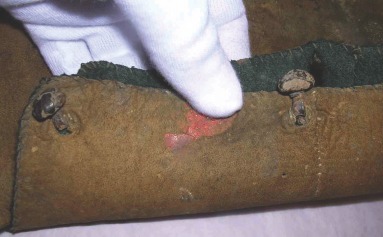 I have routinely carried, along with other instruments, a ready-to-play bagpipe assembled and sticking up from an open-topped square cloth bag with shoulder strap. Because there is no buttoned-up flap to separate them, the various pipes can sway around rather alarmingly and I need to tuck the drones behind my shoulder during transit. It works well enough for outdoor playing and processions, but a bag designed like 970/6D would be much more satisfactory and I intend to copy the idea for my own future use.

There is another early bagpipe case that isn't just a box: the controversial stoppered tube seen behind the right shoulder of the bagpiper in a bench carving of around 1525 in St Nonna's church, at Altarnun, Cornwall (Figure right). Some say it's a drone. I disagree. Unlike a complicated Union Bagpipe complete with bellows, Altarnun man's mouth-blown, droneless, two-parallel-chantered instrument would have rolled up neatly to be slipped into this narrow cylinder. This we do today. A gentleman once appeared at a bagpipe society meeting in West Yorkshire – nobody knew who he was or was expecting him – having brought with him a car-load of stitched leather WW2 gun sight cases for sale, which several of us gratefully bought for £15 apiece. They made perfect bagpipe (and shawm) holders almost identical to the ancient Altarnun example. Then the Jessops' photography tripod case was discovered, that fulfilled the same function but with much less weight. Modern players of early bagpipes, including myself, keep and carry our instrument thus (figure left), fully assembled for immediate use and poking out of the top of the tube, strap slung over a shoulder.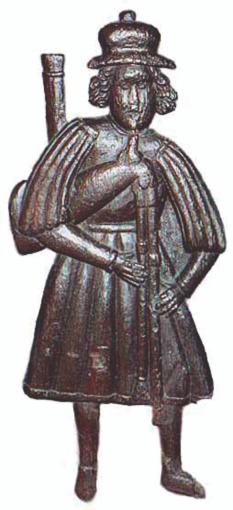 Besides the Bag and the temporarily absent Smallpipe, tray G-KB5 also contains a small box (no acquisition number) containing double and single reeds (for chanters of Union and Highland Bagpipes, practice chanter and for drones). It is possible that some of them belonged to a Union Bagpipe, perhaps the one discussed above as belonging in the carrying Bag.

The Bag 970/6D is, I contend, a rare instrument transportation device, and its specific connection with bagpipes – Union Pipes in particular – and unique home-made construction means that it has significant historical value. Perhaps it once belonged to a 'Toun Piper', a possibility well worth investigating. This is a curiosity of local interest that brings with it images of remote Highland village halls, brightly lit and full of happy folk dancing, not to the skirl of the Highland Bagpipes, but to the rich tones of the Union Pipes. Similar instruments were played concurrently in the theatres of eighteenth-century London, possibly in other English towns and in Ireland, where it evolved into the now familiar Uilleann Pipes. The Bag, the bagpipe and their story should surely be on display to the public, not languishing unknown in the museum's store.
And finally, to whet the appetite of bagpipe historians interested in Union Pipes, I include pictures of the other two complete sets in the Inverness collection (Figures 6 & 7). Note the chanter's finger holes in Fig. 7, worn and polished after many years of music making, telling a tantalising fragment of a now forgotten story.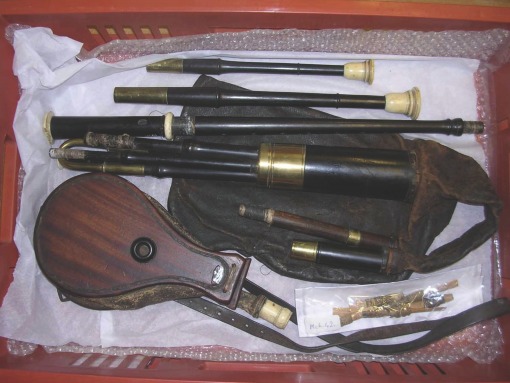 Acknowledgements
Thanks to Ross Calderwood (www.lochalshpipes.co.uk) for extensive and enthusiastic conversations about the Inverness exhibits and to Jon Swayne for his confirmation that the bagpipes in question here – with their re-entrant bass drone and two-part chanter – are probably best called Union Pipes (although they have features, such as large finger holes, that might initiate a little controversy on that judgement).