International Bagpipe Day 2015
By:

When Andy Letcher came up to me at the end of the Blowout in 2011, telling me about his idea of International Bagpipe Day, neither of us had any idea how successful it would become. It seems that the bagpipe world was thirsty as it is veritably drinking up the international connections that are forged every 10th March since 2012. This year far exceeded previous episodes as over a dozen countries celebrated the day with events all over the world including Belarus (Minsk), the USA (Texas, Chicago, Detroit, San Francisco), Canada (Thunder Bay), Germany (a Swedish/German concert in Berlin), Greece (Athens and Santorini), Hungary (Budapest) and Iran. Berlin organized a friendly concert with Swedish piper Olle Gallmo and German piper Matthias Branschke; Athens held their annual picnic opposite the Acropolis, this year held in honour of Andonis Zografidis, a Carpathian piper and pipe maker who passed away in February 2015; Texas Tech Uni organized an afternoon of talks and were treated to an intimate concert by Carlos Nunez; Moshen Sharifian, from southern Iran, organized a week-long competition gathering all the local pipers in order to raise the profile of the instrument; the National Piping Centre in Glasgow organized a day of concerts to be live streamed; the Budapest folk club organized a bagpipe- focused concert for the special day; finally, England was also represented with a myriad of events in London, Chester, and other places. One of my favourite anecdotes was to hear how Callum Armstrong marched his young piping students through the school hall much to the bewilderment of the staff who will not forget International Bagpipe Day ever again. Callum later joined the local London event, a low-key friendly session in East London gathering pipers from Galicia, Mallorca, Scotland, France, UK and Hungary.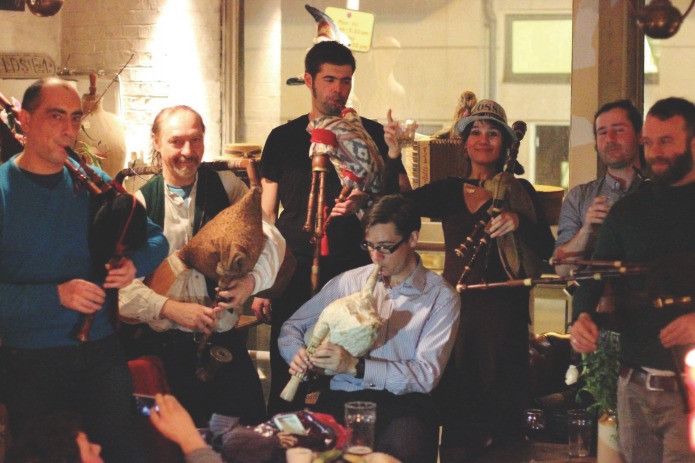 IBD 2015 also generated a lot of press highlighting Andy Letcher ́s key role in the creation of the day and raising awareness about the great variety of bagpipes in the world. Local and national BBC shows picked up on the event: BBC 5 Live Breakfast with Alistair Campbell, Paul Dunphy on BBC Leeds Radio and the Andrew Easton show on BBC Herefordshire and Worcester. Bagpipe Day was also extensively featured in the United States on PRI The World with Marco Werman. American producer David Leveille wrote up a great feature that is now on the web with a link to the Bagpipe Society website amongst other things: http://www.pri.org/stories/2015-03-10/break-out-kilts-or-dont-its-international-bagpipe- day. Vivien Williams, who presented at IBC 2014, also made the most of the day by getting her research noticed in the Scottish media including BBC Reporting Scotland and STV Scotland Tonight. One of the best pieces can be found here: http://www.gla.ac.uk/news/bagpipes.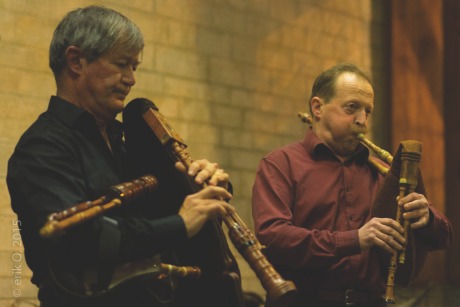 This year's main event may have been the bagpipe symposium organised on 20-22 March by Jean Pierre Van Hees and Bart De Cock in Leuven, with the collaboration of the Leuven University School of Arts, Muziekclub 't Ey, De Grote Kornemuze – (a big band of Flemish bagpipes) and Leuven Befolkt. The symposium kicked off with a wonderful concert in the striking gothic town hall of Leuven featuring Italian zampogna by the wonderfully talented trio Zampogneria FiumeRapido with Marco Tomassi, Marco Iamele and Giorgio Pinai, Slovak duda by Bernard Garaj, an antique Galician gaita played by Marco Foxo, a Franco-Flemish duo with Eric Montbel and Yvon Bayer, the Scottish highland pipes played by James Beaton and finally the newly formed Musa, a Flemish bagpipe ensemble directed by Jean Pierre Van Hees. This put us in the right frame of mind for the excellent Saturday talks focusing on different bagpipe educational systems in Europe. We heard eight talks ranging from the extremely organised Scottish competition system (James Beaton) to the apprentice-based education in Slovakia (Bernard Garaj) and from the Breton Bagad education (Alain Le Buhe) to the classrooms full of very young gaiteros and gaiteras in Galicia (Xose Lois Foxo). We were also treated with several talks that went more into detail about different kind of pipes such as the White Russian pipes (Ulrich Morgenstern) and the latest discoveries of Remy Dubois, a fountain of knowledge in this world of French and Flemish pipes. Eric Montbel, after an interesting talk about the creation of the bagpipe movement in Provence shared how he established the new Pastis-Terrasse tradition, where one drinks Pastis and plays the pipes on the patio. Conversations over lunch and at the makers' stalls (including Seivane) were incredibly diverse and full of wonderful titbits of bagpipe knowledge. I had the privilege of meeting a few renowned revivalists including Hubert Boone, the now retired curator of the folk instrument collection of Brussel's MIM (Musee des Instruments de Musiques) and Guy Cesbron, a piano tuner/piper/reed maker who personally knew some of the old French instrument makers. Conversations continued very informally that evening at a local dance where pipers were either on stage playing or in the bar chatting.
The symposium concluded on Sunday morning with a guided tour of the MIM's extensive bagpipe collection and a special backstage look at the instruments held in the reserve, with explanations given by the collection's current curator Wim Bosman. It was a huge a privilege to be in the same room as these eminent bagpipe experts as they commented on the models displayed, some of which were old instruments of theirs, now part of the museum's collection. A real treat! I left Brussels the next day with my head full of new knowledge and my fingers itching to get back to my research so I could incorporate the best of the comments into my writing.
Next year's International Bagpipe Conference will be held from 26-18 February 2016. It will be hosted by the National Piping Centre and organised in collaboration with the Royal Conservatoire of Scotland and Glasgow University. We shall also be having presentations on Sunday morning so that we can accept more talks as it was disappointing to turn down so many good papers last year due to lack of time. So don't hesitate to submit an abstract when the call for papers comes out in August! We are looking forward to reading them.
All in all, IBD 2015 was a great success, far exceeding any expectations we might have had in 2012. Well, apart from world domination of course. It seems bagpipes are truly on their way there!
Long Live the Bagpipes!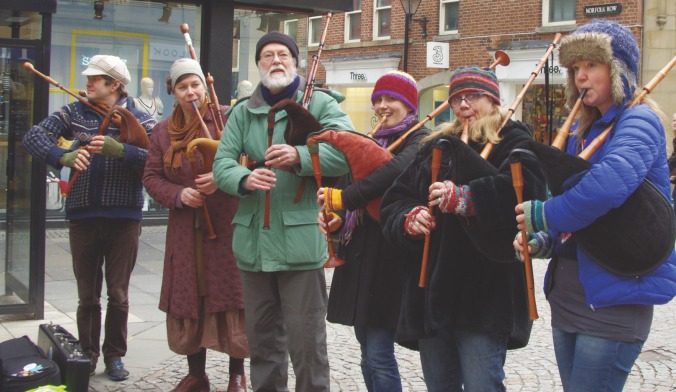 More events and news which took place in and around International Bagpipe Day can be found on Facebook on the 'International Bagpipe Day' and 'International Bagpipe Organisation' pages. If you want to hear the pipes as well, then you must listen to Cassandre's brilliant radio broadcasts via SOAS Radio - they are available at http://soasradio.org/bagpipes-galore