My Swedish Bagpipes
By: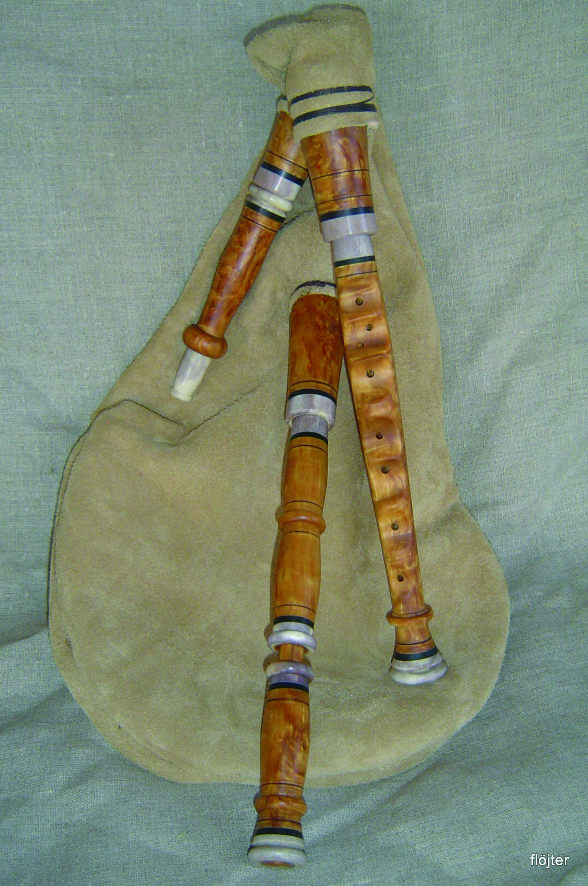 When I moved to Sweden in 1988 I had no idea how I would get by. Up until this point I had made a living by playing music, making different bagpipes and keyed fiddles. However, this didn't seem to be working in Sweden. Then some good friends of mine, like Ale Möller, gave me the tip to look into the Swedish bagpipe, a quite primitive and not really appreciated instrument. But, when it is working well, it is a very beautiful, warm, clear and soft sounding instrument. And so I began my journey of both getting to know and love this instrument, a journey I'm still on today.
Over time I've recorded several CDs and made many pipes. In 2009 I earned the honorary title "Riksspelman" for my presentation of traditional Swedish folk music on Swedish bagpipes. The Swedish bagpipe has over the years made many new friends all over the whole world.
The Swedish bagpipe is a so called clarinet- instrument, as the sound is produced through a single reed which sits on a cylindrically drilled chanter. Traditionally it is a mouth blown instrument with one short and high tuned drone, which is identical to the next lowest tone on the chanter (once the lowest tone, but I've increased the range down with the leading note). The drone is placed in front of the belly. There is also a single reed in the drone, as in almost all bagpipe drones.
My construction of the so called Västerdala pipe is a mixture of the only ten original instruments preserved in Sweden, where none is like the other. Their suspected tuning is around minor (scale E-e). Furthermore my studies of bagpipes from the around continent has been of great value. To build an exact historical copy, which often don't work or isn't quite right was not in my interest. I wanted to create a reliable and good looking instrument with good materials without changing the typical sound. I am first and foremost a musician, therefore I only build instruments with the highes. degree of focus on the music and the musicians playing it. The goal was to get everything out of this instrument. That's why I have expanded the range and tonal possibilities with many semitone steps. On a chanter, which previously could only play a minor scale, you can now play several major and minor scales, but you still can't over blow it! In addition to this there are now also three different kinds of chanters. All chanters are possible to play on the same bagpipe thanks to a connector attached to the bag and the drones have a range of 3 notes. You simply change between the differen. chanters by detaching them from the connector, this way there is no chance of damaging the reeds.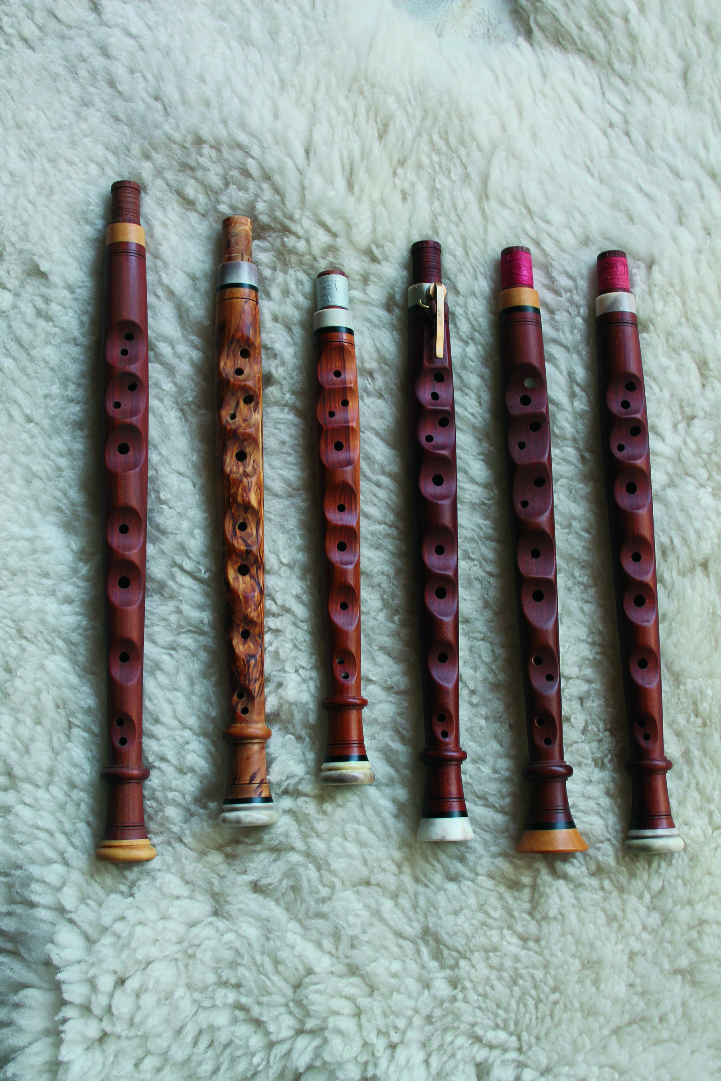 I make my reeds of French or Spanish cane instead of the weaker Swedish one, which was used in the older days. Good reeds can last more than 10 years, even on mouth-blown pipes. It is necessary to know how to keep them in shape/tune, but it's not very hard.1 Nowadays I make mouth blown Swedish pipes with one or two drones in three different keys: C/F, D/G and E/A.
When I started my bagpipe journey in the North I noticed that every bagpipe player in Sweden, although very few, used different finger placements. The tradition of playing bagpipe was broken when the last bagpipe player in Sweden died in 1949. It was first in the late seventies people became interested in Swedish bagpipes again, but no one knew how to play. With my experiences from other bagpipes and Scandinavian folk music traditions I found that the half closed French finger placement would fit this instrument best and built my Swedish bagpipes accordingly. Today it has become the main finger placement for Swedish bagpipes all over the world.2.
The Northern Uilleann Pipe or the Modern Swedish Bagpipe was created whilst I was busy reconstructing and getting to know the Swedish bagpipes. I thought a great deal about the further development of this wonderful instrument. The idea was to focus more on the musicians ́ requirements and on the practicality of the bagpipes than on being "historically correct". I had started by increasing the range, including more semi-tone intervals and optional extra keys and making bagpipes in different keys. But I wanted more from the instrument. I wanted; more tuneable drones (3 notes for example F-G-A) each one with separate valves for switching on or off, a more reliable instrument with better tuning stability, an all-round concert instrument with many possibilities. But most importantly I wanted this whilst still keeping the typically genuine, warm "Swedish" sound.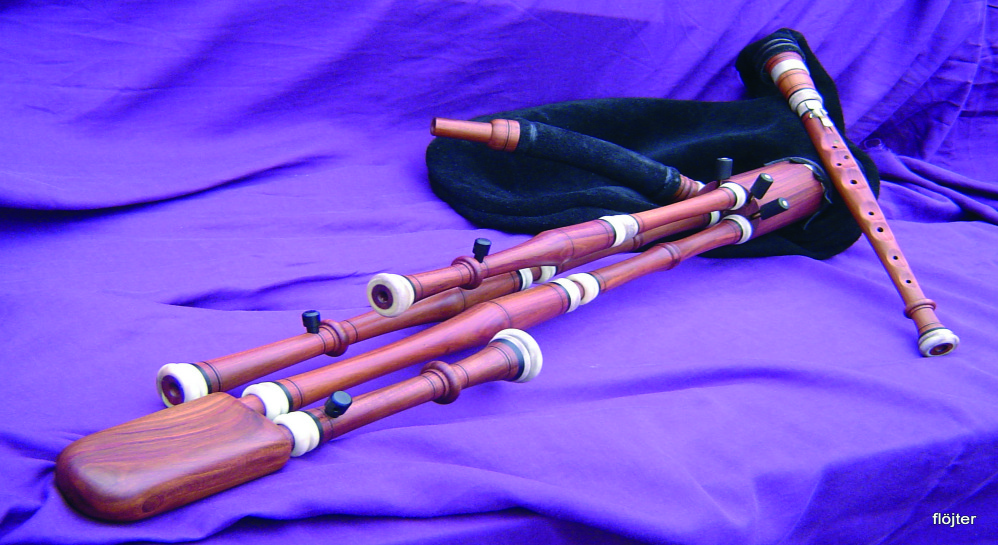 It's not always easy to have control over the single reeds, and if one has more than two, it can be hard work. Satisfactory plastic reeds, which sound and work approximately like genuine reeds, have not, up until this point, been produced. The solution was a bellows blown instrument instead of mouth blown, inspired by the Irish Uilleann pipes. That way one can avoid the moisture, which is the biggest villain for all wind instruments and their reeds. The Northern Uilleann Pipe (or The Modern Swedish bagpipe) is built, like all of my instruments in different designs and different types of wood with usually three optional drones (up to 5 drones are possible), but otherwise with the same chanter as the traditional Swedish bagpipes.
I have always loved what's genuine, natural and down to earth. This also applies to my music or the natural raw materials for my instruments. There are no two pieces of wood that are identical, just as there are no two identical human beings. This is why I never build "in series" but every instrument individually, adapted to the specific desires of the musician. The visual impression is not unimportant for an instrument. Therefore I spend a lot of time on choosing the material, form and design, which is also an outlet for my artistic freedom.
The wood I use is exquisite and well-seasoned, at least 3 years, but some pieces have been drying for nearly 30 years. I work mainly with plum, but also with other types of fruit-trees; such as cherry, apple, maple, almond-tree, and olive-tree or curly-grained birch. The latter above all for the Swedish bagpipes. Swedish bagpipes made in curly birch combined with reindeer horn and granadilla come to be very Nordic, and also very popular. The rings can be made in box-wood, olive-tree granadilla (black), reindeer-horn, occasionally in buffalo-horn and sometimes even in whale tooth, but never in plastic. The leather I use is ecologically tanned leather from cattle, which means that there are no chemicals used in the tanning process. I usually have several colours in stock. The reeds are made of Mediterranean reed (Arundo donax) from Spain or France. All my pipes are treated with a special deep penetrating cold-pressed linseed-oil.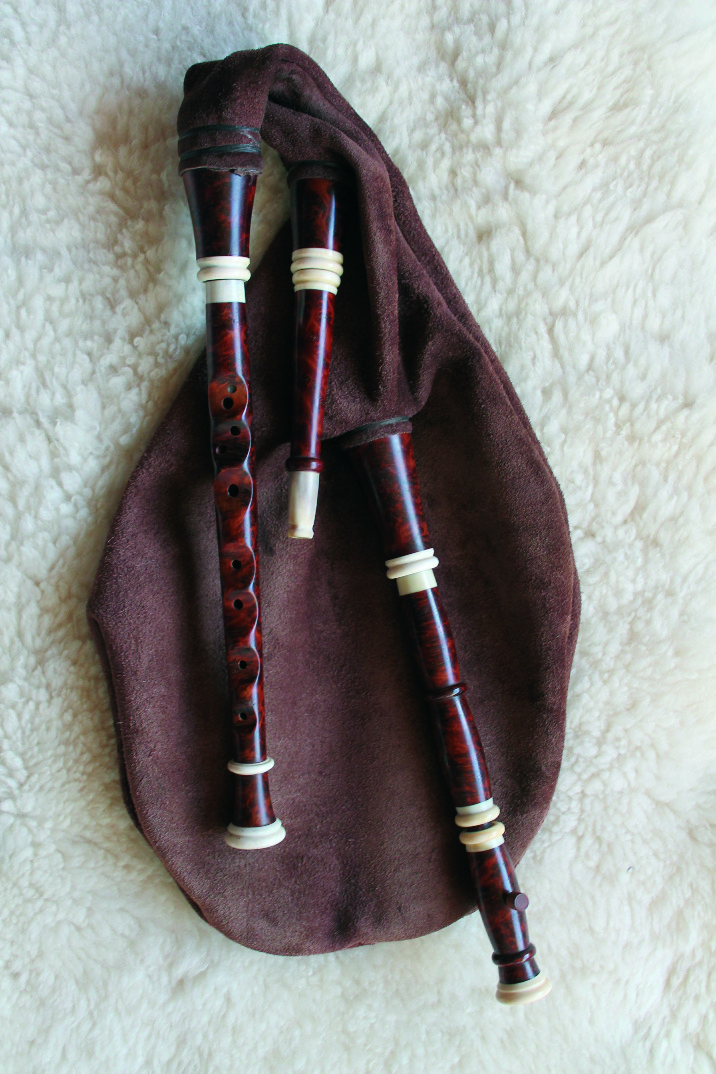 The Swedish bagpipes have become popular and more known all over the world, especially in Europe and in the USA. Never in history have there been as many Swedish bagpipes as you will find today. I for one will continue playing them as long as I can and maybe I've even inspired someone else now reading this article. You can find more information about my music, my instruments and me on my website3.
Alban Faus.
For more information on how: http://www.albanfaust.se/en/bagpipes-school/reeds/single-reed.htm.
For ex. : D/G pipes http://www.albanfaust.se/en/bagpipes-school/fingering-range/swedish-bagpipes-dg.htm.