In the bag - Anders Norudde
By: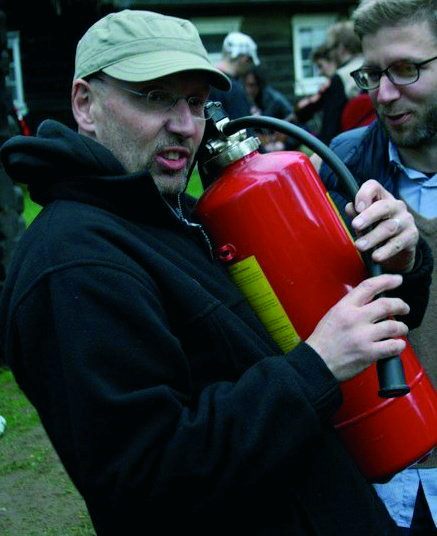 Anders Norudde is a multi-instrumentalist and violin maker, most famous for playing in Swedish/Finnish band Hedningarna ('the Heathens"). As well as violin, moraharpa, bowed harp, willowflutes and whistles, he plays Swedish bagpipes, which he took up in 1981. The most recent Hedningarna album, &, was released in 2012.
What bagpipes do you play.
I play the Swedish bagpipes. Until six months ago I just had my old set from the 80s made by Leif Eriksson, though modified by me with a new bag. Now I have a new set by Max Persson with carbon-fibre reeds..
What led you to take up piping.
When I heard the pipes at a fiddler meeting in 1980. That and hearing old kinds of folk music.
Which pipers do you most admire.
I don't know names, but I love, for example, Hungarian and Bulgarian pipers. Single reeds.
Name three, non-piping-related musical influences.
Status quo (between the years 1970-76!), blues, Baroque music.
If you had your life again, what instrument would you play.
The same instruments.
What three words describe your piping style.
What people say: expressive, groovy, false ;-.
What tune would you have played at your funeral and why.
Some nice old tune in a minor key.
Bellows or mouth-blown.
Mouth.
Cats or dogs.
Cats.
Do you prefer playing, dancing or both.
Playing and sometimes dancing.
Cane or plastic reeds.
Cane.
What's your greatest musical achievement.
Perhaps the years 1992-99, playing with Hedningarna, or the band Blå bergens Borduner (we released a CD in 1993). Or maybe my solo album Kan själv! from 2000. What's your most embarrassing bagpiping moment.
I don't remember just now.
What's the most annoying question you get asked about the bagpipes.
Is it from Scotland.
What advice would you give a novice.
Listen, listen and listen again to bagpipes and the music traditions around them.
I love bagpipes because…
They sound like Status quo (1970-76!), without the drums… ;-.
Listen to Anders at http://tinyurl.com/pgp8jo.
As told to Andy Letcher